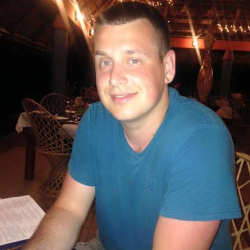 Latest posts by Ewen Finser
(see all)
Finding the perfect spot for luxury camping or 'glamping' in New Hampshire can be a daunting task. I've been there, spending hours sifting through countless listings and reviews to find that unique camping experience.
Having grown up in NH, I know the area quite well and have hiked and skied the White Mountains. I can speak to some of the true hidden gems vs overdone tourist traps.
This guide brings together my extensive research (and knowing the state personally) to reveal the best glamping destinations in New Hampshire, from treehouses to off-grid yurts.
Here we go!
Glamping is a modern travel trend that's gaining momentum, especially in places like New Hampshire. It's a fusion of glamour and camping, providing luxury outdoor accommodations for folks seeking memorable experiences.
Instead of traditional camping where you pitch your own tent and fend for yourself, glamping takes you to the deluxe end of things. You stay at high-end camping sites with all the comfort and conveniences just like home.
New Hampshire offers 11 luxurious glamping spots like Hub North in Gorham or Snug Life Camping in Wilton that are considered among the best for this upscale adventure. Even Airbnb registers a surge in searches for "glamping in New Hampshire".
Whether it's an off-grid yurt experience at Echo Hill Farm or staying inside fairytale treehouses, these unique settings provide opulent options to campers who want more than just sleeping bags and fire pits.
The restlessness stays behind as extravagance meets wanderlust during your sojourn amidst lush green landscapes painted against White Mountains' blue backdrop!
Are you tired of traditional camping and looking for a more luxurious outdoor adventure? You're not alone. I've been there, longing for a unique experience that combines the beauty of the outdoors with the comfort of a hotel.
In fact, this desire led me to explore all corners of New Hampshire in search of exceptional glamping spots. This guide will highlight top-notch places to elevate your camping game, featuring extravagant treehouses, off-grid yurts, cozy cabins and more.
A Fairytale Treehouse (Tiffany Treehouse)
One of the best glamping in New Hampshire experiences I've had, is nestled among trees – a fairytale treehouse. It's not just your standard childhood backyard build; this place is an extravagant camping accommodation that's hard to rival.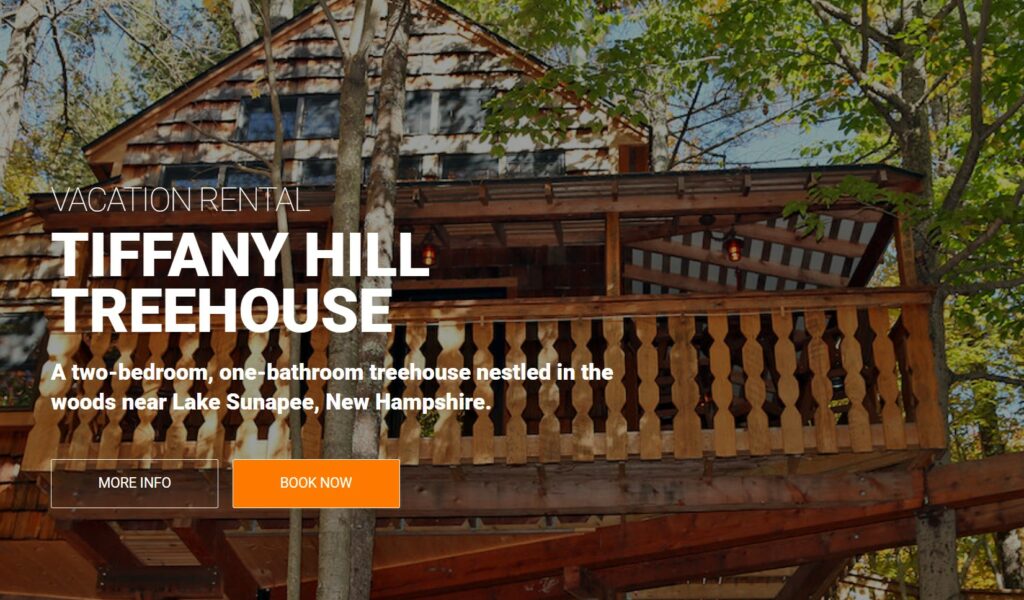 You're immediately whisked away into another world as you ascend the staircase leading up to the enchanting wooden structure.
Once inside, you'll find a spacious and cozy interior enhanced with bespoke craftsmanship and luxurious furnishings – definitely a deluxe camping experience. Imagine enjoying stunning views of Mother Nature from high above while sipping on hot cocoa by your cozy fireplace!
This treehouse efficiently combines luxury with outdoor living providing absolutely unique camping experiences in New Hampshire.
The combination of rustic charm and modern comforts make it one of the most coveted upscale camping destinations in New Hampshire where guests are treated like royalty. And no matter which season you choose to visit, this luxury camping site never fails to impress with its mesmerizing sights all year round.
So if you're seeking opulent camping adventures or simply want to surprise someone special with an unforgettable experience, be sure to consider this fantastic glamping retreat in New Hampshire known as the Fairytale Treehouse.
Nestled in the serene beauty of New Hampshire's White Mountains, the Cabins at Ogontz Resort offer a truly enchanting glamping experience. As I stepped into my cozy cabin, I was immediately captivated by the rustic charm and modern comforts that awaited me.
These beautifully designed cabins blend seamlessly into their natural surroundings, creating a harmonious retreat for nature lovers like myself.
Each cabin is thoughtfully furnished with all the amenities you could ever need during your stay. From comfortable beds and plush linens to fully equipped kitchens and spacious living areas, every detail has been carefully considered to ensure your utmost comfort.
And let's not forget about the breathtaking views! Whether you choose a cabin tucked away in the woods or one overlooking a tranquil lake, you're guaranteed to wake up to stunning vistas every morning.
One of the things that sets Cabins at Ogontz Resort apart is its proximity to outdoor activities. Spend your days hiking picturesque trails, fishing in crystal-clear lakes, or simply immersing yourself in nature's serenity.
When night falls, gather around a crackling fire pit under a starry sky and create memories that will last a lifetime.
At Cabins at Ogontz Resort, luxury meets wilderness in perfect harmony. So if you're craving an unforgettable glamping adventure amidst New Hampshire's breathtaking landscapes, look no further than these delightful cabins nestled within Ogontz Resort.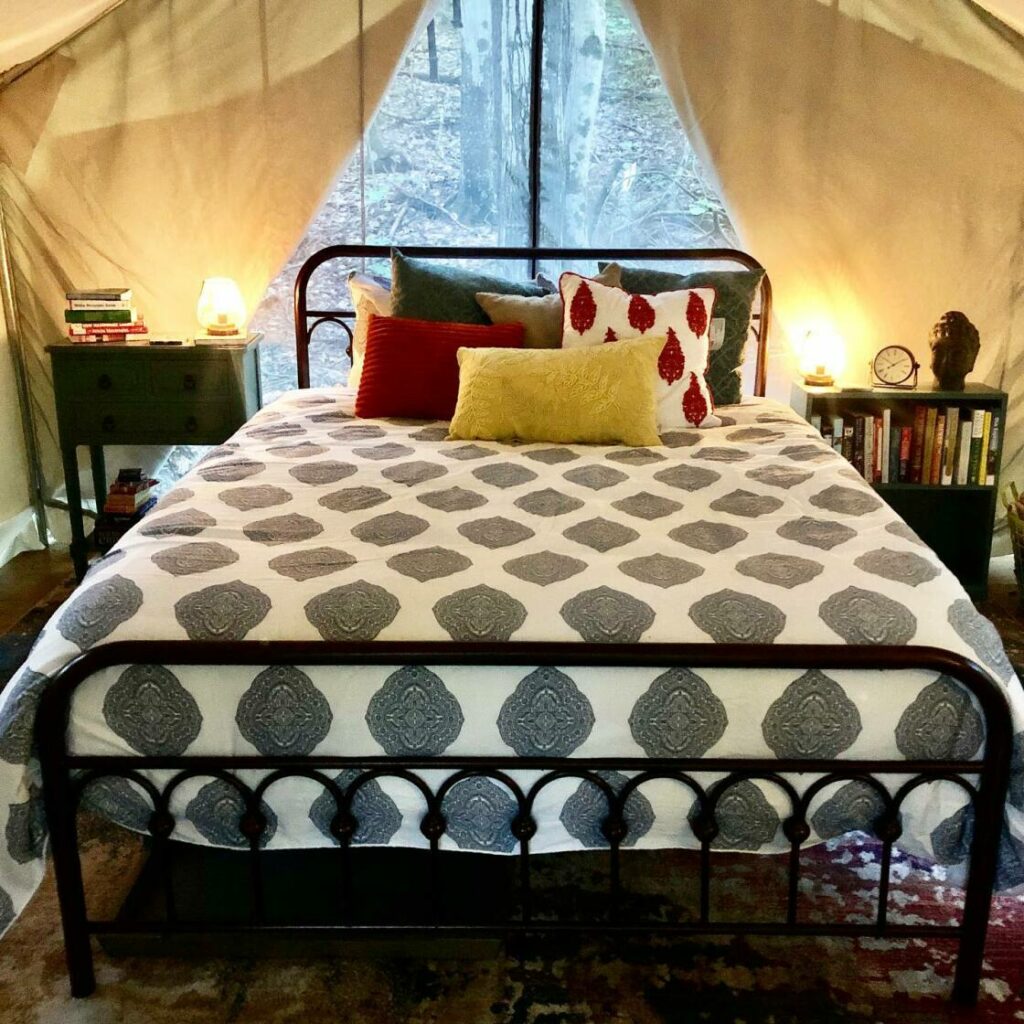 Plein Air is a hidden gem for those seeking a unique glamping experience in New Hampshire. Tucked away in the picturesque town of Sugar Hill, this luxury outdoor accommodation offers breathtaking views of the White Mountains.
The spacious canvas tents are beautifully furnished with comfortable beds and cozy furnishings, creating a perfect retreat after a day of exploring the surrounding nature. What makes Plein Air truly special is its dedication to providing an immersive experience – guests can enjoy art workshops, guided hikes, and even participate in plein air painting sessions right on site.
Whether you're an experienced artist or simply appreciate the beauty of nature, Plein Air promises to be a memorable destination for your glamping adventure in New Hampshire.
Huttopia White Mountains is a top-notch glamping destination in Albany, New Hampshire, nestled amidst the stunning beauty of the White Mountains. As soon as I arrived at this picturesque site, I was blown away by its serene surroundings and luxurious accommodations.
The variety of options available here ensures that you'll find something to suit your preferences.
One of the highlights at Huttopia White Mountains is their charming cabins, which provide all the comforts of home while allowing you to connect with nature. These stylishly designed cabins are equipped with cozy beds, fully-equipped kitchens, and private bathrooms – perfect for families or small groups seeking a delightful glamping experience.
For those who crave an even closer connection to nature, Huttopia offers spacious tent sites where you can set up camp under towering trees and indulge in star-gazing escapades. If you're looking for a touch of luxury with a rustic twist, their wood-and-canvas tents provide just that.
These well-appointed tents feature comfortable beds, wooden floors, and quaint furnishings – creating an inviting ambiance after a day full of outdoor adventures.
What sets Huttopia apart from other glamping destinations is their commitment to sustainable practices. From solar panels powering the site's electricity needs to using eco-friendly materials in construction – they truly prioritize responsible tourism without compromising on comfort or style.
Whether you're hiking through breathtaking trails nearby or simply unwinding by the campfire with loved ones after days spent exploring New Hampshire's natural wonders — Huttopia White Mountains promises an unforgettable glamping experience that will leave you yearning for more.
Hub North
One of the top glamping destinations in New Hampshire is Hub North in Gorham. This incredible retreat offers a unique and memorable experience for those looking to immerse themselves in nature without sacrificing comfort.
The accommodations at Hub North range from cozy cabins to luxurious tents, all designed with modern amenities and stylish decor. Whether you're seeking a romantic getaway or a family adventure, Hub North has something for everyone.
Located near the majestic White Mountains, Hub North allows guests to enjoy breathtaking views and access to a variety of outdoor activities. From hiking trails to fishing spots, there's no shortage of adventures waiting to be had.
And after a day of exploring, you can relax by the campfire or unwind in your own private hot tub.
What sets Hub North apart is its commitment to sustainability and eco-friendly practices. They strive to minimize their environmental impact by using solar power, composting toilets, and organic cleaning products.
So not only can you indulge in luxury glamping accommodations, but you can also feel good about supporting an environmentally conscious establishment.
At Hub North, every detail is carefully curated to provide an unforgettable glamping experience. From the moment you arrive until the time you depart, you'll be treated like royalty by their friendly staff who go above and beyond to ensure your stay is perfect.
If you're looking for an extraordinary outdoor getaway that combines comfort with nature's beauty, look no further than Hub North in Gorham. It's truly one of New Hampshire's hidden gems where memories are made and cherished forever.
If you're looking for a unique glamping experience in New Hampshire, the tiny home at Trailside Stays is the perfect choice. Nestled in the picturesque woods, this charming and cozy retreat offers all the comforts of home in a compact space.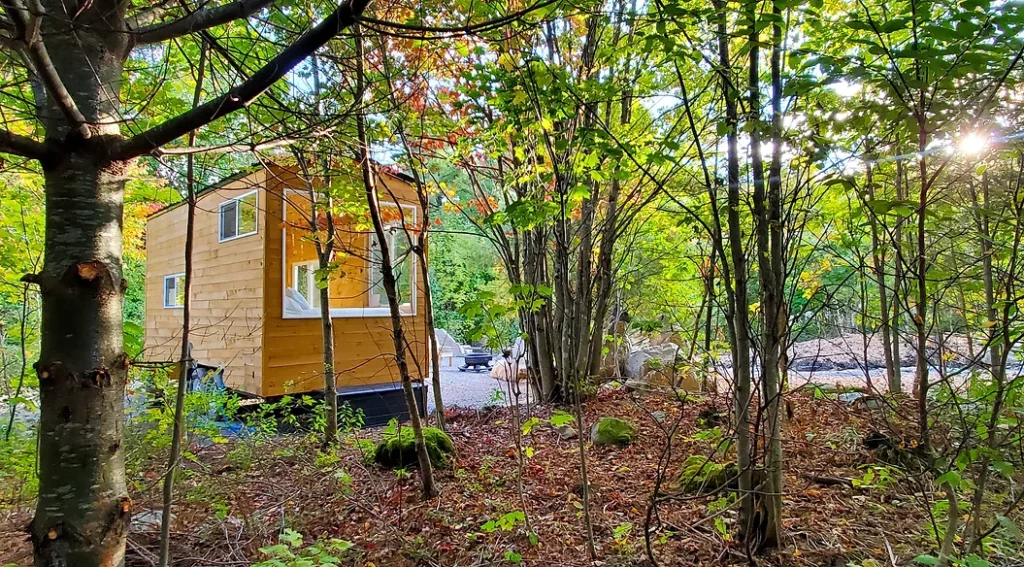 The tiny home features modern amenities such as a fully equipped kitchenette, comfortable sleeping areas, and a stylish bathroom. You can relax on the outdoor deck and enjoy the serene surroundings or explore nearby hiking trails for an adventurous day out.
With its secluded location and peaceful ambiance, staying at the tiny home at Trailside Stays promises to be an unforgettable experience that combines luxury with nature's beauty. So why not escape from your everyday routine and immerse yourself in the tranquility of this hidden gem in New Hampshire?.
Lil' Red Caboose
Lil' Red Caboose is a delightful glamping experience nestled in the beautiful state of New Hampshire. This unique accommodation takes you back to the charm and nostalgia of a bygone era, with all the modern amenities you need for a comfortable stay.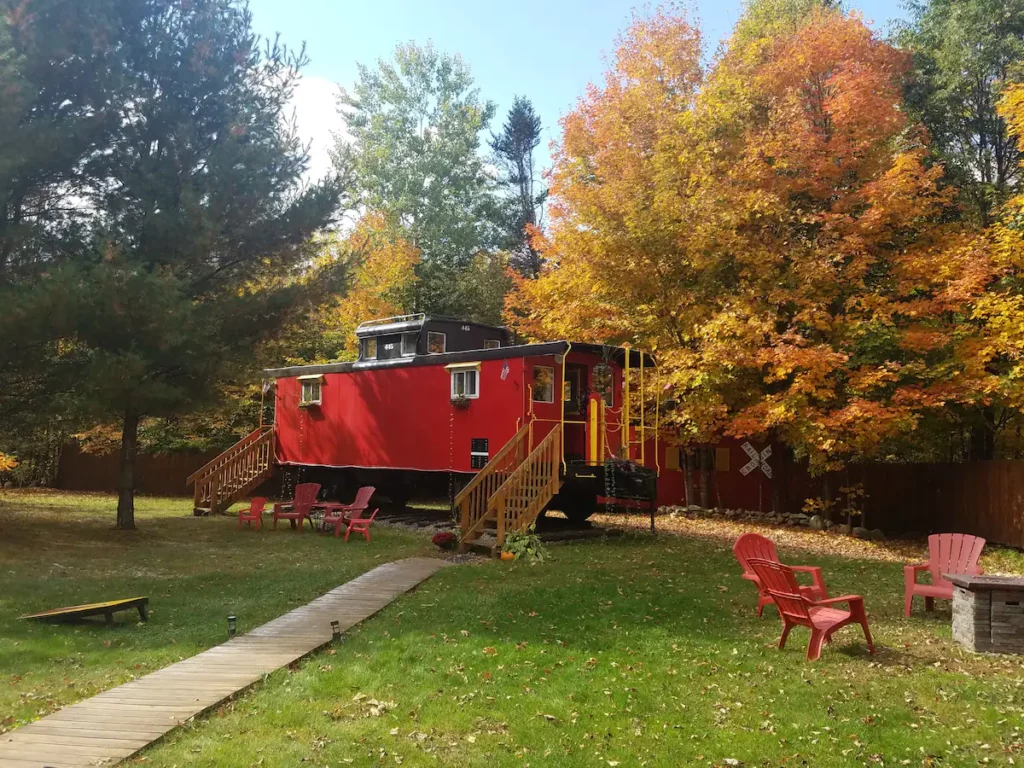 The caboose has been lovingly restored and transformed into a cozy retreat, perfect for couples or small families looking to create lasting memories.
Located in an idyllic setting surrounded by nature's tranquility, Lil' Red Caboose offers a one-of-a-kind escape from the ordinary. Step inside and be amazed by the thoughtfully designed interior that combines rustic touches with luxurious comforts.
You'll find a comfortable bed to rest your weary head after exploring all that New Hampshire has to offer.
What sets Lil' Red Caboose apart is its attention to detail and commitment to providing an unforgettable experience. From its charming exterior to its cozy interior, every aspect has been carefully curated to ensure your stay is nothing short of magical.
Whether you spend your days hiking through picturesque trails or simply enjoying some much-needed relaxation on the porch overlooking breathtaking views, Lil' Red Caboose promises an enchanting getaway like no other.
So why wait? Embark on an extraordinary adventure and discover why glamping in New Hampshire at Lil' Red Caboose will leave you with cherished memories for years to come.
The Adventure Cabin
If you're seeking a truly unforgettable glamping experience in New Hampshire, look no further than The Adventure Cabin. Nestled in the heart of the state's picturesque wilderness, this rustic yet luxurious cabin offers everything you need for an adventurous escape.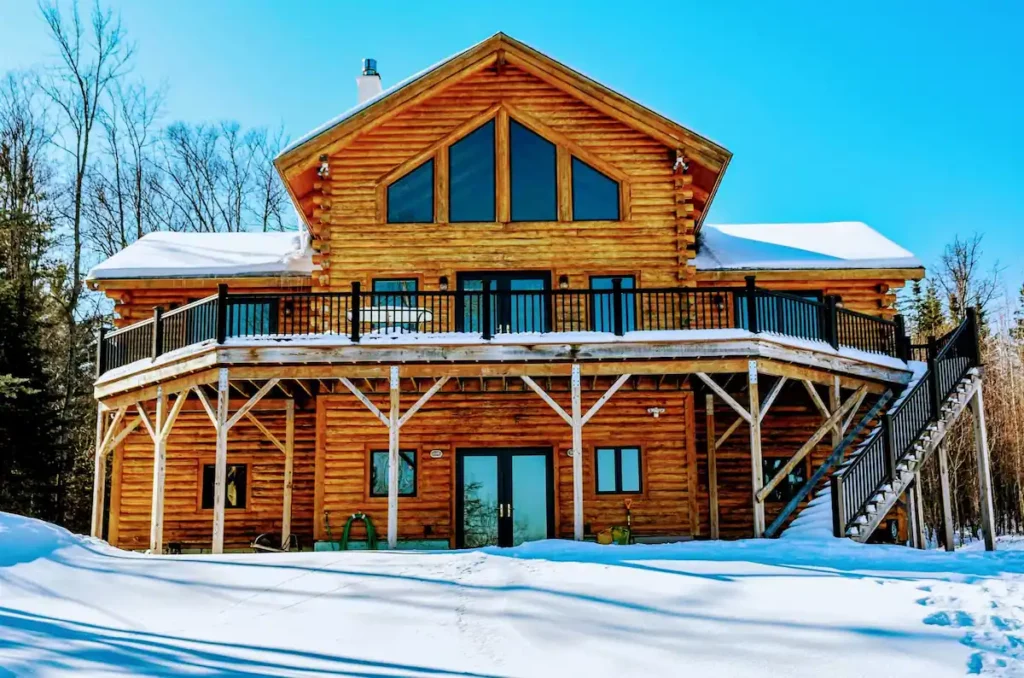 Surrounded by towering trees and stunning mountain views, The Adventure Cabin is the perfect retreat for nature lovers and adventure enthusiasts alike.
Inside, you'll find all the comforts of home combined with unique touches that make this glamping spot truly special. From cozy furnishings to modern amenities such as a fully-equipped kitchen and private bathroom, every detail has been carefully curated to ensure your comfort and enjoyment.
Step outside onto your own private deck where you can unwind in a bubbling hot tub under a sky full of stars or gather around a crackling fire pit with loved ones.
Located near popular hiking trails and outdoor activities, The Adventure Cabin offers endless opportunities for exploration and adventure. Whether it's hiking through scenic landscapes or embarking on thrilling water sports nearby, there's something here for everyone seeking an adrenaline rush.
With its idyllic location and exceptional offerings, The Adventure Cabin is sure to create lifelong memories for those looking to have an extraordinary glamping experience in New Hampshire.
Don't miss out on this opportunity to escape from the ordinary and immerse yourself in nature while still enjoying all the luxuries of modern living.
The Final Note: Why NH?
In conclusion, New Hampshire offers some of the best glamping experiences in the region. From fairytale treehouses to off-grid yurts and luxurious cabins, there is something for everyone looking for a unique and memorable outdoor accommodation.
With stunning natural landscapes, cozy amenities, and a touch of luxury, glamping in New Hampshire is an experience that should not be missed.
So why wait? Start planning your unforgettable adventure today!