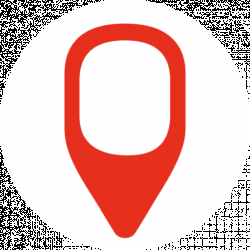 Latest posts by Locally Guided Team
(see all)
Asheville is one of the TOP destinations for a glamping experience & has been trending recently (for good reason!).
Asheville is located in the Blue Ridge Mountains and has a laid-back, bohemian vibe. This city is also known for its adventurous attitude. Glamping in Asheville is a popular choice because it allows people to take advantage of the natural beauty of the area while still enjoying the creature comforts and relaxation near a decent sized city.
There are many options for Glamping in Asheville NC, including Yurts and Treehouses. We have done all the hard work so you don't have to spend hours looking through hundreds of websites trying to find the right Glamping Asheville spot. We've compiled a list of amazing Glamping North Carolina properties that you can check out and then book.
1. The Nest Treehouse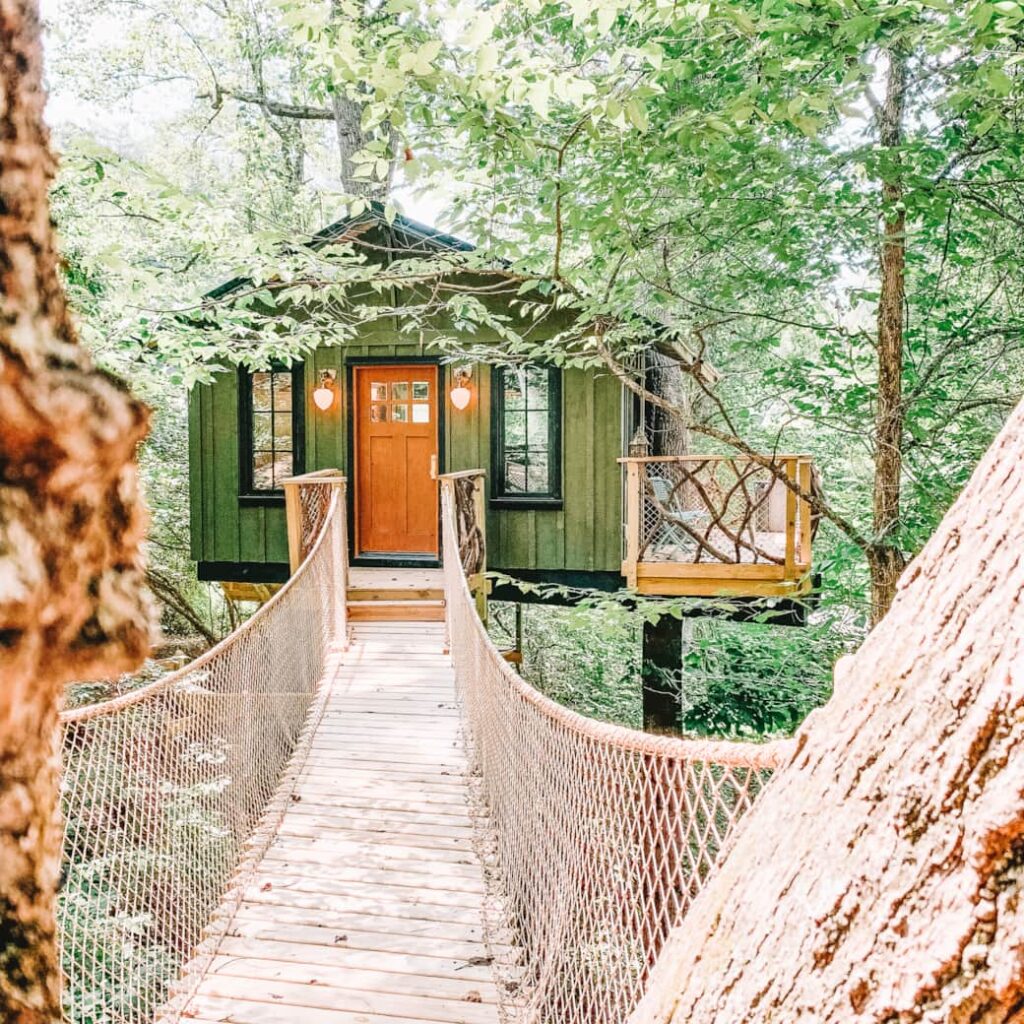 "The Nest" provides an iconic glamping experience in the trees, unlike any other Asheville stay.
This treehouse is a true delight and a unique experience. It's located in the forested area of our property. There are two rope suspension bridges that will take you to a magical place.
The tree house can sleep two adults. It has a bedroom hidden in the trees that is only accessible by two magical suspension bridges from another platform deck under the canopy.
The Tree house features a queen-sized bed and a small kitchen that can be used to prepare basic meals. A Keurig coffee maker is available. You can enjoy your coffee high up in the trees on the treehouse deck platform.
No pets or kids permitted, however.
2. Hobbit Knoll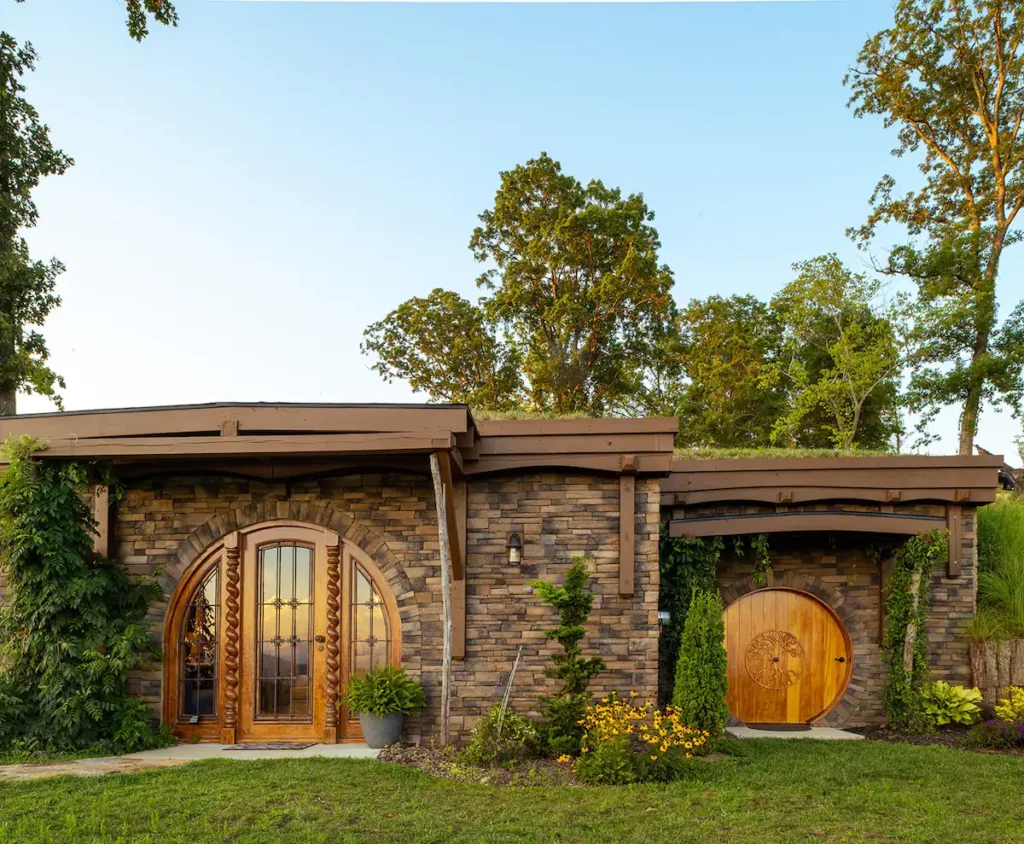 This home is 90% built into the ground (just like in LOTR). The home's front opens to a large glass door that looks out onto a stunning view of the layered mountains. Two handmade round doors are just two of the unique features found in this 800-square-foot home.
One bedroom has a queen-sized bed and there is a full bathroom that includes a toilet, sink, and walk-in shower. Large living space includes a queen-size murphy mattress, kitchenette, table farm-style, gas fireplace (no stove), TV, WIFI, and many other games. You can also relax outside by the fire pit to enjoy a beautiful sunset.
Only 10 minutes from downtown Asheville! 
3. Paint Rock Farms Glamping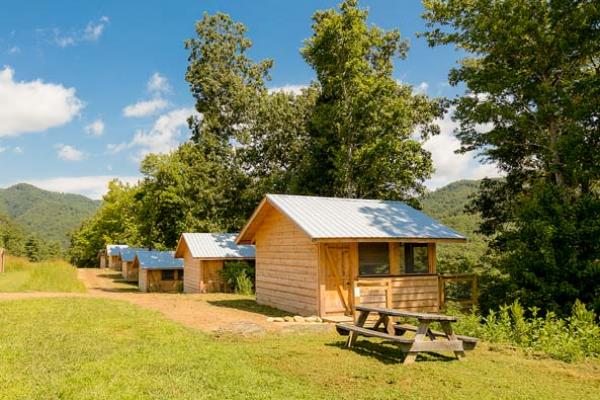 River Perch Glamping Cabins, brand new and beautifully furnished, are located on 160 acres of private property overlooking the French Broad River. A community covered deck overlooks the French Broad River with a fire pit.
Hot Springs is 6 miles away. 40 minutes from Asheville. 10 sites, linens and towels provided, as well as on-site hiking trails, a bathhouse and a community barn with games.
4. 1926 Train Caboose Glamping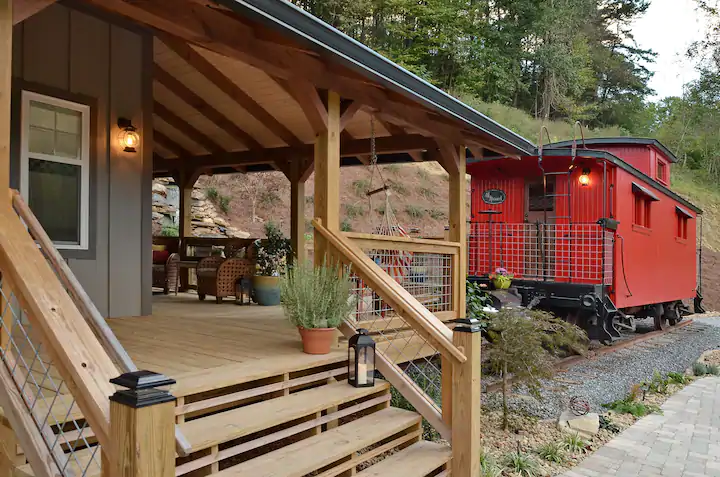 A vintage caboose is a great option for those who want a unique boutique experience. Outdoor activities include cooking on a grill or taking a romantic shower outside. The house is small and charming with a garden, a bathhouse, and farmland.
This incredibly original concept is  a wooden train caboose which is turned into one of the most beautiful vacation spots. It is located just 10 miles from the Smoky Mountain National Park. It is also known as caboose station 415. Fly fishing is your passion.
Waynesville is a 30-35 min drive from Asheville, so a bit outside the immediate vicinity. 
5. The Roost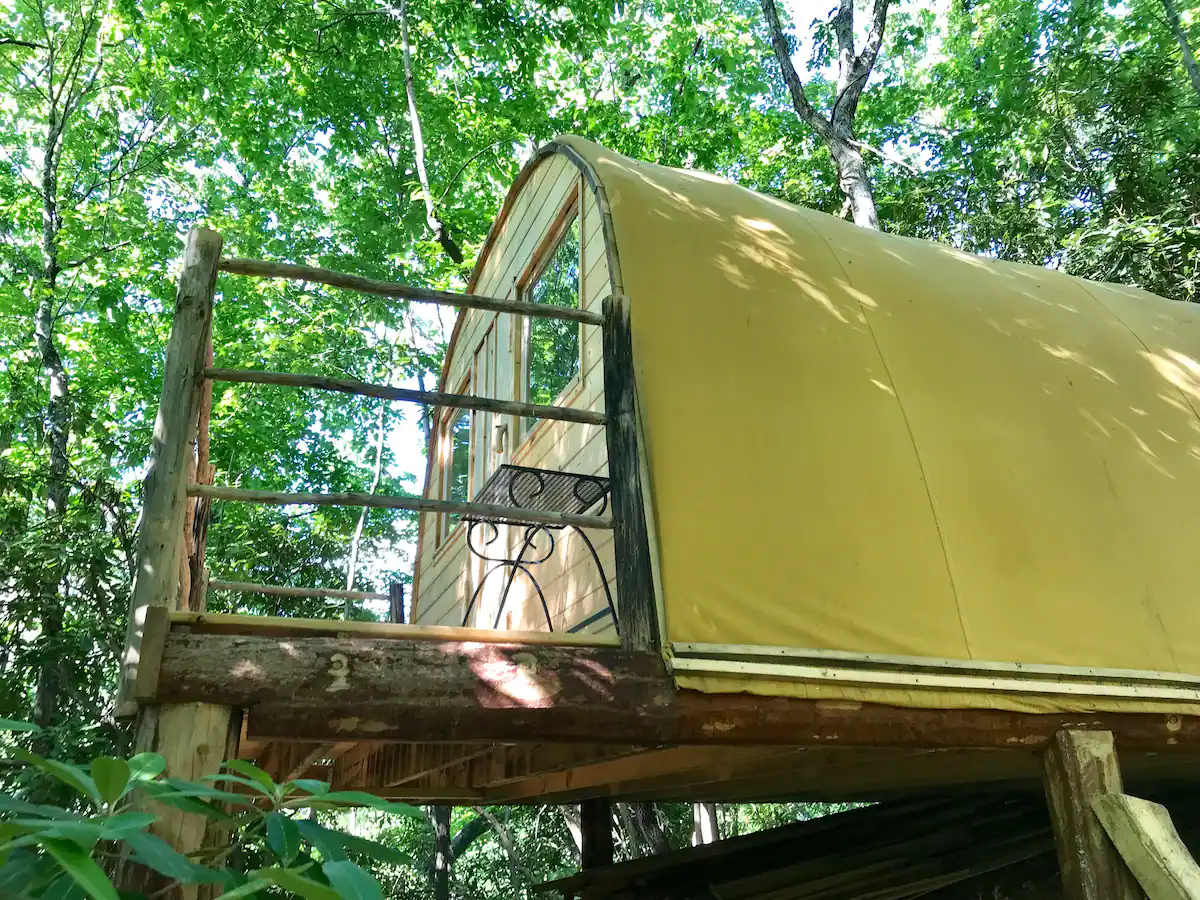 The tiny home sits high on a ridge and offers year-round views. You can relax by the woodstove and read a book while you grill, campfire or lounge on the hammock.
Adventurers can drive one hour to the Great Smokey Mountains National Park. You will find an electric stove, a kettle, and a dining table as well as a fully-equipped kitchen, gas grill, and fire pit in the house.
Located in Swannanoa, just 15 minutes East of Asheville.
6. Smokey Mountain Glamping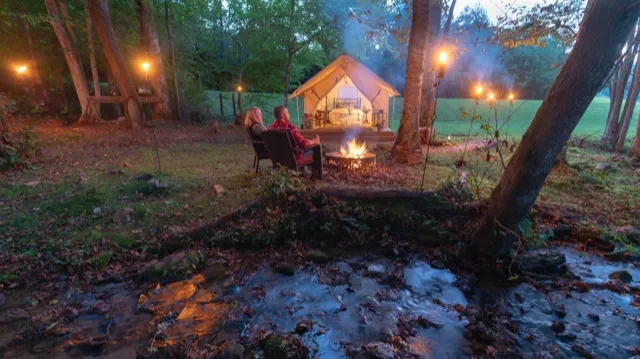 This relaxing creekside glamping location can be found near the Great Smoky Mountains National Park and Blue Ridge Parkway, on a private farm. Waynesville and Lake Junaluska are only 10 minutes away.
These areas offer access to hiking, kayaking, shopping, and eating. You will find a fully-equipped campsite with a covered porch, chairs and weatherproof canvas tent. You will receive a queen-size bed with linens, a fire pit, coffee station, a table for dining and complimentary breakfas
Located in Waynesville, a beautiful 35 minute drive West of Asheville.
7. Rocky Top Eagles Nest Glamping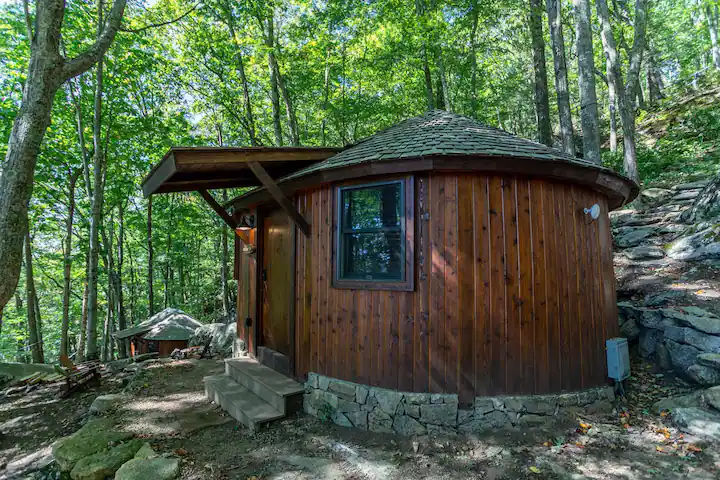 Blue Ridge Wilderness Rocky Top can be found on an area of approximately 20 acres. It has wooden cabinets and a room that huddles into a rock outcropping. The cave offers a beautiful view over the mountain ranges.
Enjoy an adventure and planned camping. This is the perfect spot to spend a peaceful night. Eagles Nest is the ideal spot for glamping in North Carolina Mountainss.
The "rocky top" is located just 1.5 miles from the Eagle Nest evolution. It can be accessed by 100 yards for a steep hiking trail. King-size bed with pillows, blankets, sheets, electric heater, mini fridge, stovetop oven, coffee pot and towels. Smart TV, bathhouse with vanity, toilet, shower.
Located in Banner Elk, which is about 1 hour and 30 minutes north of Asheville up the Blue Ridge Parkway (closer to Boone, NC). 
But  how can we evaluate a good glamping destination?
What Makes a Good Glamping Experience?
Glamping sites usually provide basic amenities such as shelter, chairs and fire ring. You can stay in platforms, yurts or tents. You will find comfortable beds inside, often with sheets and towels. There are many amenities available at a "glampsite". Not all of them are the same. Some glamping communities offer resort-like amenities, while others are more simple.
Specifically, look for these Glamping essentials:
Does the location have positive reviews? More the better.
Does the host provide amenities or do you need to supply everything? Specifically a "glamp site" should have running water, electricity, bathroom facility nearby. Linens are a plus!
Are there plenty of photos? 
How many people can sleep COMFORTABLY? This one is a common complaint as hosts tend to over-exaggerate.
Room for storage? In the event of inclement weather (or wildlife), ensure there are safe places to store extra gear.