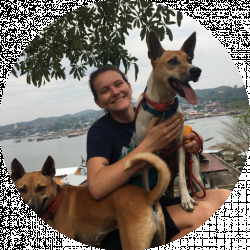 Latest posts by Daisy Hubbuck
(see all)
Kansas City, famous for its world-class BBQ, first-rate jazz music, and historic sites, is an overlooked and underrated city. Located on the border, parts of KC are located in Missouri while others are in Kansas. You might be surprised to know, the famous Downtown area is actually in MO, which is where we'll focus our search.
What better way to spend a weekend than heading to Joe's Kansas City Bar-B-Que, whose owners have literally won countless competitions for just how good their barbeque food is.
Once your bellies are satisfied, head over to a local brewery and grab a couple of cold ones before you go and enjoy the true magic that calls KC home; jazz music. No matter what time of year you visit, you can always find incredible jazz music across the city, and there is no better way to spend an evening in KC, trust us!
Now you're pumped to get going, there's one more thing you need to figure out before heading to Kansas City, and that's a place to stay! Of course, you can go the route of a hotel, motel, or a bed & breakfast, but there's one thing that combines the benefits of all these places, and that's Airbnb.
Types of Airbnb
One of the things I love about Airbnb is that they understand there's not a "one size fits all" when it comes to finding somewhere to stay on vacation. Airbnb doesn't just offer one type of accommodation; they've got a bit of everything. Let's take a closer look at the options so you can figure out what you need for your upcoming trip.
Entire Home
When looking for an Airbnb, you can select the "type" of place you're looking for, and one of the options is "entire home." Personally, I always check this box. I like my privacy, and especially if I'm on vacation, I don't want to have to worry about being in another person's space; I just want to relax.
The entire home doesn't necessarily mean the host won't' be nearby; sometimes, it is a guest suite that is attached to the host's house. It just means you'll have everything you need without having to go into the host's space, so there'll be a sleeping area, a private bathroom, and usually a little kitchenette or at least coffee-making facilities.
If there was a downside to choosing the "entire home," they are, of course, more expensive than a shared space. You also don't get to enjoy one of the original perks of Airbnb, getting to know the host and getting their expertise and advice on the area. Of course, you can still contact your host and ask them questions about the area, but it doesn't have the same community feel as sharing their home.
Private Room
Another option you can go for if you are looking for the traditional Airbnb experience is a private room. This will be your own personal bedroom, but it'll be in the host's house.
Sometimes they have their own ensuite bathroom, but other times it is a shared bathroom situation. If you're okay with this, private rooms will almost always be cheaper than renting an entire space, leaving you more money for other parts of your vacation. Also, as mentioned before, you can really get to know the "off the beaten path" places and places that only a local would know.
Unique Stays
Another awesome thing about Airbnb is that you can find some quirky and unique stays that you wouldn't find anywhere else. Whether it's a tent, tipi, to a campervan, you can find it all on Airbnb, and that's pretty cool. The only downside is that unique stays do tend to be more expensive than a standard room or apartment because there are so few of them in comparison.
Pet-Friendly
If you're traveling with your fur baby, then you'll definitely enjoy the "pet-friendly" filter that Airbnb has. And, unlike hotels, there are hundreds of places that are pet-friendly to choose from. Rather than being cooped up in a hotel room, your little pup could have an entire garden to themselves! No downside on this one!
Best Airbnb's in Kansas City
Best Overall: WestSide Brick Barn Studio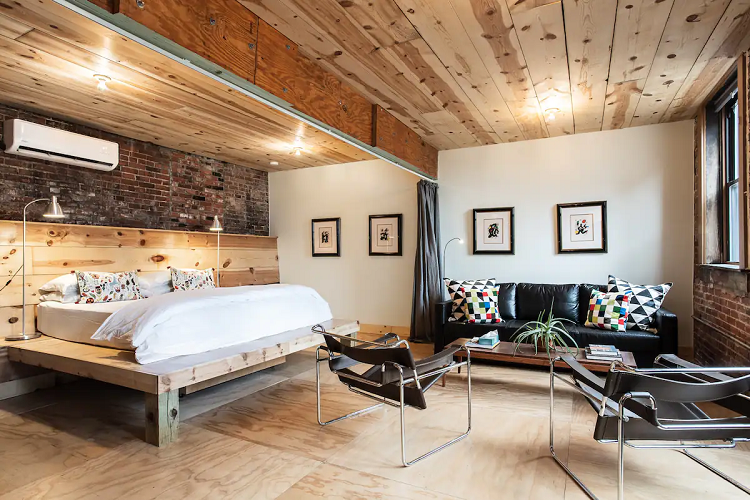 Neighborhood: West Side North
Type: Entire Home / Carriage House
Guests: 4 guests
Bedrooms: 1
Bathrooms: 1
The WestSide Brick Barn Studio is in the ideal location for exploring downtown KC. It's just a block from 17th and Summit, which has restaurants and stores to explore and is one of Kansas City's most unique neighborhoods. If you want to head straight into downtown, don't worry, that's just a 10-minute stroll away!
When it comes to the Airbnb, you're looking at an entire guest suite, a converted carriage house next to the host's own home. The old barn style has been retained and modernized with a stylish brick wall and exposed wood design throughout.
It's airy and well laid out so, even though it's just a studio, it feels larger than it is. There's a huge king-size bed taking center stage, with a little living area with a pull-out sofa bed and a small kitchenette. The host has also put up a dividing curtain to separate the two sleeping areas.
Overall, it's stylish, well-located and, if you utilize the space for 4 people, it works out a steal!
Best for a Solo Traveler: "Liberty" Private Studio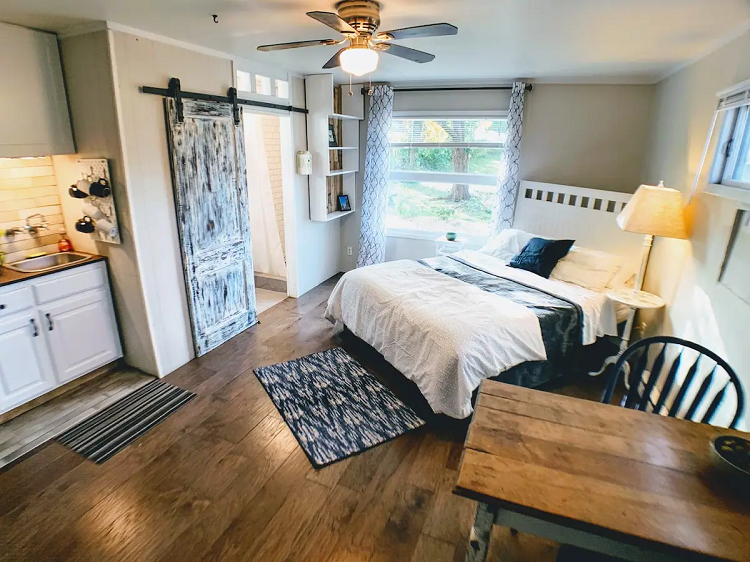 Neighborhood: Union Hill
Type: Entire Home / Studio
Guests: 1-2 guests
Bedrooms: 1
Bathrooms: 1
When it comes to finding a vacation rental as a solo traveler, things can get even trickier. Everywhere seems to be designed for, and priced for, two people! Luckily, that's not the case for the "Liberty" Private Studio. Firstly, it's located one block from some of the main attractions of KC, which as a single traveler, is a great safety aspect as well as just being downright convenient!
The place is a private studio with its own entrance, so if you don't want to see anyone else, you don't need to! The studio has its own bathroom, small kitchenette, and refrigerator. However, if you are feeling sociable, you can go into the main house and use the main kitchen, sitting area, and outdoor areas.
The studio is very well decorated, with light furniture and a vintage-style sliding door to your private bathroom, which maximizes space.
Best for Functionality: AJ's Little Ranch Guest Suite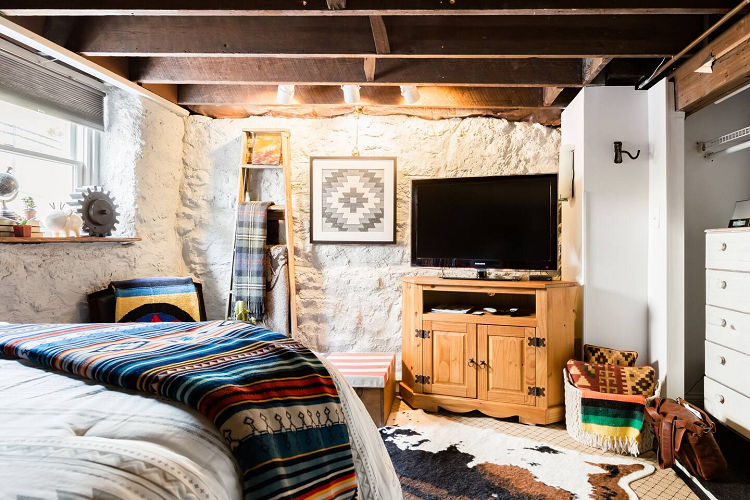 Neighborhood: Hyde Park
Type: Entire Home / Guest Suite
Guests: 1-2 guests
Bedrooms: 1
Bathrooms: 1
AJ's Little Ranch Guest Suite has been beautifully designed and decorated. It's modeled on Ralph Lauren's ranch, so expect wood, leather, vibrant colors, and attention to detail.
Although the space is small, it has been utilized to the max with an amazing electric double bed, TV on the wall (with a Firestick so you can keep up to date on your favorite shows), private bathroom, fully functioning utility area, and small private garden!
Everything you could need in a small but stylish package and all under 2 miles from any main attraction KC has to offer.
Best Unique Stay: Glamping in the Hedy Lemarr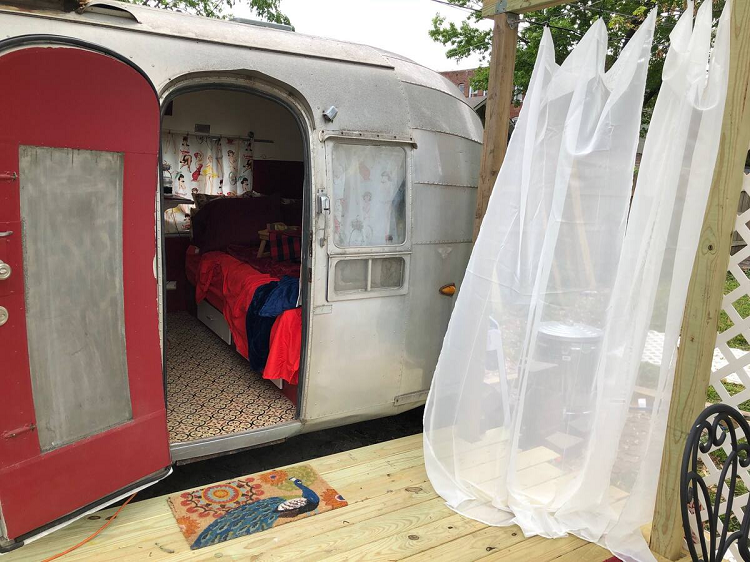 Neighborhood: Northeast
Type: Entire Home / Campervan/Motorhome
Guests: 1-2 guests
Bedrooms: 1
Bathrooms: 1
In case you're wondering what the Hedy Lemarr is, it is, in fact, a 1950's theme, vintage campervan/motorhome. If you wanted something a little different on your trip to KC, then we've found it. Recommended for those 6-feet and under, this quirky camper has a double bed, small kitchen area, mini-fridge, bathroom with warm shower, and a heater/AC unit.
The little deck outside is the perfect space to hang out with a glass of wine and look up at the stars. The large garden means this space is pet-friendly; however, they do ask you to keep them on a leash if they're not pet and kid-friendly as the garden is a shared space. For an experience to remember, why not try a bit of "glamping" just minutes from Downtown Kansas City.
Best with a Pool: All in One Resort Style Vacation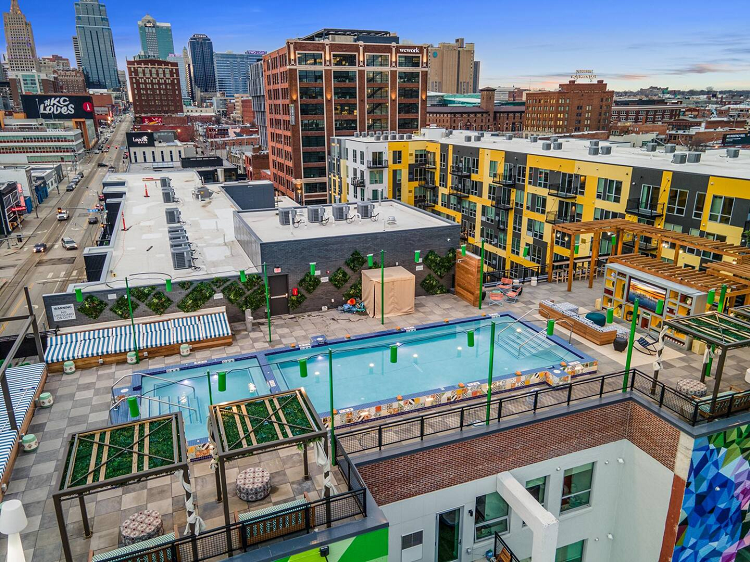 Neighborhood: Northeast of Downtown
Type: Entire home / Hotel room
Guests: 2 guests
Bedrooms: 1
Bathrooms: 1
If you would rather have the feel of a real vacation when visiting the city, try out the All in One Resort Style Vacation on for size. The rooms are spacious, clean, and look like anything you might find at a high-end resort abroad. And of course, the main feature, a pool. Who doesn't want to relax by the pool in their downtime on vacation?
The room itself is contemporary and has everything you could need, no matter how long your stay. There's a large bed, living area, oven, microwave, and dining area.
There's a rooftop restaurant/bar, a gym, pool, hot tub, and outdoor movie theater in the building itself, so there's no chance you're getting bored during your stay here. One thing to mention is that some people had difficulty with the self-check-in, so it might be worth getting extra instructions before making your way there.
Best Private Room Unique Stay: Boho Bungalow KC Guesthouse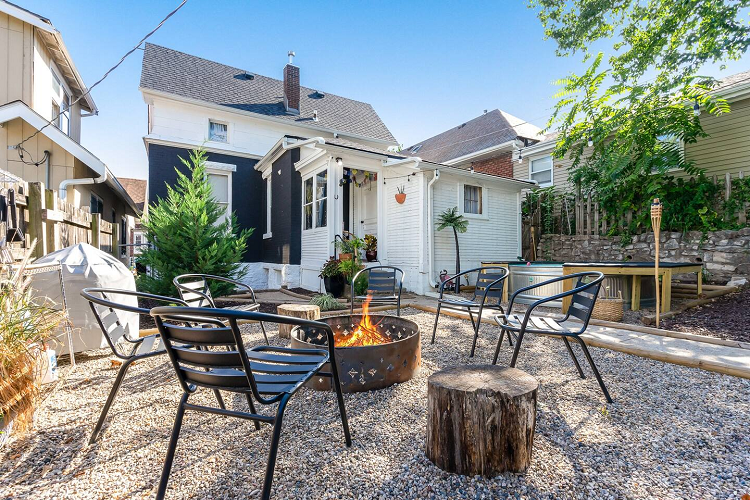 Neighborhood: Scarritt Renaissance
Type: Private Room / House
Guests: 2 guests
Bedrooms: 1
Bathrooms: 1 1/2 shared bath
If you're not set on getting an entire home, there is always the option of a private room, and there's no other like the Boho Bungalow KC Guesthouse.
Its unique, quirky design is commented on by all that stay here, with rustic furniture and that turn of the century charm but with all the modern necessities. Your private room has a lock, so you know you'll get all the privacy you desire; however it does not have a private bathroom. There are 1 1/2 shared bathrooms throughout the property, as well as a living space and kitchen.
Best Pet-Friendly Stay: Three Blocks from KU Med – Fully Fenced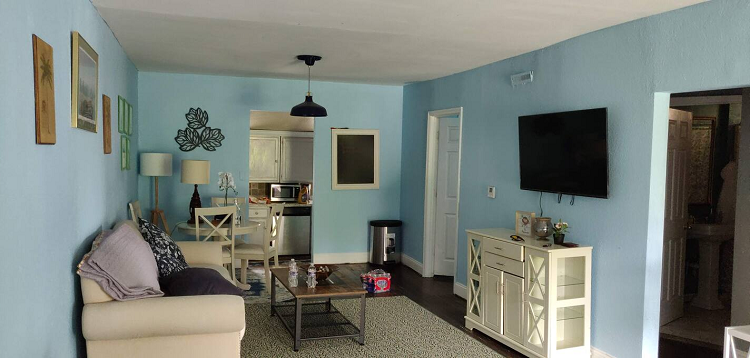 Neighborhood: Midtown
Type: Entire Home / House
Guests: 4 guests
Bedrooms: 2
Bathrooms: 1
If bringing your fur baby on vacation with you is a high priority, then you'll want to find a place to stay that is suitable for you both. The Three Blocks from KU Med – Fully Fenced property on Airbnb understands this need, and the fully fenced in front and back yard are perfect for getting your furry friends' tail wagging.
Inside, you'll find a charming home decorated in light blue, keeping it airy and bright. There are all the amenities you'll need for a pleasant stay, including a washer and dryer. Just minutes away from the 39th Street District, which has lots of restaurants and bars to choose from.
Best for Large Groups: New Home with Game Room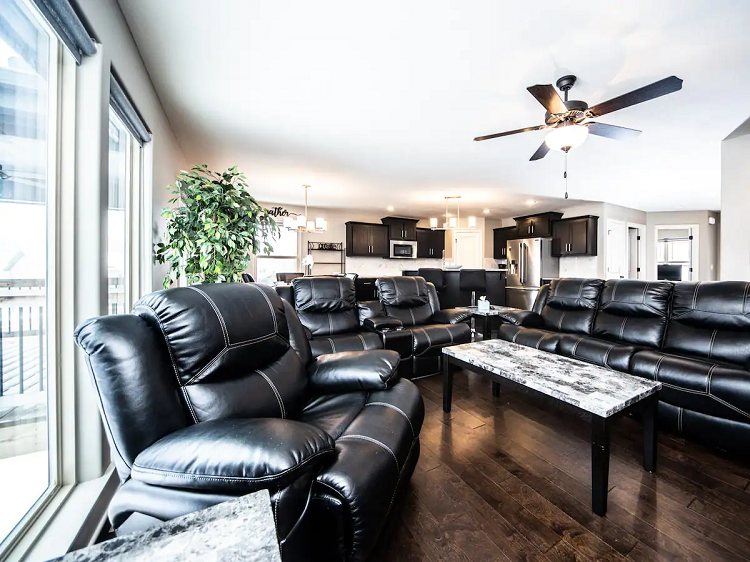 Neighborhood: Maple Park West
Type: Entire Home / House
Guests: 12 guests
Bedrooms: 4
Bathrooms: 2.5
Suppose you're going to Kansas City with a large group. In that case, you'll realize it's tough to find a place that's big enough to fit you all that is also central and near all the attractions you want to visit. That problem is solved with the New Home with Game Room.
It has enough space for you and eleven of your closest friends, and there's no shortage of fun to be had here with a game room, full gym, bar, large TVs, huge dining table, and countless spots to lounge around both inside and out. Not only that, it's within 10 minutes of all the main attractions you'll be dying to see in KC.
Best Value for Money: The Rosedale Retreat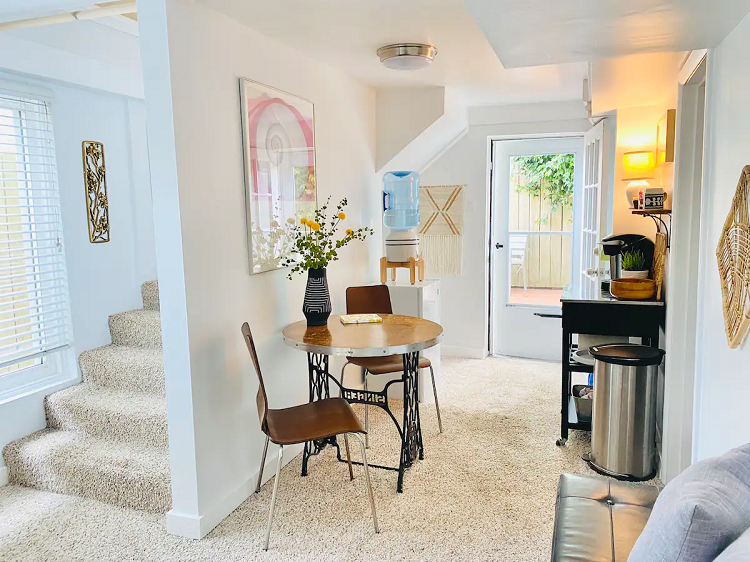 Neighborhood: Midtown
Type: Entire Home / Guest Suite
Guests: 2 guests
Bedrooms: 1
Bathrooms: 1
If you're heading to KC, but you don't want to spend a fortune, don't worry. Even though it's a popular city, there are some hidden gems to be found that won't break the bank, just like The Rosedale Retreat. This entire guest suite with a light, airy, almost whimsical decor makes the space feel large and welcoming. You even get your own private deck out the back with a fire pit!
Everything you could need for a short retreat, including a microwave, mini-fridge, and shared laundry facility, is included in this home, and all for a very reasonable price tag!
Best Away From the Action: Sauna, Custom Shower & Laundry – Private Suite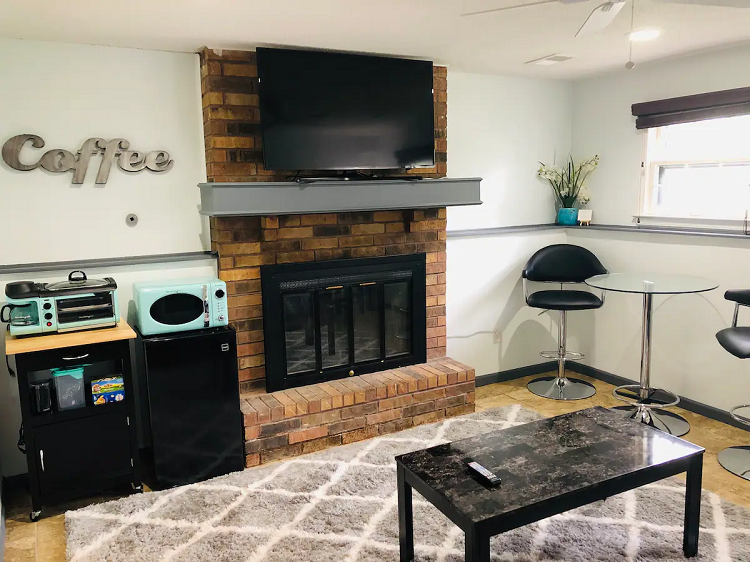 Neighborhood: Parkville
Type: Entire Home / Guest Suite
Guests: 2-4 guests
Bedrooms: 1
Bathrooms: 1
Do you prefer to stay away from the action? Sometimes it can be the best-of-both-worlds scenario where you're close enough to enjoy all that the city has to offer but far enough away to sleep soundly at night in a quiet neighborhood. That is exactly the case when it comes to this Airbnb, which is a 17-minute drive to Downtown KC.
The entire bottom level will be yours to enjoy with a large queen bed, day bed, kitchenette, laundry facilities, and living area. Perhaps the most exciting part of this home, though, is the sauna! Yes, live that life of luxury with a spa-inspired bathroom and a real wooden sauna. Now that's the way to relax after exploring all that KC has to offer during the day.
FAQ
Question: Which Airbnbs in Kansas City are Closest to the Municipal Airport?
There are numerous Airbnb's located close to the airport in a range of prices and accommodation types. You can see them all here.
Question: Which is the Most Romantic Airbnb in Kansas City?
Answer: The Main Street Inn has some very cozy rooms that each feature their own hot tub! In a 19th century building, the exposed brick and wood design give it a really warm feel. Also, nothing says romantic, like not having to make breakfast!
Question: What is the Cheapest Airbnb in Kansas City?
Answer: The cheapest Airbnb in Kansas City will set you back just over $20 a night, but that is just for a couch! For around $30, you can get a private room in a shared house, though.
Conclusion: What is the Best Airbnb in Kansas City?
Ultimately, this question really depends on your personal preferences and needs. A 12-person bachelor party is not going to want the same Airbnb experience as a couple on their first-anniversary trip.
However, overall I still think one of the best Airbnb's in Kansas City is the WestSide Brick Barn Studio. It is centrally located, neutrally, and well decorated, has everything you could need for a trip of any length, and can comfortably accommodate 1-4 guests.
Whichever Airbnb you choose, you're bound to have a blast in the lively and vibrant Kansas City. Just don't forget to grab some much-loved barbecue and head to Downtown for some enriching live jazz music.
Recommended Reads: