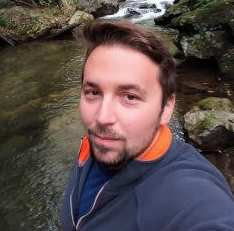 Latest posts by Coty Perry
(see all)
Nestled in the rocky mountains of Colorado sits the town of Breckenridge. Breckenridge is one of the greatest ski destinations in America and is a great place to plan a getaway to the mountains.
These are the best AirBNBs in Breckenridge that can accommodate you accordingly and are conveniently located by the slopes and the downtown area, where there is always something fun to do.
Breck 1BDR Condo- Balcony, Hot Tub, & Free Parking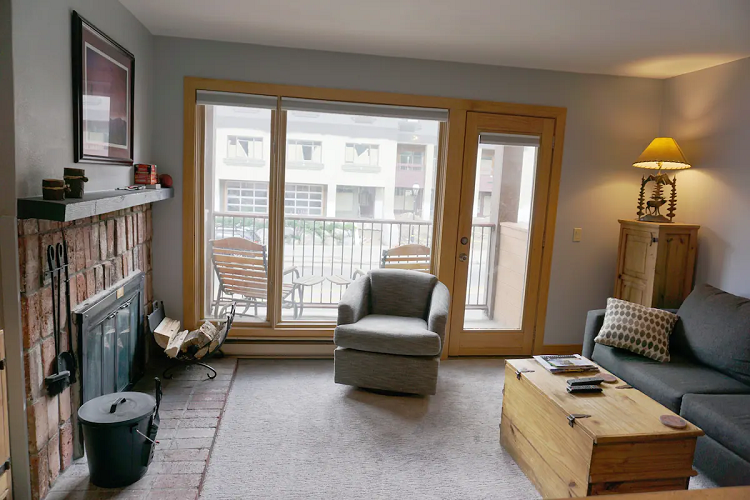 This is a great Airbnb to check out. It includes one bedroom with a queen-size bed, a garage space to park in, a private balcony, and a shared hot tub.
It offers all of the usual amenities you would expect, like a kitchen, wifi access, TV, washer, dryer, etc. There is an elevator in case you need it, and the host allows long-term stays of 28 days or more. 
It is worth mentioning that there is no air conditioning, but that shouldn't be an issue being that you will most likely be visiting Breckenridge when it is cold.
The location of this Airbnb is off the intersection of Main Street and Park Avenue in downtown Breckenridge, right between the Quiksilver Peak 9 ski lift at the Village and Main Street.
You will be within walking distance to the ski lift, many restaurants and bars, shops, and a grocery store. This is the perfect place to stay for a solo trip or as a couple. 
Location!! Garage Parking & Budget Friendly!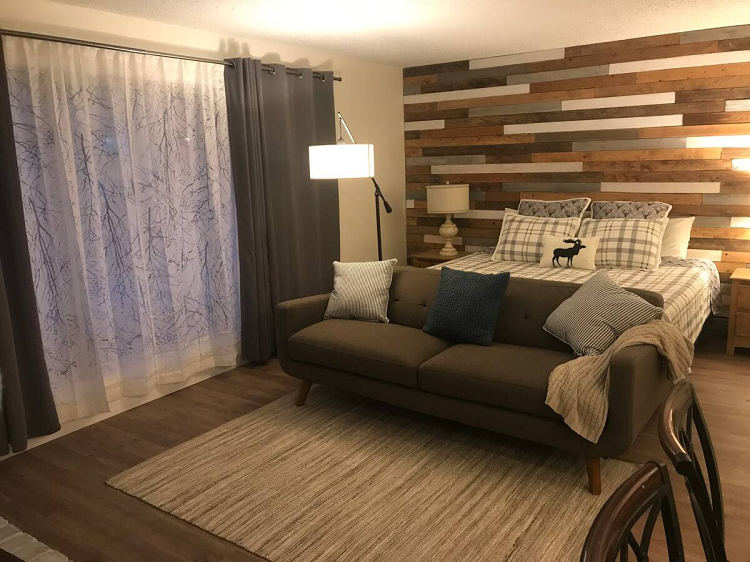 You will absolutely love it here. With this Airbnb, you will have the whole condo to yourself. It is a small, cozy space that is super convenient.
You can access the nearest ski lift by walking across the street! You also have easy access to Main Street, you have garage parking, a jacuzzi, and you are located above a Mexican restaurant, with an awesome happy hour.
There is a ski shop nearby, so you can rent your equipment there. Here you will be able to enjoy a wood-burning fireplace, a king-size bed, and a full kitchen. TV, wifi, cable, and additional firewood are included. This is a great spot for two in this super convenient location.
The Lavish Lincoln Luxe Alpine Loft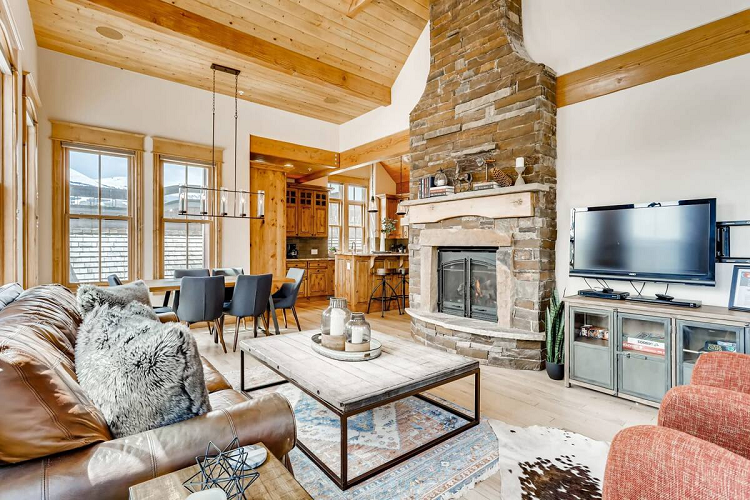 You will have the entire home to yourself with this beautiful and modern Airbnb. Located 9,600 feet above sea level, this home will take your breath away. Here you can enjoy a hot tub on the balcony, warm up by the fireplace, or just curl up on the couch and enjoy the view out of the many windows. 
Lavish Lincoln is just two blocks from Main Street and ninety minutes from Denver. This place is like heaven. You can relax in the hot tub after skiing and enjoy the snowfall up in the mountains. There is an entire dining area, with a chandelier included as well.
A parking pass will be provided for extra convenience. This Airbnb sleeps 6 guests across the one king bed, one queen bed, and a pull-out couch making this the perfect spot to go for a group trip to the mountains.
Stunning Condo In the Heart of Downtown > Plus Ski-in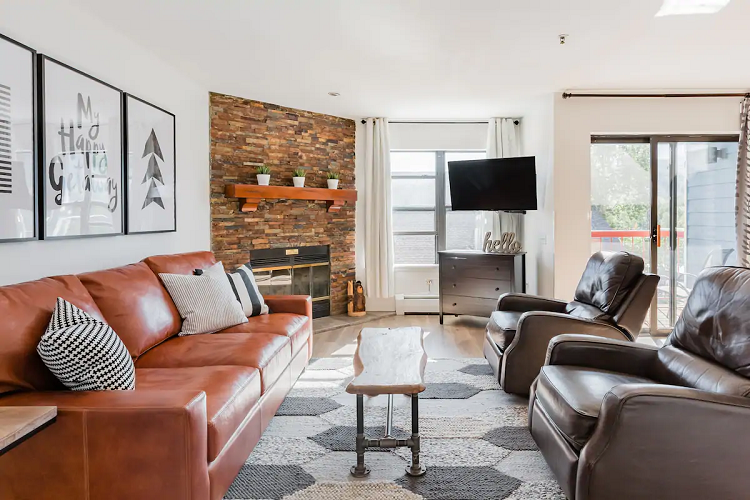 You will feel so at home in this cozy condo. It is newly updated, featuring a Pottery Barn leather sleeper sofa and a queen-size Tuft & Needle mattress. This condo is in a great location, making it easy for you to access Main Street, the ski lifts, and multiple restaurants and shops.
Free parking is included on the property, and all the usual amenities are available, such as a full kitchen, washer and dryer, dishwasher, and wifi. The one cool amenity this condo has is a gym, which is usually not available in most AirBNBs.
This condo is super family-friendly and has a bathtub, children's dinnerware, and a pack and play available to you to make it easier for you to travel with your children. There is even a pool and a hot tub! 
Private Hot Tub, Mins From Town, Love Pets!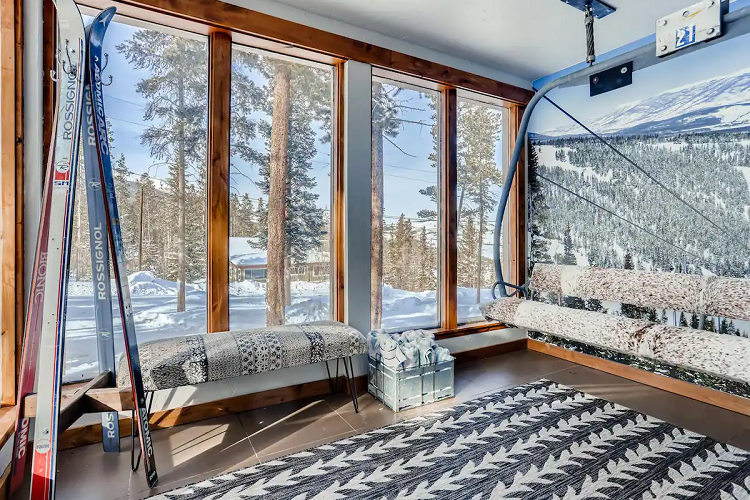 This Airbnb is a bit pricey, but for a good reason. It is absolutely beautiful. Inside the cabin is a modern and private escape from reality.
It is a vacation in itself to be able to stay in such a gorgeous place. Snowbird cabin is located on a wooded lot in the heart of the peak seven neighborhood, with four bedrooms and three and a half bathrooms. 
Here you have breathtaking mountain views and are ten minutes away from Gondola ski parking and downtown Breckenridge. You will be five minutes away from the nearest parking lot and shuttle to the downtown area and ski resort and two minutes from amazing hiking trails.
When you are done skiing for the day, you can relax in the hot tub located on the deck of the house. Don't forget to bring along your pets! They are welcome to stay with you. This cabin is a dream come true.
Downtown Breckenridge, Ski In, Overlooks the River, Mtn Cool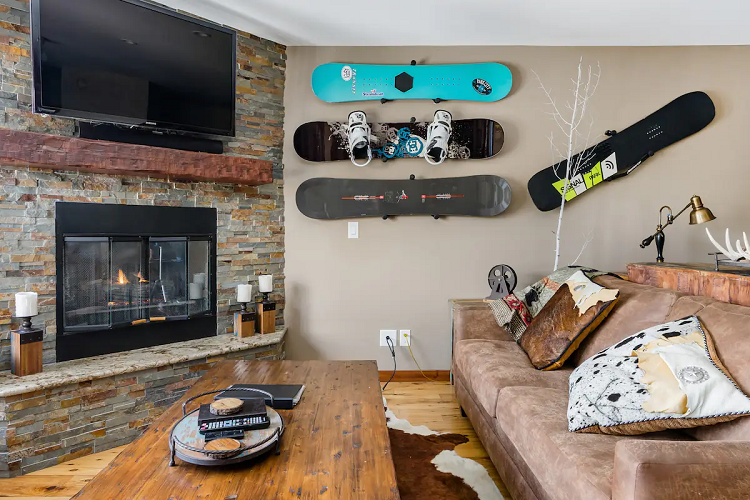 With this Airbnb, you will have this beautiful condo to yourself, overlooking the river and mountains of Breckenridge. If you need a getaway, this is the place to stay. The relaxing sounds of the river will completely melt away all your stress. Here you will be able to walk to everything. The Four O'clock run is directly across the street, and you are a short walk away to access the Gondola and transportation hub. 
You will get all the usual amenities here, like a full kitchen, washer and dryer, a pool, a shared hot tub, a dishwasher, and even a gym. This condo sleeps four guests and has one bathroom. You will surely love it here.
Walk to Resort, Restaurants, & Shops from a Relaxing Condo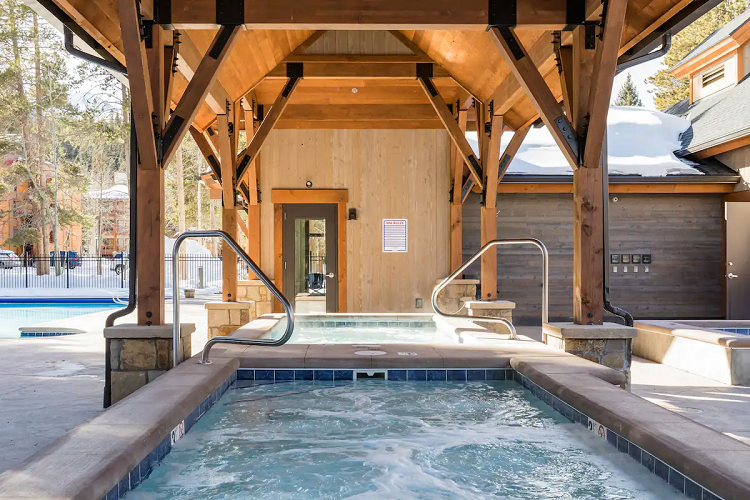 After a long day in the mountains, coming back to this gorgeous condo will allow you to relax. After storing all your skiing gear in a private locker, you can put your feet up and enjoy your time in front of the fireplace. You can even take a walk downtown, where there are tons of shops and restaurants.  This Airbnb offers a pool and hot tub but is closed for maintenance from the end of October until the end of May.
All of the usual amenities are included, and there is free parking on the premises. There is extra lighting on the pathway to the entrance as well, so you don't have any trouble finding your way in the dark. This location is quiet, clean, and super comfortable.
Hip and Cozy King Studio. In town. Across from Lifts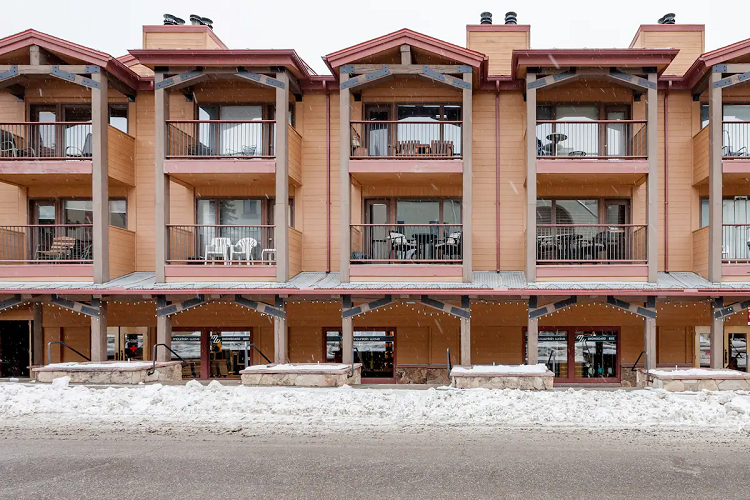 This rustic, yet modern, studio apartment is the perfect spot to stay if you are looking for somewhere quaint and cozy. It sleeps three guests and has two beds and one bathroom. This condo is in the heart of everything Breckenridge has to offer.
Located right across the street from the lift, you can conveniently access the lift without having to take a shuttle. After a long day, get comfortable by the fire or enjoy the hot tub. Maybe even try the restaurant out downstairs and enjoy a drink.
Rustic and Charming Breckenridge Getaway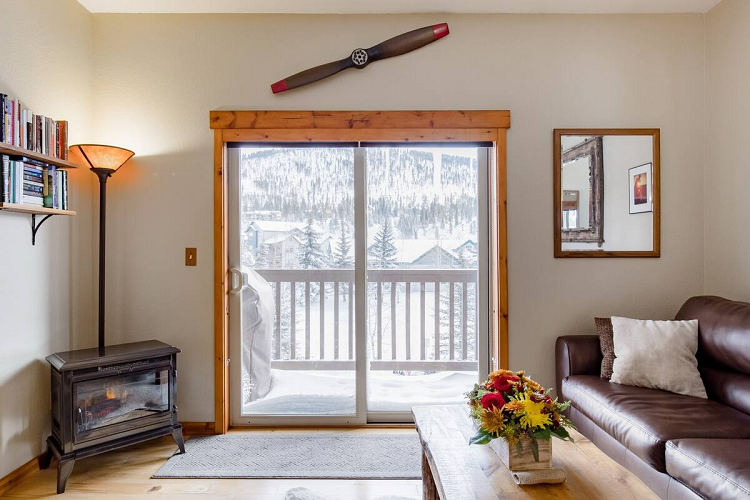 This rustic and charming Breckenridge getaway is very elegant and has a beautiful rustic aesthetic. With the handcrafted finishes and modern comforts this Airbnb has to offer, you will feel a sophisticated atmosphere surrounding you that is super inviting.
You will be located just a few steps away from the free shuttle to Breckenridge and will be able to enjoy a gorgeous view of the snow-covered mountains.
Equipped with all the usual amenities, you can enjoy free parking, an indoor fireplace, room darkening shades, and all your essentials. The path to the apartment entrance is well-lit, making it easy for you to find your way in the dark, and there is a step-free path to the outdoor entrance.
The North End of Breckenridge is a great location. You can take a walk to a nearby brewery or ride your bike along the Blue River Trail.  Here you will be able to find many fun things to do, all while enjoying your charming Airbnb.
Location! Best Of Breck Just Outside Your Door!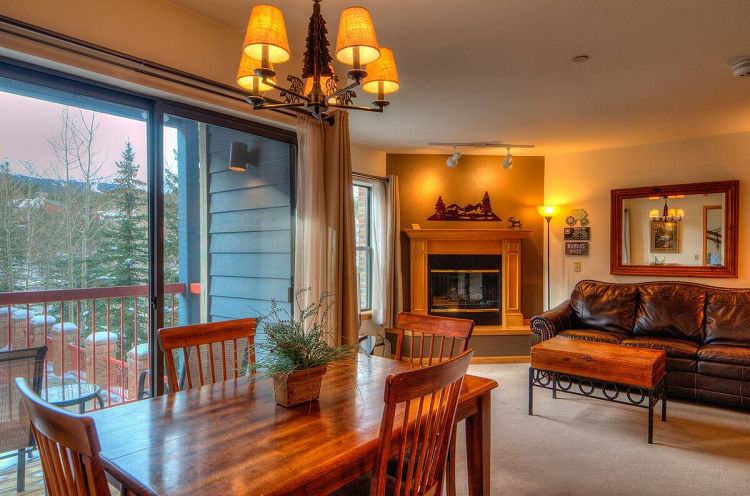 This modern condo is located at a greatly desired location. At this Airbnb, you will comfortably be able to walk to the Gondola, any bars and restaurants, and multiple shops in Breckenridge.
This condo sleeps four guests, has one bedroom, one pull-out couch, and one bathroom. The price is extremely reasonable for being in such a great location and staying in a modern condo.
All the usual amenities are included, like the washer and dryer, full kitchen, free parking, and essentials. A pool and hot tub are also part of this wonderful AirBNB, and it is likely you will not be disappointed here.
Breckenridge Luxury Private Modern Home! Perfect Location, Stunning Views, Private Hot Tub!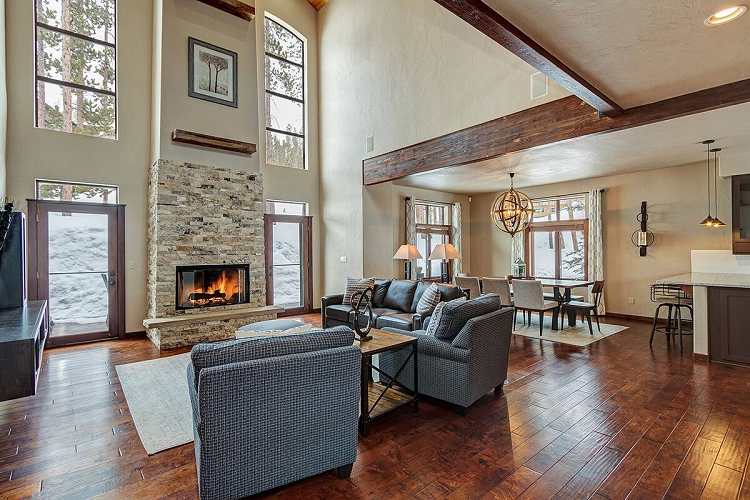 This extremely luxurious modern and private four-level home is an amazing place to stay in the mountains. It is located in the distinguished section of Breckenridge, called The Highlands. You will have the entire newly renovated home to yourself and definitely will be impressed.
This Airbnb sleeps sixteen throughout six bedrooms and offers an amazing view of the mountains. Suppose you are traveling from somewhere that doesn't have any mountains, like Kansas.
In that case, this will be an unforgettable trip to experience. There is a private hot tub, a two-car garage, and additional parking space in the driveway. 
Inside the master bedroom, you can utilize the large walk-in closet, king bed, and flat-screen TV. The master bath is really cool and designed with two sinks, a separate bathtub, and a large walk-in shower. The other bedrooms have access to a shared bathroom, and on the main floor, there is a pull-out couch.
You are located four miles from the downtown area and are close to hiking trails. In addition to all these great features, the host offers a complimentary town shuttle to be scheduled ahead of time to make your stay easier. There is so much to love about this Airbnb, and while it might be pricey, it is worth it.
FAQs
Here are some frequently asked questions that many who are searching for the perfect Airbnb might want to know.
Question: What is There to do in Breckenridge for a Day?
Answer: There are many places you can visit in Breckenridge, but here are some of the best. You can visit the Breckenridge Ski Resort, Peak 9, McCullough Gulch Trail, Boreas Pass Road, Breckenridge Heritage Alliance, and many more.
Question: When is the Best Time to Visit Breckenridge?
Answer: The best time to visit Breckenridge is anytime from November until April. This is when the skiing slopes are ready for skiers and snowboarders, and the weather is ideal for these activities.
Question: How Many Days Should You Visit Breckenridge?
Answer: It is recommended to visit Breckenridge for at least four days so you can see and do everything that you want to while you are visiting, especially if your first day is cut short due to travel.
Final Thoughts
There are so many amazing options to choose from when looking for the best Airbnb in Breckenridge.
All of these AirBNBs are great and super convenient; however, our top pick is the number 2. Location!! Garage Parking & Budget Friendly! We prefer this AirBNB because the location is perfect, updated, clean, and inexpensive. All of these qualities make the perfect Airbnb.
Recommended Reads: