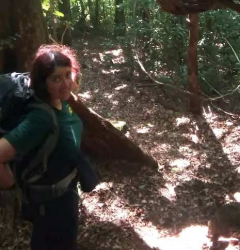 Latest posts by Mieke Leenders
(see all)
Are You Headed to Puerto Rico?
Great choice!
If you've ended up here, you may be considering booking your lodgings with Airbnb. With its tropical marine climate, expansive mountainscapes, and Caribbean beaches, you feel at home on this lush island, and you want to immerse yourself in it.
The Caribbean lifestyle is about personal freedom and establishing a closer connection with your surroundings, and the right Airbnb can certainly help you find this.
Puerto Rico has some truly unique Airbnb's available for any budget, preference, and travel style. This is why I figured that instead of a conventional "top #" list, it'd be best to compile the list according to the types of travelers.
Here are the best Airbnb's in Puerto Rica at a glance (all of these feature a close second choice as well!):
Best Airbnb For Budget Travelers: Garden Cottage House Quebradillas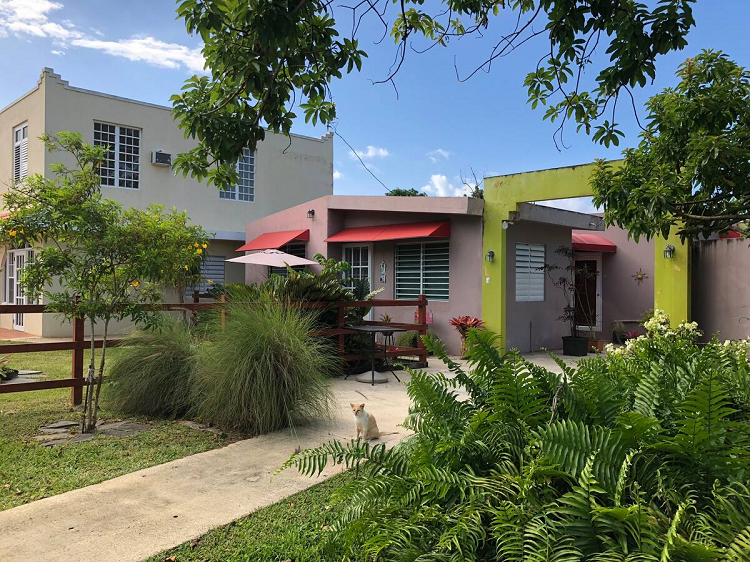 If you're a budget traveler, like I was for years and on occasion still am, you will know what it is like to compromise on certain experiences and find a creative way to move about.
Lodging is often the highest cost, and I vividly remember staying in hostels on a bed that may as well just have been a wooden plank with creepy crawlies as roommates and shared bathrooms that were not cleaned daily. Luckily, these days, there are so many more options available.
"Budget travel" has become a legit way to explore the world, even for those who don't necessarily have to pinch pennies, which has caused a surge in budget lodgings that are charming, beautiful, and possess a local flair.
My number one choice for a budget Airbnb in Puerto Rico is the Garden Cottage House close to Quebradillas beach. This tranquil garden property is a separate unit just for you on a Hacienda and located just by the Quebradillas beach.
Owned by two lovely sisters and professional artists, this guesthouse is ideal for solo travelers or couples.
If you feel you need some more space because you are traveling with a few more people but don't want that price tag to go up, head more inland to Moca, and check into Harmony Life House, a 2 bedroom home.
This is a place largely comprised of local families and is ideal for relaxation and enjoying some peace and quiet, not for those looking to be close to tourist attractions.
Do you love literature? Then make sure to visit the Labadie Mansion, which inspired Enrique Laguerre to write La Llamarada. And for those of you who like local legends, Moca is also famous for the "Moca Vampire," which is considered a predecessor of the Chupacabra, and several UFO sightings.
Best Airbnb For The Solo Traveler: Tiny House #1 on the Mountain/ River/ Amazing Views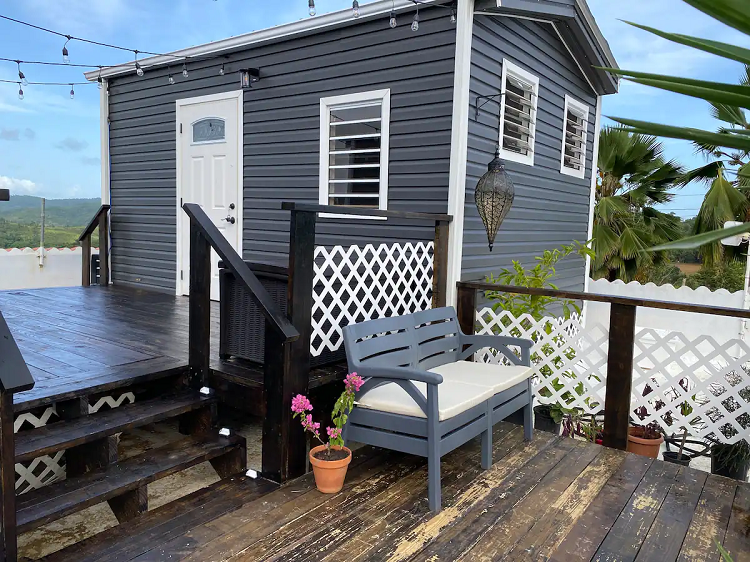 I have spent a few years traveling on my own. And as a solo traveler, especially when you're a woman, safety and security become as vital as authentic experiences. Airbnb can fit into this if you know which qualities to look for:
Pay special attention to the host who has a solid reputation backed up by comments of other travelers.
Note that Airbnb can verify the host's identity and that you, as a potential guest, have to right to request the host of your preference complete this process.
Research the area yourself and compare it to the host's description. It may say something about their credibility if they choose to emit certain information or indeed paint a prettier picture compared to what is actually out there. For example, I once shortlisted an Airbnb in Rome that was supposed to be in an uncommonly quiet area right in the town center, while in reality, it was in a pretty noisy school street quite a way removed from some of the sites. This may seem like a small thing to some, but I prefer honest and clear accounts, warts and all. In fact, if the host is honest enough to identify warts, I might not even mind them.
So anyway, on to the best Airbnb for all you fellow solo travelers! There are some charming, smaller places that will get you the full local experience and still make you feel safe and comfy in your own space.
My number one choice in Puerto Rico is the Tiny House #1 on the Mountain/ River/ Amazing Views. This host is very honest in that yes, the house is tiny. But you have all you need as a solo traveler, and you have plenty of outside space to enjoy the stunning views.
The tiny house is located at the eastern southern edge of El Yunque National Forest. Next to the common amenities, it also features a free washer/dryer, shared balcony & backyard, and free parking.
This house is not the only one on this lot, and another identical house is located right next to it. I am a very active traveler and literally only use rooms such as these to pass out after a busy day.
If you would like to be close to a beach, check out my option number 2! Check into Our slice of Paradise, a Condo located in Fajardo.
This modern condo boasts stunning sea and marina views and has a completely fitted kitchen complete with a washer and dryer. In Fajardo, you will find no less than 46 beaches with calm waters ideal for scuba diving, snorkeling, and sailing.
But the best part? In Fajardo, you can find observe the natural wonder of bioluminescence. I highly recommend you explore the bioluminescence lagoon on a kayaking trip!
Most Romantic Airbnb in Puerto Rico: Sea La Vie Villa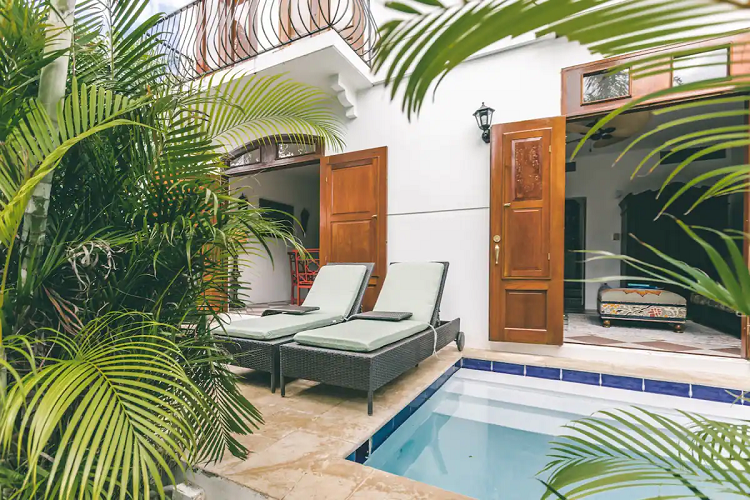 I met my husband during my travels while I was backpacking through Costa Rica. Suddenly, some (but not all!) of my travels were shared and the option to go down the romantic and even more pricey road was available to me.
The natural heritage and beaches of Puerto Rico ooze romance, and there are many stunning properties available that will complement this atmosphere.
So, how about a lovely villa with a private plunge pool? The Sea La Vie villa is inspired by a Moroccan design and has a wonderful sense of airiness, space, and privacy. I mainly love this place for its design and the real sense of intimacy that comes with it.
Located in a remote part of Rincon, this area is home to some wicked surf if you're into it (I am not, but I like the sound of the waves), scenic beaches, and the Punta Higuero lighthouse. Just north of the property, you can find the Tres Palmas Marine Reserve.
If you'd like to venture a bit more inland, I would highly recommend Rancho La Terapia as a close second choice. The word "therapy" really does apply to these little glass houses nestled in evergreen surroundings.
This is less of a place to go out and explore the country and more when where you hang around to explore yourself and each other. This tiny house features a private garden, private pool and offers mountain and city views.
Best Airbnb For Camping Enthusiasts: Experience Tropical Camping at a Cabin Close to the Ocean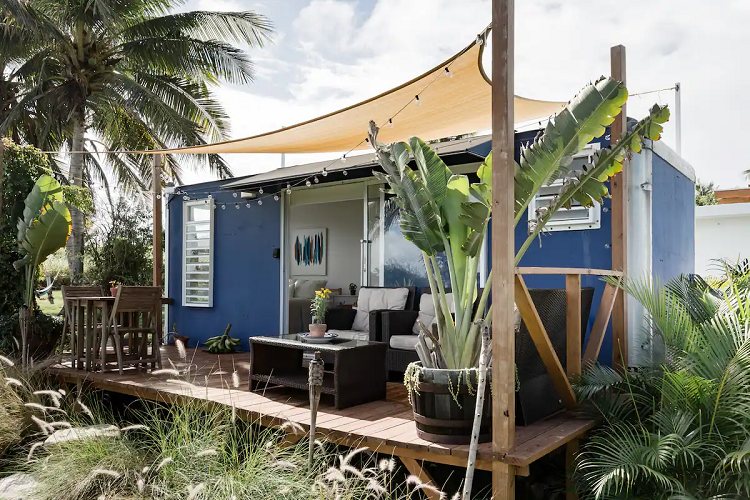 My best travel experiences were not in fancy houses but from the simple comforts of a tent. And if you think that you'd like to have some of the comforts of Airbnb while still connecting with your outdoor self, Puerto Rico has options for you too.
My number one choice? The Tropical Cabin close to the ocean. I love this little cabin/studio. It has a really outdoorsy feel, and while stripped to the bare essentials, it has everything you need (including a super comfy hammock).
Located at the northern tip of the island in Islote, this property is located right at the beach with restaurants just around the corner. While close to surfing and hiking sites, you're also not far removed from the prehistoric rock art site of "La Cueva del Indio."
Of course, I know I should also mention an actual campsite, not just a property that mimics one. Head up to Camping El Limon and pitch up your tent in the Puerto Rico mountains and enjoy spectacular views. On-site you will find electricity, a bathroom, a stove, refrigerator, grill, and a plastic pool.
Where The Comforts Of An Airbnb Meets Nature: El Yunque View Treehouse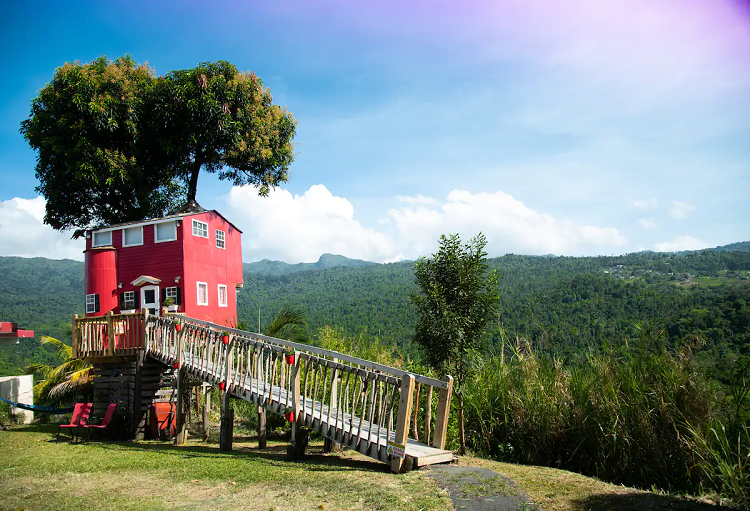 I don't know about you, but nature holidays are my favorite. I love hiking and exploring native plants, wildlife, and waterfalls, and El Yunque national park has them in abundance. Next to hiking, you can also go ziplining, horseback riding, or rent a quad and explore the mountain foothills.
While you could travel to the park and make it a day trip, if you're so inclined, I recommend you stay at the park for a while and really enjoy its natural brilliance. For those traveling alone or a as couple, I highly recommend EL Yunque View Treehouse.
This charming two-story treehouse sits on 24 acres of forest, including some of the park's most prized bird spotting areas. This property is ideal for those looking to hike and simply enjoy their surroundings and come home to relax in front of a wood-burning fireplace.
Please note that this property has no washer, so you will have to arrange to do your laundry before or after staying here!
If you are traveling with more people, you should definitely consider the Villa del Rio en Hacienda Monte Rey. This property fits 8 guests and is located in Luquillo, on the northwest side of the park. While this property is close to some of the park's hiking trails, it also features a private trail that heads to the Sabana River.
This property has everything including HDTV with Netflix, Roku, and Amazon Prime. So, this property is perfect for a long-term stay, even if you have kids to distract at night!
The Airbnb Most Suited To Large Groups: The Lucky Penny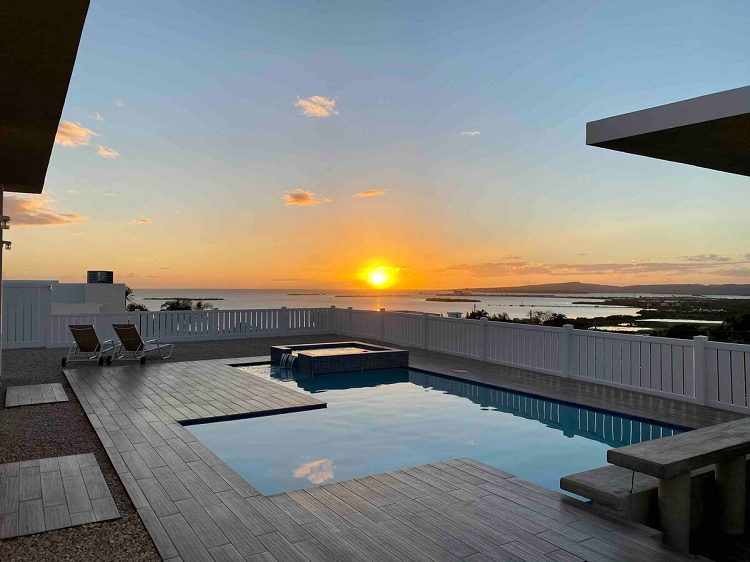 If you are traveling with a large group, you will love what Puerto Rico has to offer. Those looking to stick around San Juan, check out this stunning property The Lucky Penny. This big, luxury home with a private pool can fit 14 guests divided over 5 bedrooms and 6 bathrooms.
The best part for me, though, is the rooftop view from this 3-story house. Perfect place for an amazing sunrise. This house offers all the comforts for a long-term stay, but you have to be quick because this property goes FAST.
However, make sure that you book this one close to maximum capacity because you will really want to divide that price tag.
A more affordable option can be found on the other side of the island in Ponce. This ocean view property with private pool houses 10 guests with its 4 bedrooms and 2 full baths, and 2 half baths.
While this property also has everything you need for a confutable stay, its strongest feature has to be the pool and pool bar with an ocean view. The 2 full bathrooms could be considered a minor downside if you book this property to its full capacity, but it doesn't have to be if you learn to coordinate.
If you choose this property, make sure to pull yourselves away from the views long enough to visit the Museo de Arte de Ponce with a sizeable collection of both European and Puerto Rican art!
The Airbnb To Be Where The Action Is: Modern Art Deco Mansion in Historic District Of San Juan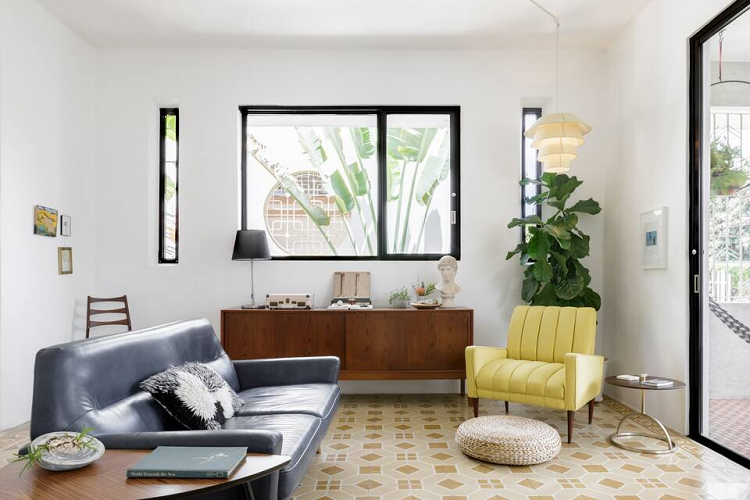 Of course, you can't visit Puerto Rico without spending some time in its capital, San Juan. This Spanish colonial town features 16th-century landmarks, charming cobblestone streets, and fortresses with sweeping ocean views. Many people who prefer city life stay here and use it as a launchpad to explore the rest of the island.
From here, you can organize smaller trips to the most exciting parts of the island, such as visiting the El Yunque rainforest, going on a snorkeling tour, kayaking, a catamaran, or just staying put one night and going on a bar hop.
Okay, so the number one property I chose here is a little crazy, I admit. It is a stunning Art Deco town house with a gigantic backyard located in the hip area of Santurce. A bit much? Maybe.
But the design simply took my breath away, and despite its size, it has a genuine feeling of coming home. I would recommend this one for a longer-term stay with another couple or a handful of friends (decide quickly, this property is very popular!). It houses 6 people with its 3 bedrooms and 2 bathrooms.
Are you looking for something of a smaller scale yet still tranquil in this bustling town? Check out option number 2: Revel in the Leafy Patio of This Serene Apartment. Located close to Parque Barbose, this flat can house 4 guests and features a patio with an outdoor shower! (don't worry, there is one inside as well).
Top Stay That Puts The "B&B" In Airbnb: Casa Flamboyant Bed & Breakfast- Ginger Terrace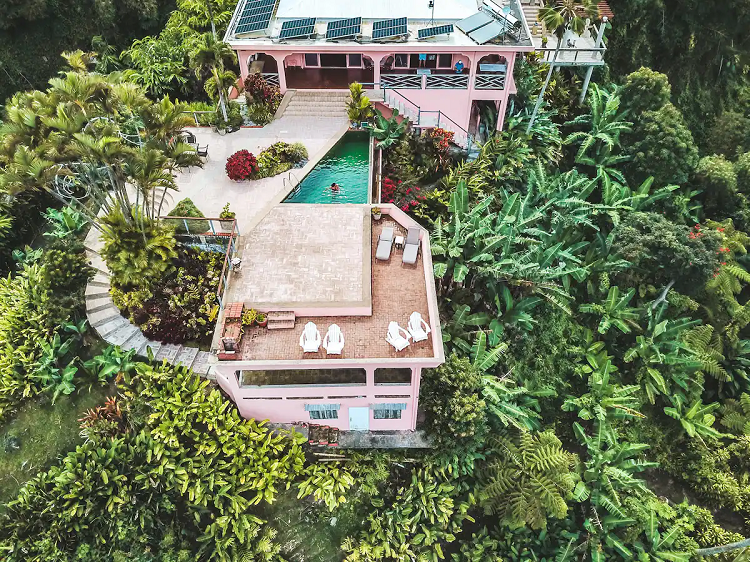 Airbnb doesn't only offer houses and apartments, but you can also find B&B's if you'd prefer to stay with a local family and are looking to keep costs down for certain portions of your trip. My first choice in this category has to be Casa Flamboyant Bed & Breakfast Ginger Terrace.
This is a remote property right next to El Yunque National Forest. This is not the place for you if you want to spend the day at the beach. This is purely for those who want to be in nature. This house offers 3 rooms in total, each with its private entrance.
If you're looking for some beach time, check out B&B in Ponce. Here too, you can enjoy the beach and majestic natural backdrop with birds and flowers that grace this property.
Bonus points for a super helpful host who will always make you feel safe and informed, which is comforting considering Puerto Rico can have a pretty temperamental climate.
Frequently Asked Questions
Question: Can we Travel to Puerto Rico During Covid?
Answer: Yes! The borders are currently open. However, make sure you comply to all regulations and also double-check if your hosts prioritize hygiene! Note that while the borders are open, non-essential travel is still discouraged. So, if you choose to go, I'd recommend you stay in one location for a longer period of time.
Question: Is it Safe to Travel to Puerto Rico in 2022?
Puerto Rica is generally safe, in fact, it is safer than most places on the U.S. mainland. But it needs to be said that general precautions do still need to be taken. Here are my top safety tips for travelers in Puerto Rico:
– Be mindful of your belongings because petty theft can occur.
– Research the local laws and familiarize yourself with the rules.
– In terms of the weather, note that hurricane season runs from June to November.
– Try to learn some Spanish before you go in case you will need to communicate with people outside of the tourist sector in any given situation.
– When you're heading into the rainforest, make sure you prepare in terms of gear, but also inform others where you are headed just in case.
– Bring insect repellent! Mosquitoes in Puerto Rico carry the Dengue and Zika virus.
Question: Is it Safe to Rent Airbnb in Puerto Rico?
Answer: Renting an Airbnb in Puerto Rico is safe. Puerto Rico's Airbnb infrastructure is quite impressive, and many options are available for any type of traveler. To make the best choice, make sure that you:
– Research your host and check on the reviews.
– Confirm that your host has a confirmed identity badge.
– Research the location as well, and make sure the host's description matches what you are looking for.
Read through all the features meticulously. This is important for you as well as your host. I have met a host who was dismayed at having received bad reviews for features they were lacking, even though this was clearly listed.
Select the "super host" button for a selection of high-performing hosts.
The Takeaway
Puerto Rico has properties available for all types of travelers. Whether you choose to be close to a beach or inland, in a large house or tent, if you research your options very well and know where your priorities lie, you will no doubt plan a wonderful trip for yourself.