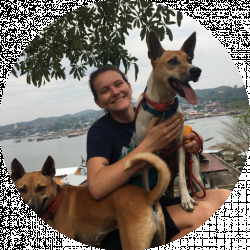 Latest posts by Daisy Hubbuck
(see all)
Marco Island is a popular vacation spot, usually with over 1.5 million visitors every year! It is easy to see why with stunning, white sand beaches, countless water and beach activities, great food, and fantastic entertainment.
Located southwest of Florida, in the Gulf of Mexico, this gorgeous island has miles of glorious shoreline and multiple waterways inland. This draws in avid anglers, paddleboarders, kayakers, and general water lovers, as well as those just looking to relax on the beach and enjoy a margarita or five by 1 pm.
Whichever side you fall on, you'll need to find the perfect place to stay before you can make this vacation dream a reality.
Of course, Marco Island is well known for its many high-end, luxurious resorts, but that's not an option for a lot of us. A great alternative to spending a few months' wages on one room is to head over to Airbnb and choose one of their more affordable rentals instead. You can set the price range, what specifics you need, and they'll show you all the appropriate properties in the area ready for you to look through and evaluate! Does that still sound like a lot of work? Yeah, we thought so too, so we did it for you!
Check out our finalists. Here's a list of some of the very best Airbnb's Marco Island has to offer.
Top 10 Airbnb's in Marco Island
Best Resort: Marco Beach Ocean Resort 10th Floor Condo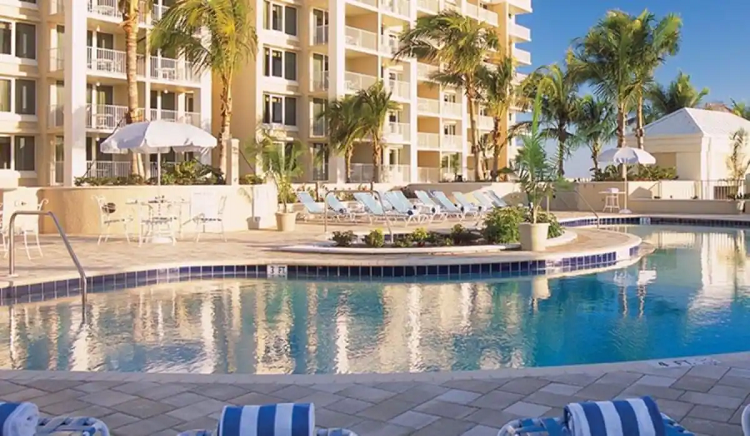 Type: Entire Home
Guests: 2- 4
Bedrooms: 1
Bathrooms: 1
Marco Island is well known for its luxurious, high-end resorts, and the Marco Beach Ocean Resort is one of the best. Beachfront and renovated to the highest standard, you'll feel like a celebrity walking into the grand reception area.
The condo has one bedroom and one bathroom, although there is an additional pull-out bed in the living area to accommodate up to 4 guests.
The fully equipped, modern kitchen has a full-sized oven, refrigerator, and microwave, so you've got everything you would need to go self-catering for your trip. Of course, if you want to make the most of your vacation, you might want to eat out at the countless delicious restaurants nearby.
Don't forget to spend your days lounging by the pool or in the hot tub first, though. For those looking to be a little more active, you can make use of the full gym at the resort.
Of course, the ocean views, luxurious condo, pool, hot tub, and gym don't come for free, but sometimes, life is meant to be lived to its fullest.
Best for a Large Group: Marco Island – One Block from the Beach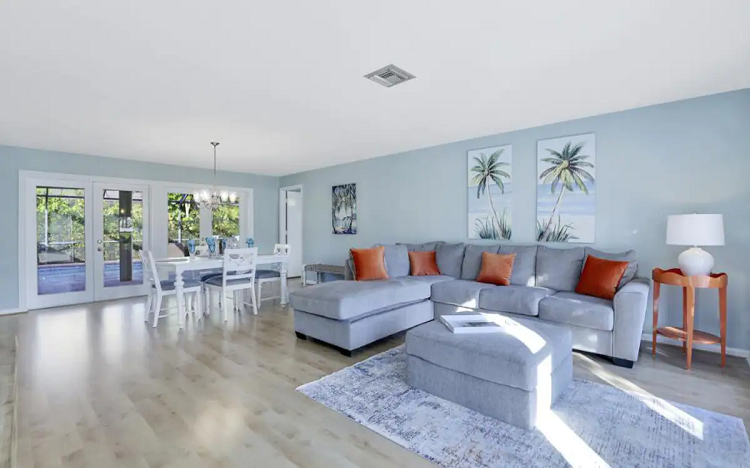 Type: Entire Home
Guests: 8
Bedrooms: 4
Bathrooms: 2
If you're planning a family or friend vacation with more than the average number of guests, the opportunities for places to stay get more limited.
Fortunately, this large rental home is available to you and 7 of your closest friends! It's right near the beach, so just a short stroll (7 minutes) or even shorter bike ride, and you'll be catching those waves or catching those rays, whichever takes your fancy.
The home is newly renovated, with four bedrooms and two bathrooms. There's plenty of space for everyone, and guests note how sparkling clean the place is.
If you and your pals don't fancy leaving the property, don't worry, there's everything you could need right here. A huge living space, large TV's, massive kitchen AND a private pool. Why would you want to leave!?
One of the great things about this rental is that the hosts live on the island full-time so if you have any questions or queries they're right there to help you. It's reassuring, especially if you're new to Marco Island, to be able to get recommendations and directions from real locals!
Best Unique Stay: Floating Home Getaway!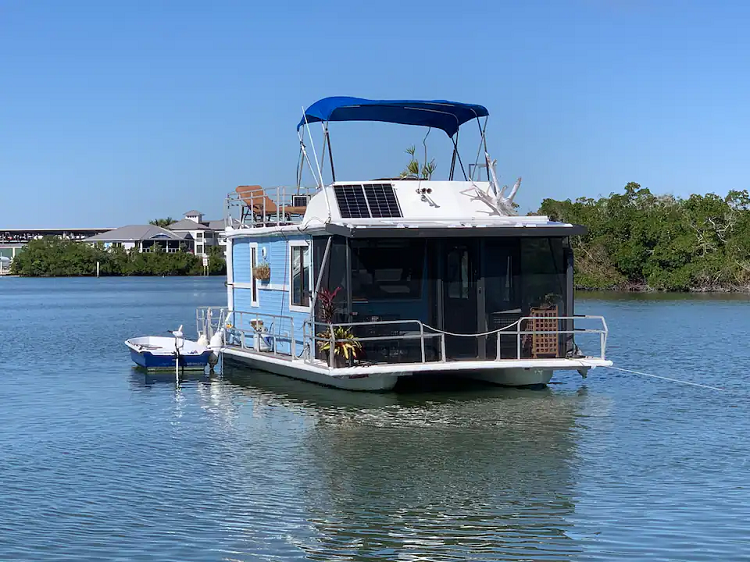 Type: Entire Home
Guests: 4
Bedrooms: 1
Bathrooms: 1
If you want to make your Marco Island experience unforgettable from the get-go, then you need to stay in this undeniably unique stay! Staying in a houseboat is a once-in-a-lifetime chance for most, and it comes with a whole bunch of perks you wouldn't get with a regular rental.
Fancy waking up and having bay/sea views in all directions? What about sipping on your morning coffee whilst dolphins swim by and play next to your home!
Want to be able to step out of bed and go kayaking or fishing without having to travel all the way to the dock? All of these things are made possible when you're staying in a houseboat!
The boat has a queen-size bed in the bedroom and a sofa bed in the living so it can accommodate up to four guests. As it is a houseboat, there are some restrictions, of course. There's a limited amount of water, so it's best not to leave the tap running and keep showers as short as you can.
Also, the electricity comes from solar panels on the roof, so you won't be able to lay in bed and stream all day (but who would want to with the sea and dolphins right outside?). There is a 40″ smart TV though and plenty of DVDs if you did want to relax and watch a movie in the evenings.
All in all, this is a completely unique stay that would truly give you an individual experience whilst on Marco Island.
Best for a Quiet Location: Affordable Marco Island Private Getaway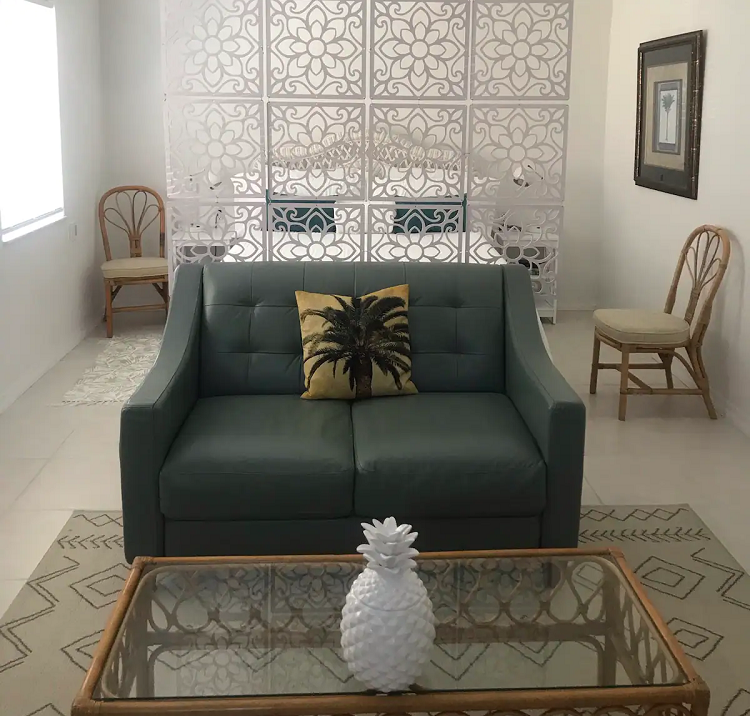 Type: Entire Home
Guests: 2
Bedrooms: 1
Bathrooms: 1
If you're not sure you want to stay right in the thick of the action while you're on Marco Island, then this could be the perfect getaway for you.
It is located further North and more inland than the busiest parts of the island whilst still being within walking distance to the beach! You get the best of both worlds with a short commute to all the action but a quiet, private place to come back to at the end of a long day exploring.
The place itself is attached to the host's home, so they're close by and available to answer any questions, but you have your own private entrance and won't be bothered at all if you don't want to be. This open-plan suite has just been redecorated, so it's clean, airy, and comfortable.
The open-plan space has a bed, couch, and TV equipped with Netflix and Hulu for the ultimate chill evening. The kitchen is fully equipped for your stay, and there's even a coffee maker to make sure you start each day off right!
Best On the Water: SWFI Waterfront Home with Direct Gulf Access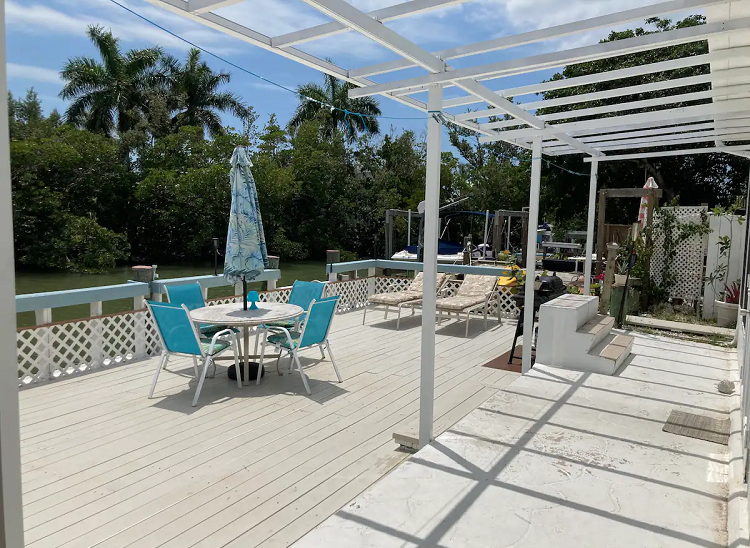 Type: Entire Home
Guests: 6
Bedrooms: 2
Bathrooms: 2
If you're an avid fisher or someone who just loves to be near and on the water, this property is for you. It comes with 40-feet of dock space, so you can bring your own fishing boat, kayaks, or whatever else you can fit into 40-feet of dock!
The canal that the house sits on has direct access to the Gulf of Mexico and the 10,000 Islands National Park, so there are days of adventures to be had right from your doorstep.
The home itself is totally private, with two bedrooms and a sofabed in the living room so you can have up to 6 guests. There are 2 bathrooms as well, so plenty of space for everyone.
With a washer/dryer, fully equipped kitchen, large TV, fully enclosed porch, and all essentials provided, you really just need to bring yourselves and a sense of adventure to get the most out of this rental!
Best Cozy Space: Beachy Vibes in a "Tiny House" One Mile to Beach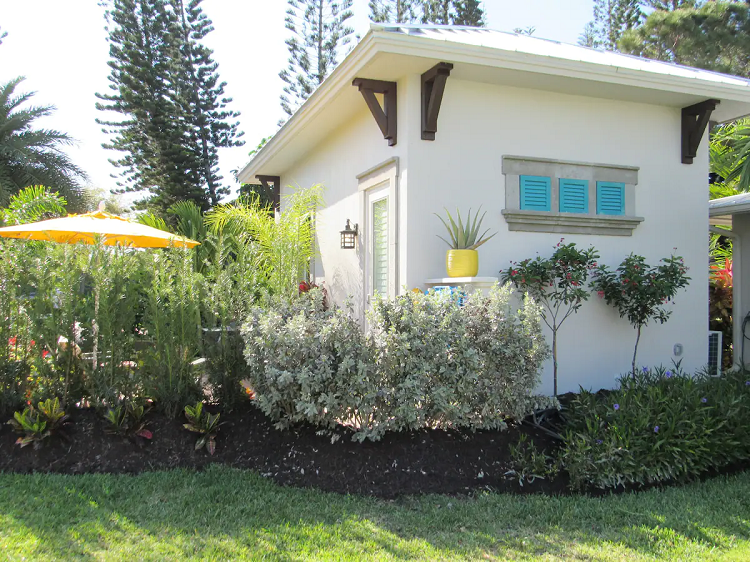 Type: Entire Home
Guests: 2
Bedrooms: 1
Bathrooms: 1
If you're looking for something a little different, and you like cozy spaces, of course, you need to check out this tiny house! It's just 400 square feet, but it doesn't feel cramped at all, thanks to the 12-foot long living space!
It's a new build, so everything is clean, fresh, and well thought out. A small kitchen area and a bathroom underneath the stairs lead to a bright loft bedroom.
The beachy theme throughout this property just serves to remind you that you're just 1 mile from the beach! Grab the provided beach bag, cooler, and bicycles and get out there exploring.
When you're done, come back and relax on the private outdoor porch or take advantage of the Hulu Live TV and spend the evening relaxing in the deceptively large living area!
Guest's love how clean and tidy the space is, how central this property is, and also how close to the beach it is, but they also love the hosts and how extremely helpful they are throughout the experience.
Best for Fewer Crowds: Skip the Crowds in our Cozy Cottage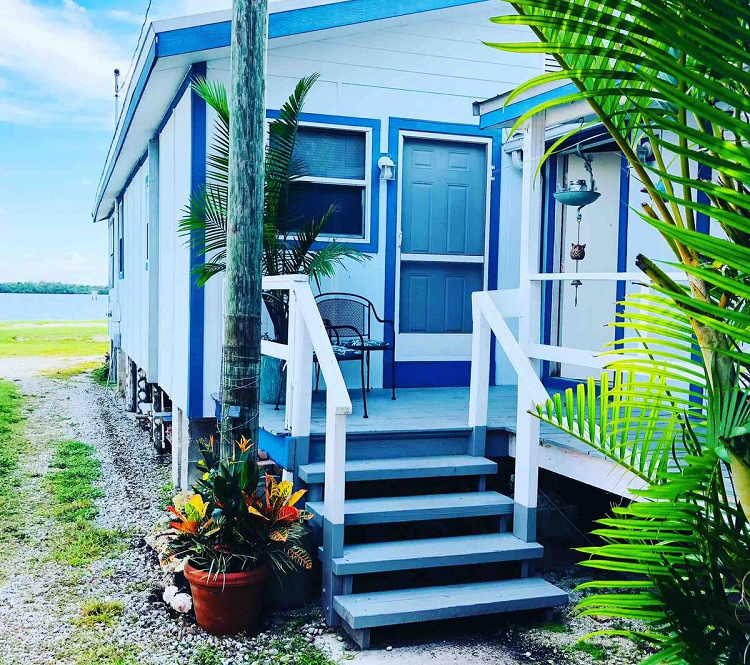 Type: Entire Home
Guests: 2
Bedrooms: 1
Bathrooms: 1
If you truly want to get away from the crowds, there's no place like this Cozy Cottage. It's nestled in the neighborhood of Goodland, which is already a quiet neighborhood, but this property has its own little patch of paradise, its own dock, and a completely private entrance/exit way.
Suppose your idea of a great vacation is waking up, grabbing a cup of coffee, and sitting outside in the peaceful, beautiful scenery watching the sunrise over the everglades. In that case, this might just be your dream property.
You can bring your own boat, but the host graciously provides a tandem kayak, beach chairs, and bicycles to help you enjoy your vacation as much as possible. Although the surrounding is absolutely stunning, you will eventually have to go back indoors where you will find everything you need to make your stay comfortable.
The property is modest but ideal for a couple. There's a California King bed, closet, fully equipped kitchen, and living space with large TV.
Best for Pets: Pet Friendly CONDO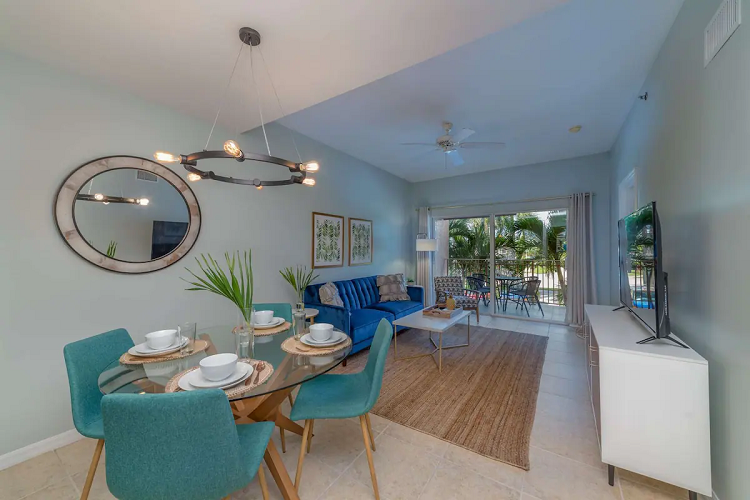 Type: Entire Home
Guests: 6
Bedrooms: 2
Bathrooms: 2
This newly renovated condo is located right in the heart of Marco Island. It's within walking distance to many of the island's highest-rated restaurants and stores and is under a mile to the nearest public access to the glorious white beaches Marco Island is so famous for.
The home is advertised as pet-friendly, and they accept up to 2 pets for an extra fee. They also provide a bed and bowls for your furry one to enjoy. It is not common to find pet-friendly places so close to all the action, so if both these things are important for you on your trip this could be the property for you.
The condo itself has space for six guests, but if you're traveling with more, the host also has the identical unit right next door, so you could possibly have found a place in the heart of Marco City for up to 12 people!
There's a large living area with Youtube TV, a fully functional kitchen, a breakfast bar area, and even a Western-facing balcony so you can sit and enjoy the sun setting over Marco Island after a long day exploring.
To make everything as easy and comfortable as possible, the host also provides a beach cart, beach chairs, umbrella, and cooler so you'll be ready to hit the beach at a moment's notice.
Best Value for Money: Tropical Garden Studio Cottage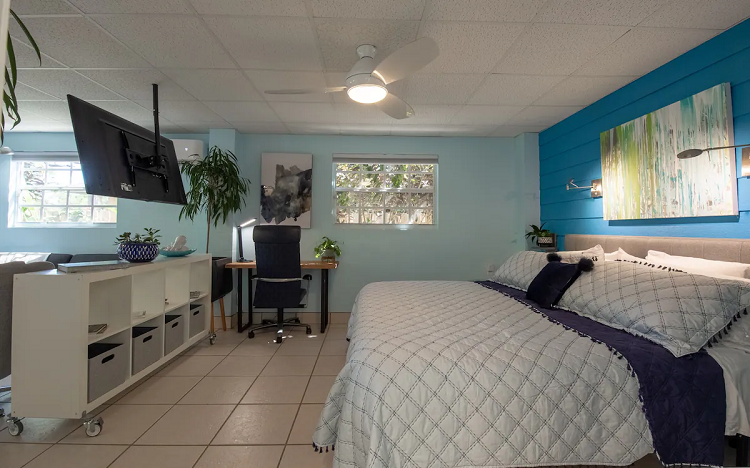 Type: Entire Home
Guests: 4
Bedrooms: Studio
Bathrooms: 1
If you're on a bit of a tight budget for your upcoming Marco Island trip, don't be discouraged. Yes, there are resorts where a room will set you back thousands just for a few days, but there are also hidden gems like this Tropical Garden Studio Cottage that won't break the bank.
Lucky for you, Marco Island is pretty small, so no matter where you are, you're always close to the beach! This property is just 2 miles to the nearest beach.
The studio cottage is clean and spacious. It feels very light and airy, with a clear divide between the bedroom, living, and kitchen spaces. The host even provides you with bicycles so you can set out exploring the nearby area. Just a 15-minute cycle away is the Wiggins Pass State Park and the beach.
Not a fan of cycling? No problem. Within a 10-minute walk are tons of restaurants, shops, bars, rental places for paddleboards and kayaks, and anything else you might need during your stay.
This property is already fantastic value for money for the property itself and its location but what makes it even more desirable is that there's actually space for four guests so whether you're a family or a group of friends (who don't mind sharing a studio) you really get more bang for your buck with this rental.
Best for Solo Travelers: Large Studio, Private Entrance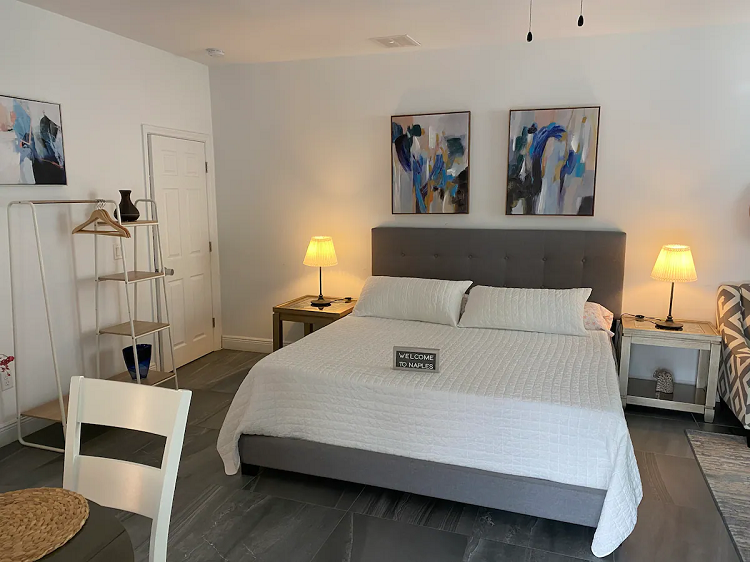 Type: Private Room
Guests: 2
Bedrooms: 1
Bathrooms: 1
When you're traveling solo it sometimes adds a feeling of security to rent a private room instead of an entire home (and it also works out cheaper). If you're renting an entire 1 bedroom apartment, the price, unfortunately, doesn't come down just because there's only one of you staying there.
That being said, you might be traveling solo but still want your own space, and that's where this gorgeous Large Studio comes into play. It is advertised (and priced) like a standard private room in someone's house, but it is, in fact a large, bright studio apartment all to yourself with your own bathroom, entrance, and patio too!
The space has a big, comfortable bed, lounging seating area, dining table and chairs, small kitchenette with microwave, coffee machine, and fridge, AND your own private, beautifully renovated bathroom. All of this comes in at a price well under what you would expect.
You might think it is in a terrible location and that's why the price is so reasonable, but you would be wrong! It's within walking distance to tons of attractions, restaurants, and shops.
FAQs
Question: Are There Any Rentals on Marco Island that are Pet-Friendly?
Answer: Yes! Some Airbnbs are specifically marketed as being pet-friendly, but also, if you like the look of a property, you can always check their house rules to see if they allow pets. It's always worth messaging the host directly to see if something can be arranged, even if an extra cleaning fee occurs.
Question: Are there Vacation Rentals on Marco Island on the Beach?
Answer: Yes! One of the main attractions for people visiting Marco Island is the stunning, white sandy beaches that it's so famous for; therefore, there are lots of properties right on the beachfront or within a few minutes walk.

Luckily, there's a lot of beach to enjoy, so properties close to the beach don't tend to be too much more expensive than "inland" properties.
Question: Can I Get an Airbnb for 10 Friends or Will I Need to Book Two Places?
Answer: Yes, there are actually almost 100 properties on Airbnb currently that can accommodate 10 guests! That being said, some properties that are smaller do have "sister" properties, usually right nearby or next door which can be rented at the same time to make enough room for your whole party.
Conclusion: What is the Best Airbnb on Marco Island?
This question is so subjective to your personal preferences and circumstances, but a few properties definitely did stand out. The Large Studio, Private Entrance was such good value for money and great all-around.
They even said they could add another mattress to accommodate up to 4 guests, so it really is suitable for a range of people.
That being said, the SWFI Waterfront Home with Direct Gulf Access was also a fantastic choice for groups up to 6 who want to take FULL advantage of the proximity to the stunning ocean and really have a "home away from home" feeling for their vacation.
Basically, there are too many amazing options for your stay on Marco Island, which we have to say, is a great problem to have! Whichever home you choose to enjoy on your vacation, make sure to have an outstanding time in this glorious vacation spot and say hello to those dolphins for me!
Recommended Reads: