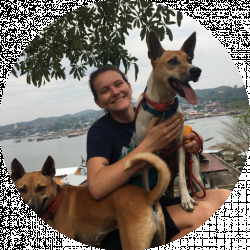 Latest posts by Daisy Hubbuck
(see all)
Salem is a city located in the county of Essex, Massachusetts. This coastal destination is best known for its involvement in the Witch Trials in 1692, where 20 people were executed for "witchcraft." It was a desperate time full of hysteria and false accusations. Spectral evidence was submitted in court and 19 women and men were hung because of it. Luckily, the witch trials did not last long. However, they have left a lasting impression on the world and are the reason Salem has a million visitors a year!
If you're interested in visiting somewhere with a spooky past, Salem is a great choice, but there is more to the city other than just witch hunts and trials. The city is also known for its literature, art, ocean ships, and even pirates! If you've decided you want to visit the next step is to figure out where you're going to stay. There's a lot of options with hotels, motels, B&B's, and resorts, but there's another, much newer, form of a vacation stay, and that is Airbnb.
Airbnb started out as a way for people to rent out a room in their home. They would get to make some extra income, and travelers get to stay somewhere and get to know a real local's opinion on the area. Of course, since it began, Airbnb has grown massively, and it now includes renting entire homes, hotel rooms, caravans, tents, and other unique stays. With so much choice, it can be a bit confusing when you're first looking for somewhere to stay in a new city, so hopefully, this article will help you narrow down your choices.
Airbnb: Types of Stays
Everyone's vacation looks different. People want different things, they travel with a different number of people, and their priorities don't always match. That's okay. Airbnb has a range of property types, so a good place to start is to figure out which one is right for you.
Private Room
The classic. The original. This is where it all began. A private room will be your own room/space within the host's house. This may include your own bathroom, but you may have to share a bathroom with other guests and/or the host. Choosing a private room is usually the cheapest option on Airbnb (except for a shared room), and it's also great for solo travelers. The host may have other guests staying, and sometimes they have dedicated communal areas for the guests to hang out, so you might even get to make some travel friends while you are there. Another great thing about private rooms on Airbnb is that you get to meet your hosts, and they can tell you all about the area and give you some unique tips and insight.
Entire Home
Now, if you prefer more privacy when you're on vacation or you're traveling with larger numbers, then renting an entire home would be better suited. These usually have a living space, kitchen, bathroom, and bedroom(s). Sometimes, the rental is attached to the host's home, but it will have a private entrance and sometimes even self-check-in so, if you don't wish to, you don't need to meet the host at all. Of course, you do get the best of both worlds in this scenario. You can have your own private space but also the possibility to meet the host and find out about the local area.
Unique Stays
One super cool thing about Airbnb is that they have a ton of "unique stays." These are anything out of the ordinary so that it could be a caravan, tent, campervan, or even a treehouse! There's a filter you can use to you can just see the unique stays in the area, and it's a great way to have make a special trip even more memorable. Of course, this does come at a price, though, and the unique stays are usually quite a bit more expensive than a regular room or house.
10 Best Airbnb's in Salem, Massacheusetts
Okay, so you've considered the different types of Airbnb's that are out there, and you probably have a good idea of which type you want to go for. Now for the fun part. We've narrowed it down for you and found some of the best Airbnb's in Salem, MA. We've scoured and researched, and these picks came up and the best in their chosen category.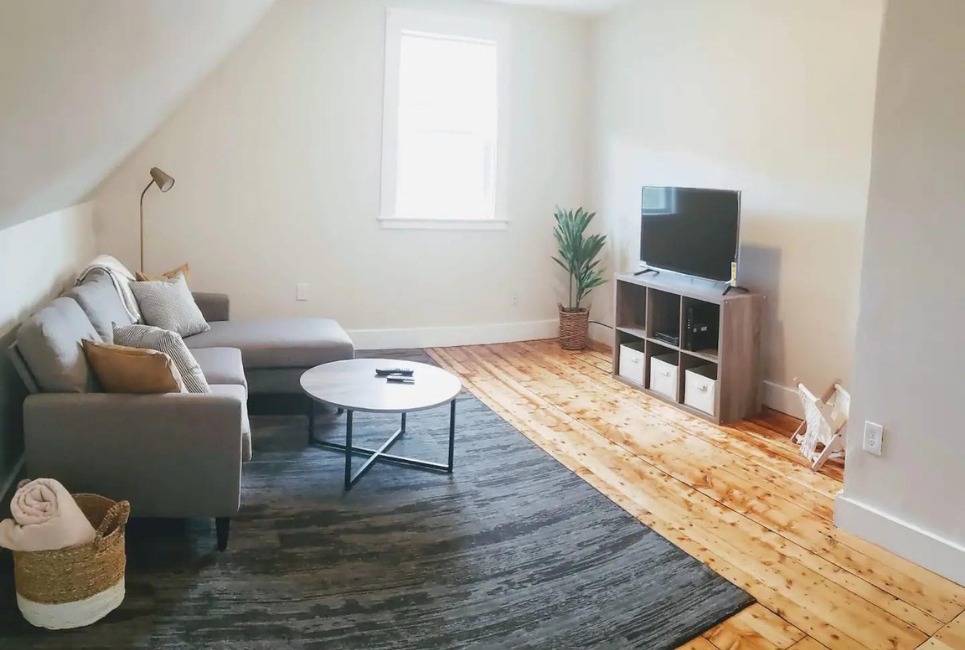 Location: 10 minutes from Downtown Salem
Type: Entire Home
Price: $
Guests: 2
Bedrooms: 1
Bathrooms: 1
Located just a short 10-15 minute walk from Downtown Salem, this rental is in a fantastic location that guests seem to love. Being right in the thick of the action is great sometimes, but it's also great to be able to come home after a long day exploring and be in a peaceful and quiet area. This 3rd-floor apartment has been renovated to a very high standard. It's clean, modern and has everything you would need for a short stay.
There's a bright, open-plan living area/kitchen. The kitchen is equipped with a microwave, countertop convection oven, and large fridge/freezer, so whilst it might not be great for really long stays, you could easily stay here for up to a week comfortably. There's then a separate double room and bathroom.
Ultimately, this place is in a great location, not too close and not too far from all the action, it comfortably fits 2 guests and it won't break the bank! What more could you need for your short stay in Salem?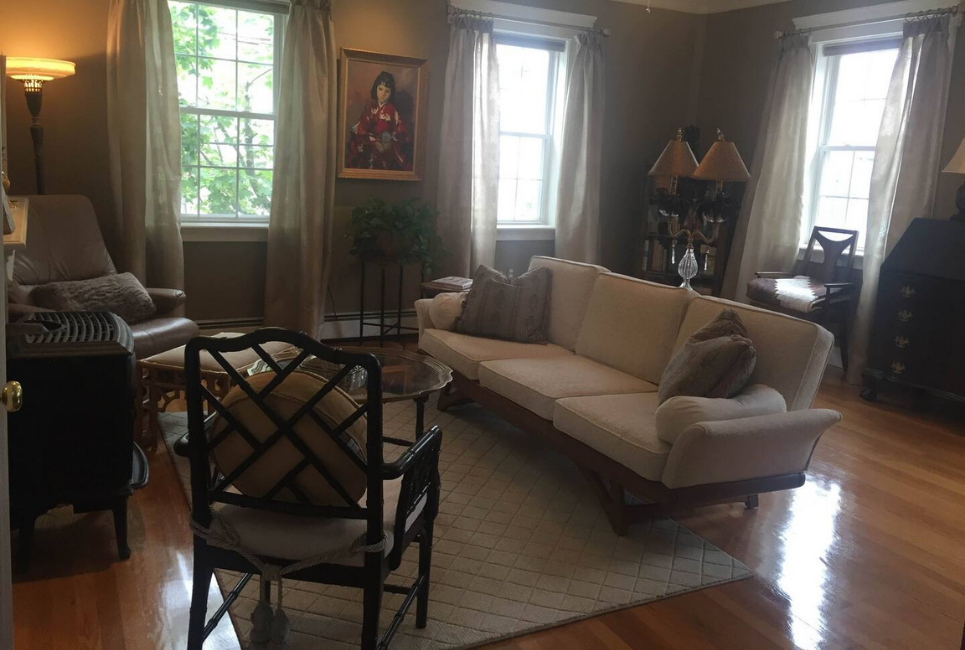 Location: Downtown Salem
Type: Private Room
Price: $
Guests: 1-2
Bedrooms: 1
Bathrooms: 1 Shared Bathroom
Choosing a private room as a solo traveler is a great way to meet people, and that's exactly the case with this Private Room Off Derby St. You'll have your own private room, but there are communal spaces like the kitchen, living room, deck, and courtyard where you can sit back and relax with your fellow travelers before setting off to explore the city. You can do all this on foot, thanks to the super central location of this property. All the major attractions that Salem offers can be reached on foot which is also great as a solo visitor. You don't need to worry about getting home late at night in an unfamiliar city. You're already right there!
The space itself is cozy, ideal for one person, but two guests can easily stay here. The room is basic, with a comfortable double bed and a small dressing table, but what more do you need for a weekend in the mystical Salem!? The house itself looks like it came straight out of a movie, so be sure to get some Instagram-worthy shots before going in!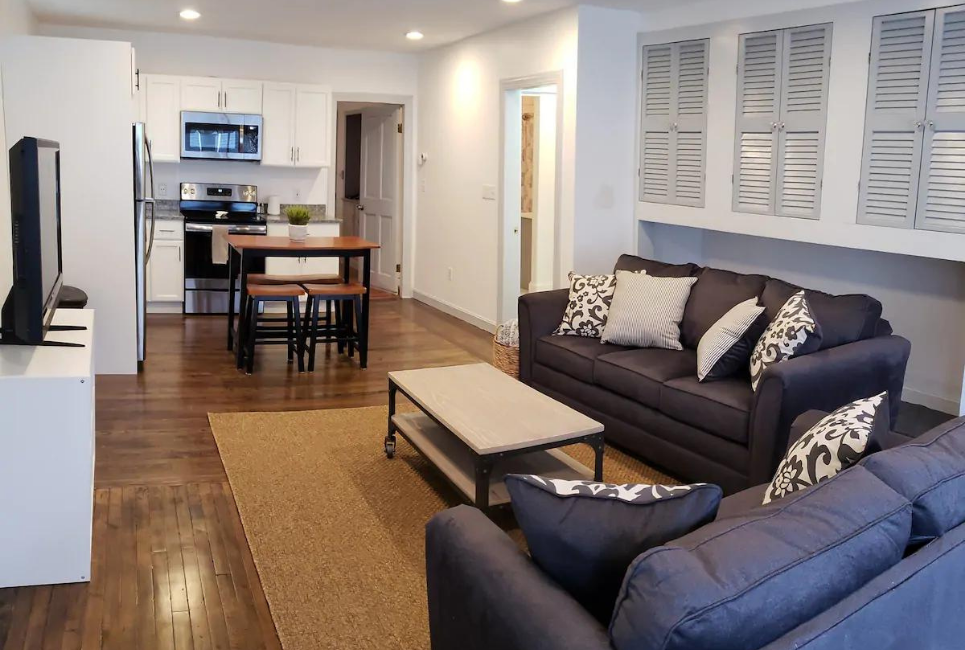 Location: Downtown Salem
Type: Entire Home
Price: $$
Guests: 2-3
Bedrooms: 1
Bathrooms: 1
As a couple when you're looking for somewhere to stay on vacation, you want it to be big enough, so you're not on top of each other all the time and have everything you need, so there's no need to worry about leaving to find food, everything is right there for you. That's exactly what you get with the Newly Renovated Downtown Salem Apartment.
It's a one-bedroom, open-concept apartment, and it's just been decorated, so the finish is something out of a magazine. Spotless clean with new furniture and a well-thought-out layout, you won't be wanting for anything in this rental. The kitchen is fitted with a full-size modern oven, microwave, and fridge/freezer. The room is basic but modern and clean, as well as the en suite. Ideally located in Downtown Salem, you won't need to set aside any extra time for traveling to attractions, they're all right on your doorstep!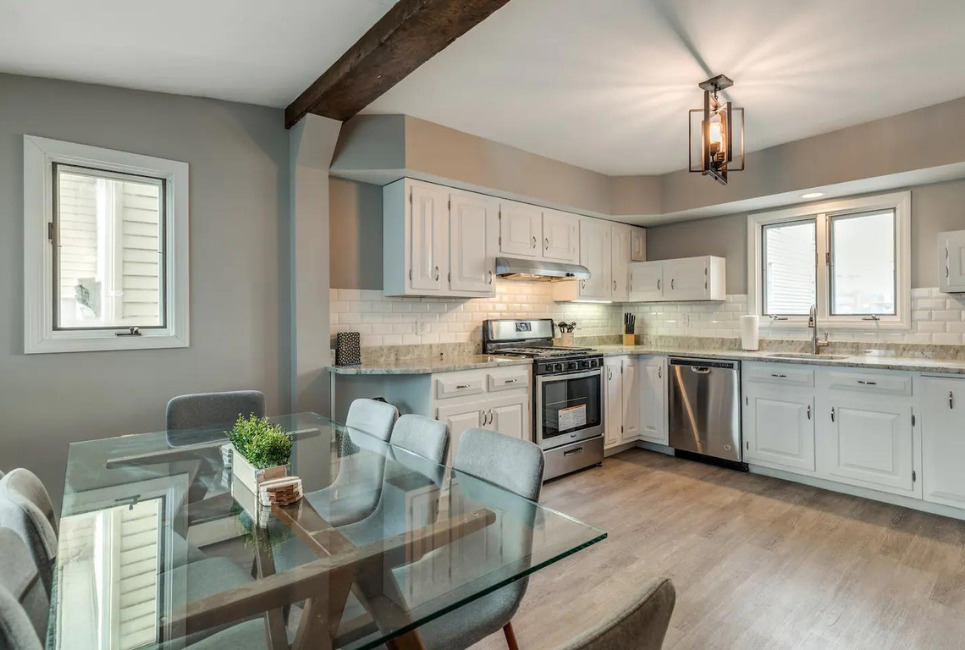 Location: Downtown Salem
Type: Entire Home
Price: $$$
Guests: 8
Bedrooms: 4
Bathrooms: 2
Sometimes when you're traveling with a large group, it can be hard to find a property that is centrally located. We all know the closer you get to the city center the smaller the apartments seem to get! Well, lucky for you that is not the case with this property. It's a huge, newly decorated, 4 bedroom home with 2 full bathrooms. All the rooms have king or queen memory foam mattresses, and there's an extra sofa bed in the living room too.
The house is equipped with everything you need for a comfortable stay. There's a fully stocked kitchen, the bathrooms even have all the essential toiletries, and there's a washer and dryer in the basement. Step outside the door, and you're within minutes of all the Salem specialties and just 15-minutes from the Hocus Pocus house! The only thing the host asks is that you refrain from smoking on the property, and you don't have any parties.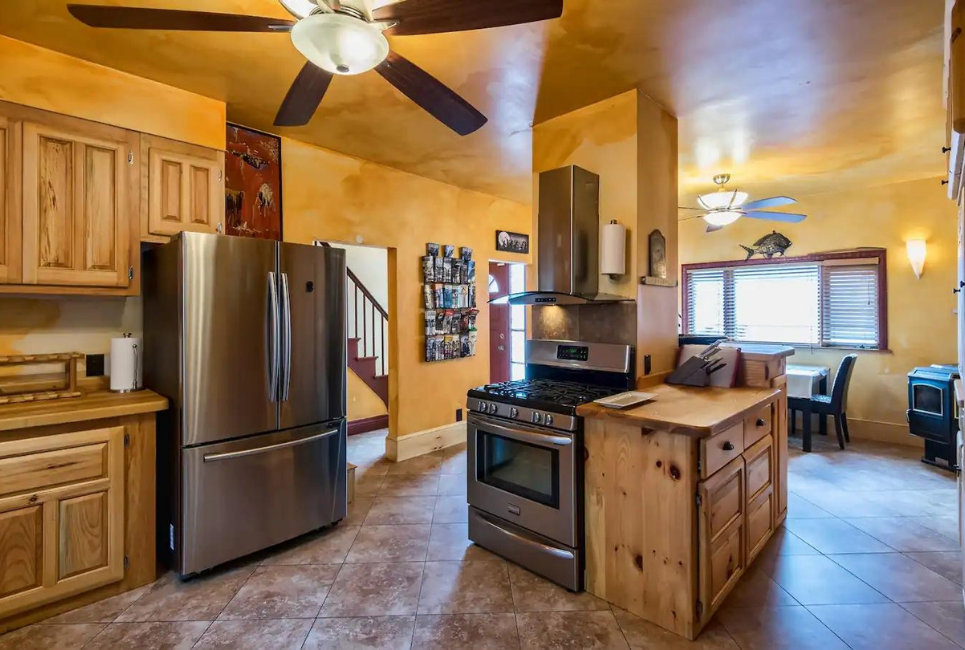 Location: McIntire District
Type: Entire Home
Price: $$$$
Guests: 5
Bedrooms: 2
Bathrooms: 1.5
This property, built in 1857, is a great example of the best of Salem. It's historic, it's rustic, but it's got all the modern touches that you might need for a comfortable stay. The best part, if you ask me, is the beautiful fenced-in backyard, making it the perfect place to bring your dog(s). There's plenty of trees for shade and even a grill so that you can host your own Salem BBQ!
The house itself has 2 bedrooms, one has two beds and the other just one. The house feels much larger than a 2 bedroom, though, and the rustic, wooden decor makes it feel like you're living in the house just how it's been lived in for centuries (except for all the modern conveniences of course). Walking distance to everything, plenty of space and a lovely safe backyard easily makes this the best pick for anyone traveling with their furry friend.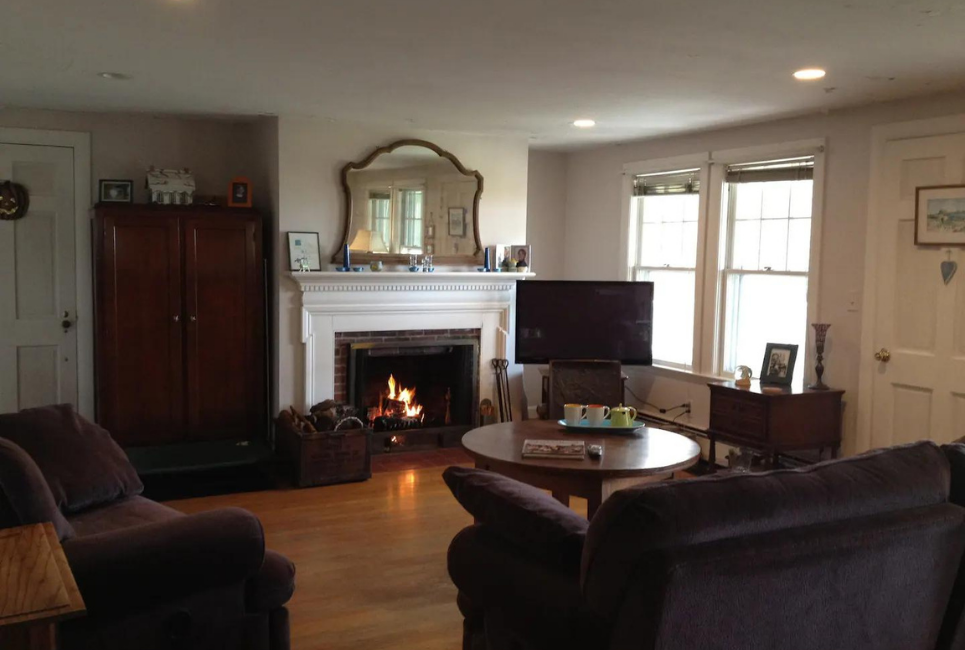 Location: Marblehead
Type: Private Room (B&B)
Price: $
Guests: 2-4
Bedrooms: 1
Bathrooms: 1 Shared Bathroom
If you're looking for value for money on your stay in Salem, then it's always good to look a little further out of the center. This property in Marblehead is fantastic value for money and yet it's just a 10-minute drive from Downtown Salem! The room available is a private room in a family home that can sleep up to 4 guests. The host has two rooms just like this with a shared bathroom on the same hallway. So, if you're traveling with a group you could have the entire floor to yourselves!
The rooms are decorated with traditional furniture from the era of the cottage. You'll have full use of the kitchen, living area, porch, and private beach! Sipping your complimentary coffee in the morning with those stunning harbor views won't go amiss either!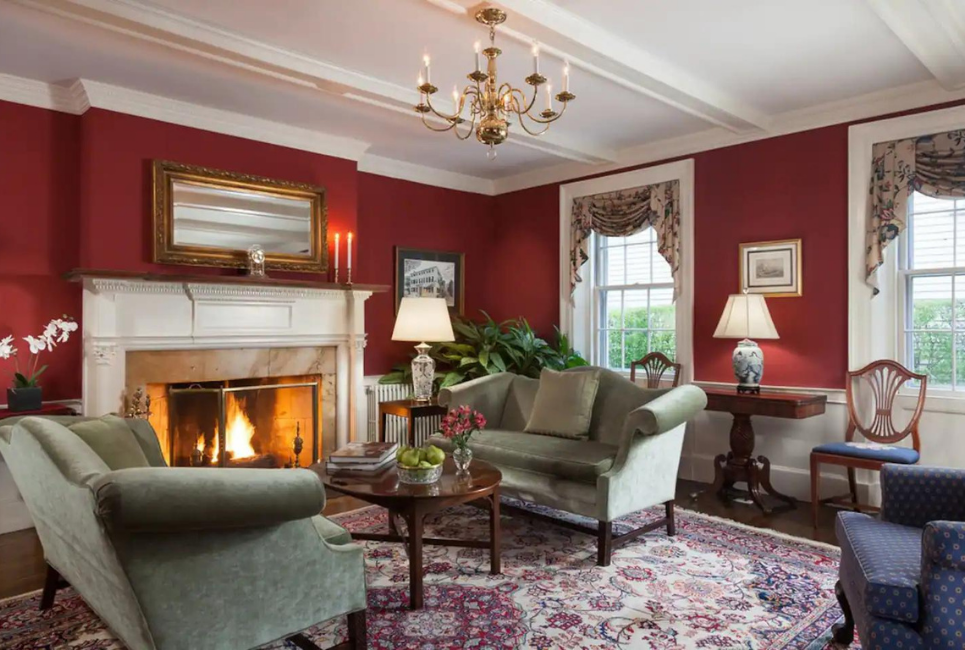 Location: Marblehead
Type: Private Room (Full Service Inn)
Price: $$$
Guests: 2
Bedrooms: 1
Bathrooms: 1
Sometimes when you're taking a trip, you just want to forget about all responsibility, have everything taken care of for you, and live a little bit of luxury. That's exactly what can be expected in the Beautiful Room in a Full Service Inn. The rooms are kept immaculate with your very own maid service. There's a full breakfast buffet served every morning and a 24-hour front desk service to help with anything you might need.
Don't want to be out exploring all day long? Why not put your feet up in the stunning garden with an outdoor pool. If you're looking for a vacation within your vacation, this is the place to be!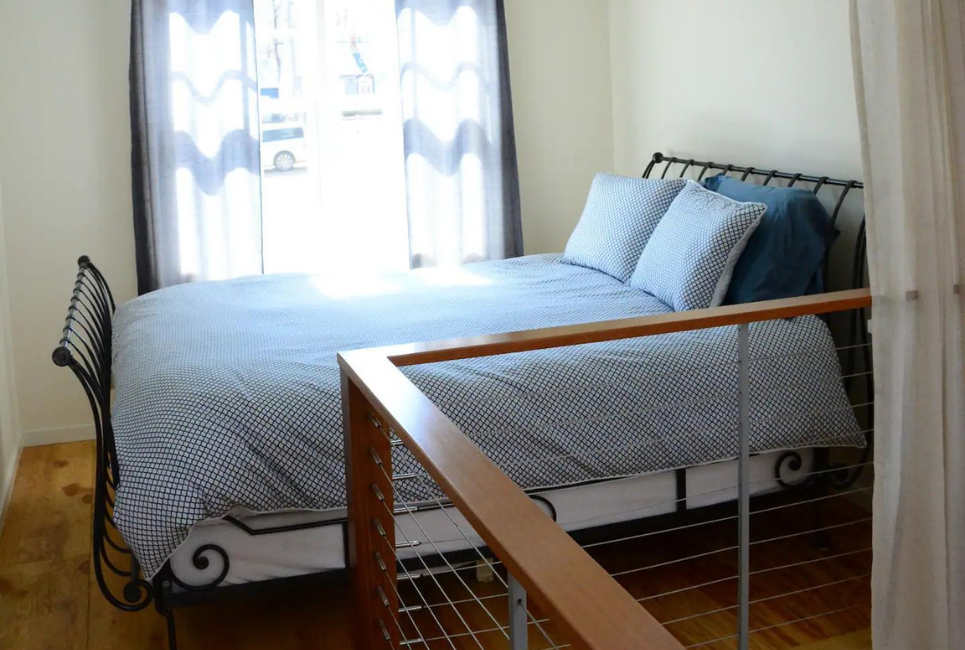 Location: Marblehead
Type: Entire Home
Price: $$$
Guests: 4
Bedrooms: 2
Bathrooms: 1
There are not a lot of "unique" Airbnb's in Salem, and I guess that is because the whole town is full of historic, interesting, and quirky properties! One property that did stand out, however, is the Marblehead Tiny House. At just 360 square feet, you'll be surprised just how functional this home is! It can comfortably fit four guests and has a fully functional kitchen with a hot plate, kettle, refrigerator, and microwave.
The tiny home is set in the wooded backyard of the host's own home, and this beautiful scenery is only amplified by the harbor just steps away! You are a mile from Marblehead old town and a 10-15 minute drive from Salem old town, but that just means you get to experience two beautiful towns instead of one!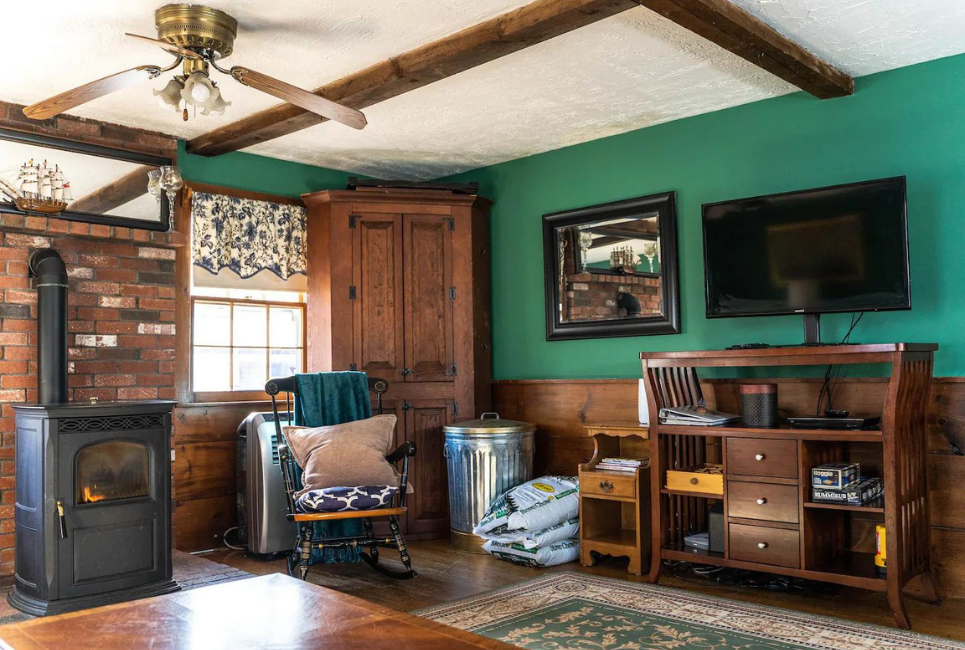 Location: Downtown Salem
Type: Entire Home
Price: $$$$
Guests: 10
Bedrooms: 5
Bathrooms: 4
If you're visiting Salem, it's more than likely that you've heard of its spooky history. If that's the reason you're visiting, then why not really embrace the history and stay in a spooky Airbnb. The Henry Derby House used to be a B&B, but it was recently converted into a full home rental, so you can fit all the friends and family in this huge 5 bedroom, 4 bath house! It's got everything you could need; a fully equipped kitchen, living space, two dining areas, and a garden.
Now for the spooky. The host notes that this house is on the haunted house tour that goes around Salem and they themselves have many spooky stories from living in the house! Of course, they say they cannot guarantee it is haunted. Guess you will just have to find out for yourselves; if you're brave enough!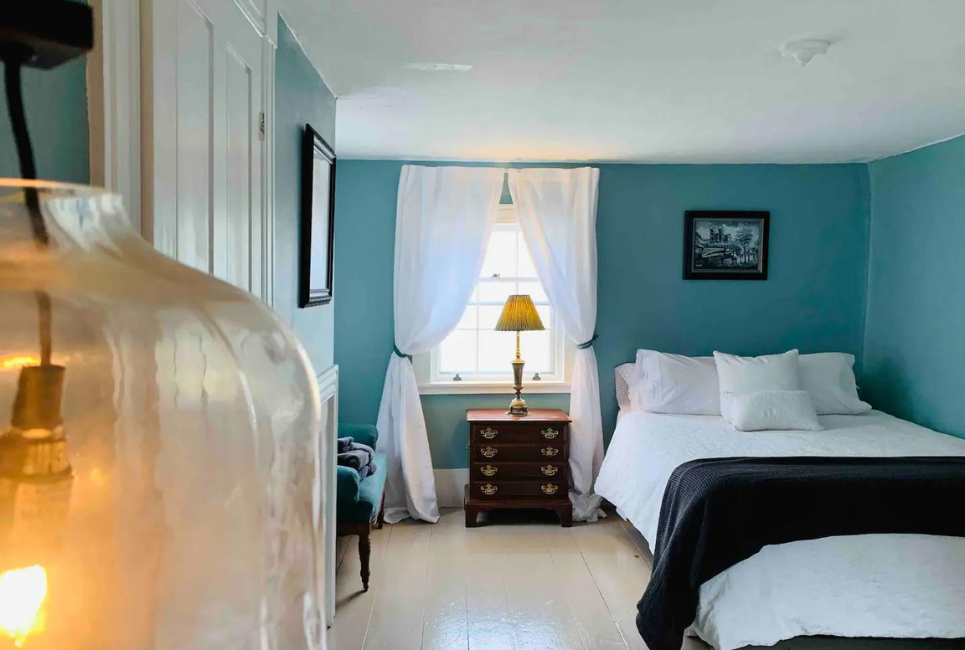 Location: Downtown Salem
Type: Entire Home
Price: $$
Guests: 2
Bedrooms: 1
Bathrooms: 1 Shared Bathroom
Spend your vacation in one of the oldest houses in Salem! Built in 1760, this Inn is literally a part of Salem's history. The decor inside, however, wouldn't give away its age. They've kept most of the charm but updated and modernized as needed so guests will be as comfortable as possible. The Seaside Room overlooks treetops and local architecture, and the Inn itself is within a few minutes walking of all the major attractions Salem has to offer.
FAQ
Question: Are There Any Haunted Properties to Rent in Salem, MA?
Answer: Yes! Some people say that their property is haunted, like the Henry Derby House. Of course, this can't be guaranteed. If you want to see some supposedly haunted places, there are many tours and walks that can offer some insight.
Question: What is the Best Neighborhood to Stay in Salem, MA?
Answer: It is down to personal preference. Staying in Downtown Salem will mean you're very close to all the attractions and can walk within minutes to everything you want to see. Staying further out, in a neighborhood like Marblehead, will offer cheaper rentals and it's still just a 10-minute drive or Uber to Downtown.
Question: What is the cheapest Airbnb in Salem, MA?
Answer: You can rent a private room for under $40. However, it will be a bus or train away from Salem and not located centrally.
Conclusion: What is the Best Airbnb in Salem, Massachusetts?
Ultimately, where you stay in Salem is heavily dependent on your circumstances. Salem has something for everyone, whether it's a private room, entire property, haunted dwelling, or tiny house! Overall, I still think the Quiet & Cozy Apartment Minutes from Downtown Salem is a fantastic choice. It's central but not in the busiest and loudest part of Salem. It's comfortable for two guests, won't break the bank, and is newly renovated.
Wherever you end up staying, don't forget to check out the Hocus Pocus house, take a ghost tour and make the most of the museums and rich, interesting history of Salem, Massachusetts!
Recommended Reads: