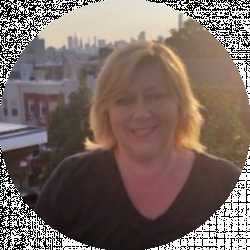 Latest posts by Tammy Wunsch
(see all)
New Bern, North Carolina is a city on the Inner Banks and is located in Craven County. It was settled in 1710 under the direction of Christoph von Graffenried, the 1st Baron of Bernberg. The colonists named the settlement after Berne, Switzerland, which was the home state of the Baron.
After Bath, New Bern is the second oldest colonial town in North Carolina. It once served both as North Carolina's colonial government capital and as the state capital.
New Bern prospered after the American Revolution and developed a rich cultural society. New Bern was once known as "the Athens of the South" and was known for its Masonic Temple and Athens Theater which are both still active today.
How Far Is New Bern, North Carolina From…?
New Bern is easy to get to and a short drive from many major cities. To New Bern from…
| | |
| --- | --- |
| Greenville, NC | 45 miles |
| Wilmington, NC | 94 miles |
| Raleigh, NC | 116 miles |
| Fayetteville, NC | 130 miles |
| Norfolk, VA | 162 miles |
| Charlotte, NC | 267 miles |
| Washington D.C. | 309 miles |
What Is New Bern Best Known For?
The first state capital of North Carolina was located in New Bern and you can still visit Tryon Palace today.
George Washington once visited New Bern and danced at Tryon Palace. New Bern was the first city in the United States to celebrate Washington's birthday.
In 1898, a local pharmacist named Caleb Bradham invented and served the first Pepsi. He owned a drug store in downtown New Bern and was originally called "Brad's Drink." It was made from a mixture of water, sugar, caramel, nutmeg, lemon oil, and other natural ingredients. The drink was an overnight sensation. Caleb renamed his drink "Pepsi-Cola" on August 28, 1898, and viewed it as a "healthy" cola that aided indigestion. The name "Pepsi-Cola" comes from the word "dyspepsia," which means indigestion.
What Types of Outdoor Activities Are In New Bern, North Carolina?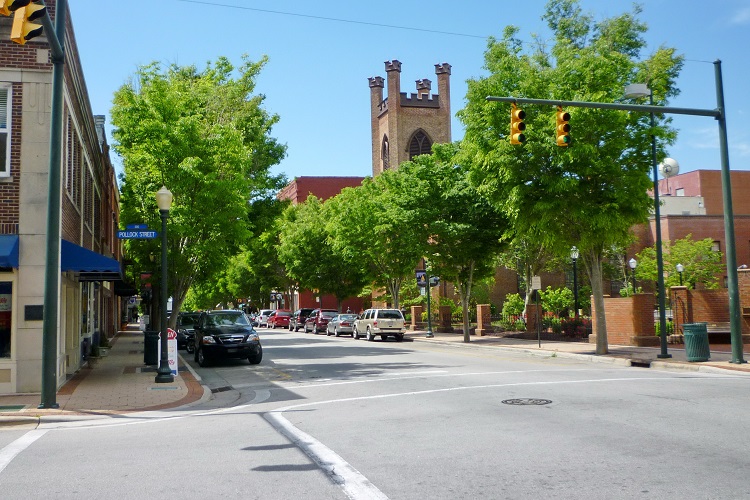 The weather and location of New Bern make a delightful combination for a variety of outdoor activities.
Shackleford Banks Shelling & Wild Horse Expedition
The Schackleford Banks & Wild Horse Expedition provides eco-tours of Shackleford Banks. which is located on Cape Lookout National Seashore, on the southernmost barrier island. Shackleford Banks is famous for its free-roaming herd of wild horses that are thought to be descended from Spanish horses that were shipwrecked over 400 years ago. The island has natural beauty and wind-shaped dunes. No visit to the area would be complete without visiting Shackleford Banks.
New Bern Farmers Market
The New Bern Farmers Market was established in 1984 and consists of a diverse group of vendors. It is a weekly farmers market where you can purchase fresh produce, freshly baked bread, and sweet treats as well as artwork, handmade clothing, and fresh flowers.
Hiking
There is no better way to enjoy the great outdoors than by exploring the area with a beautiful hike or bicycle ride. Explore some of these amazing trails.
Latham-Whitehurst Nature Park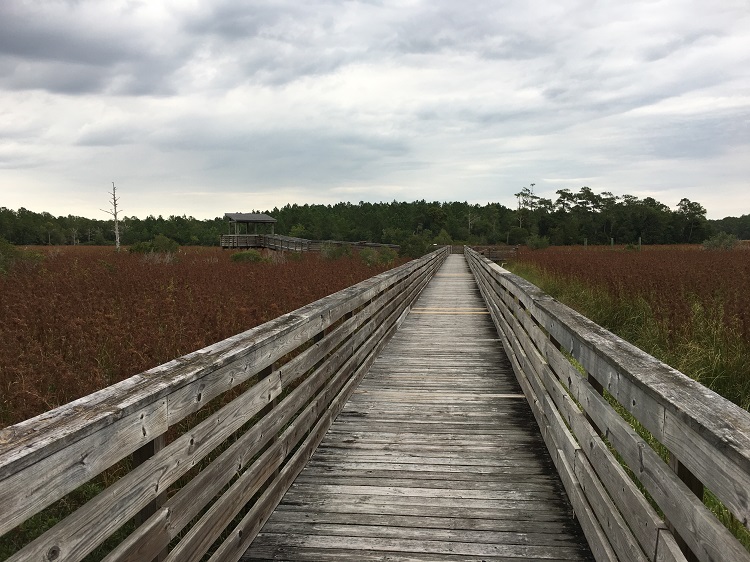 Latham-Whitehurst Nature Park is located in the eastern section of New Bern and is a popular destination for hiking, biking – and much more! There is a 2,000-foot boardwalk that travels through the park and provides breathtaking views of Broad Creek. There are more than 16 miles of hiking and biking trails along with picnic shelters and beautiful natural scenery along the shores of Broad Creek.
Island Creek Forest Walk Trail
The Island Creek Forest Walk is a 3.7-mile trail located near Pollocksville. It features cypress trees and a river and can be used for hiking or mountain biking. The trail is dog-friendly and great for all skill levels.
Neusiok Trail
The Neusiok Trail begins on the Neuse River at Pine Cliff Recreation Center and ends at Oyster Point. The trail is 21 miles long and has three lean-tos that are available for camping use. The Neusiok Trail travels through a cypress-lined beach and hardwood forests and crosses over several paved and unpaved roads.
Water Sports and Activities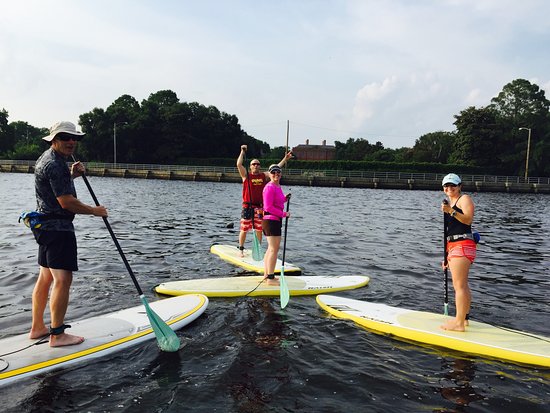 New Bern is located where the Neuse and Trent Rivers converge and takes advantage of its location to offer a variety of water sports.
Stand Up Outfitters
Stand Up Outfitters offers paddling equipment as well as lessons, workshops, tours, and events. It is based on the banks of Lawson Creek with easy access to both the Neuse and Trent Rivers.
TugBoat Cruises of New Bern
TugBoat Cruises of New Bern offers leisurely tugboat cruises in the local harbor. The cruises are customized and include historical, cultural, wildlife photography, and special celebrations.
Cruise the Neuse Pontoon Boat Tours
Cruise the Neuse Pontoon Boat Tours are offered on a 24-foot pontoon boat that cruises up and down the river for a scenic trip which lasts between one and one and a half hours. Tours are led by guides who share their passion for New Bern along with history and facts about the area. Cruise past historical homes and scenic landscapes.
Crystal Coast Lady Cruise
Crystal Coast Lady Cruise offers a variety of cruises on the Neuse and Trent Rivers. The cruises are provided on a 100-foot motor yacht named the Crystal Coast Lady with room for 265 guests. Cruises are customized and can include dining cruises, family fishing trips, educational tours, and special events.
Spec Fever Guide Service
The Spec Fever Guide Service offers a fishing guide service and fishing charters year-round.
Tar-Pam Guide Service
Tar-Pam Guide Service offers year-round fishing on Coastal North Carolina's Inner Banks. Explore the remote and scenic waters while fishing for inshore, saltwater species. Guide services are from the freshwater reaches of the Tar and Roanoke Rivers down to the brackish waters of Albermarle and Pamlico Sounds.
Golf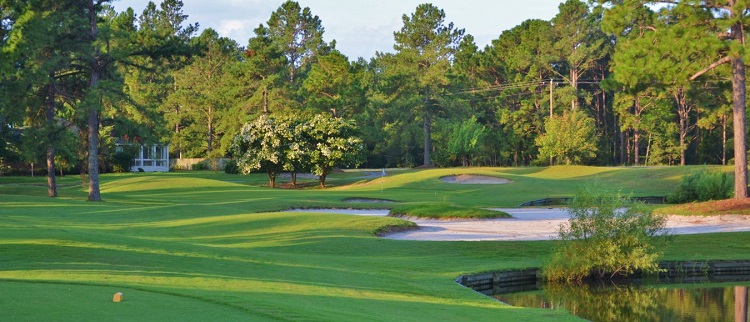 Golfing can be a way of life. Tee off at some of these beautiful golf clubs and enjoy your day.
The Emerald Golf Club
The Emerald Golf Club provides an unparalleled golfing experience and it is a pleasure for golfers of all skill levels. The Emerald both challenges and relaxes you with its picturesque backdrop.
Harbour Pointe Golf Club
Harbour Pointe provides a fun and enjoyable golfing experience for golfers of all skill levels. The course is both relaxing and challenging with a marsh on the right side of the fifth hole where you will also be playing into the wind. Enjoy the panoramic view of the Neuse River and Broad Creek as you swing your way through the day.
River Bend Club
River Bend Club is located in the countryside of Great Falls, Virginia. It is known for its challenging course. River Ben provides a full range of recreational amenities that include golf, tennis, swimming, and fitness. The River Bend golf course is an eighteen-hole course and golf practice facility.
Sound of Freedom Golf Course
The Sound of Freedom Golf Course is an 18-hole, PGA-rated course. This was the first course designed by George Cobb and is located on the Neuse River. You will enjoy stunning views, a chipping area, a practice putting green, and a 24-hour driving range.
Taberna Country Club
The Taberna Country Club golf course was designed by Jim Lipe, Senior Nicklaus Designer. It is an 18-hole championship layout that will challenge golfers of all skill levels. Enjoy the beauty of tree-lined fairways, white sand bunkers, and sparkling lakes on the course that lies among the rolling hills of North Carolina.
Are There Any Parks in New Bern, North Carolina?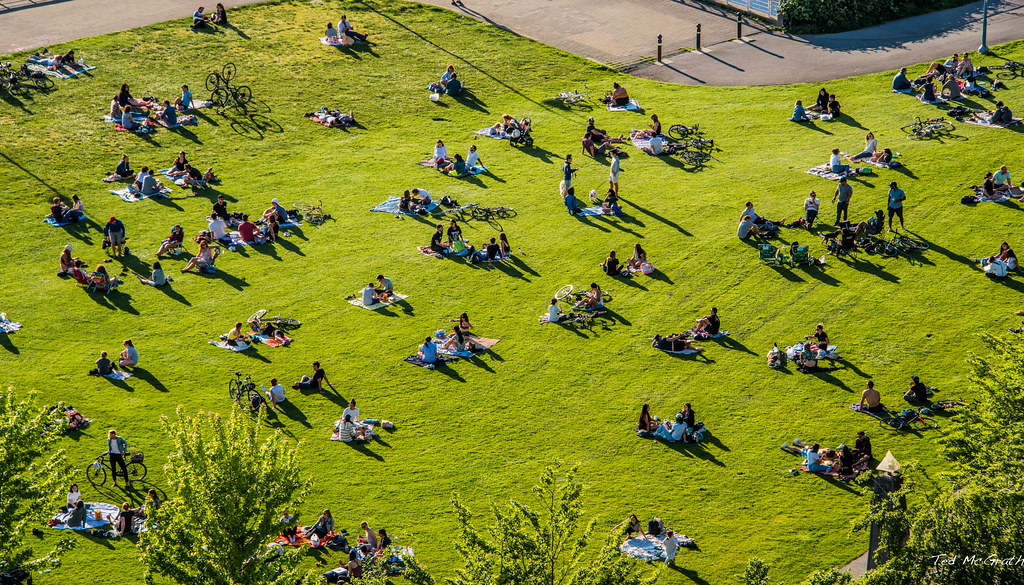 New Bern's location at the convergence of the Neuse and Trent Rivers provides a lush and beautiful environment for the parks you will find around town.
Fort Totten Park
Fort Totten Park is a five and a half-acre park that is perfect for meeting up with friends and family. You will find a modular playground and a tot lot at the park. You can play softball on the lighted field and picnic in shelters for any gathering size.
Creekside Park
Creekside Park is located on 111 acres that are adjacent to the Coastal Carolina Regional Airport. It is a hub for recreational fun for kids of all ages. There are three playgrounds, a sand volleyball court, a walking trail, picnic shelters, a gazebo, and access to the waterfront for kayaks and canoes. There is also a walkway to Brice's Creek and a beautiful place to spend the day.
Kidsville
Kidsville is located at Seth West Parrot Park and it is an interactive environment where kids can explore their imagination. Kidsville has a fort-like setting where kids can slide, run, swing, and climb. There are also four tennis courts, three field houses, two lighted baseball fields, and two lighted little league fields and fun for the whole family.
Lawson Creek Park
Lawson Creek Park is a 140-acre park that is located west of Tryon Palace on the Trent River. The park has two boat launches, picnic areas, two soccer fields, two fishing piers, a handicap-accessible fishing pier, a handicap walkway, and a walking trail. The picnic area can be found on Jack's Island and a .8-mile walking trail. The trail is a mixture of grass, gravel, and wooden planks. Lawson Creek Park is a wonderfully relaxing visit for everyone.
Union Point Park
Union Point Park is a scenic, six-acre park located at the intersection of the Neuse and Trent Rivers in historic New Bern. The gazebo provides breathtaking views of the waterfront. Enjoy strolling along the rivers, picnicking, two boat launches, a small playground, and a fishing pier.
What Types of Cultural Attractions Are in New Bern, North Carolina?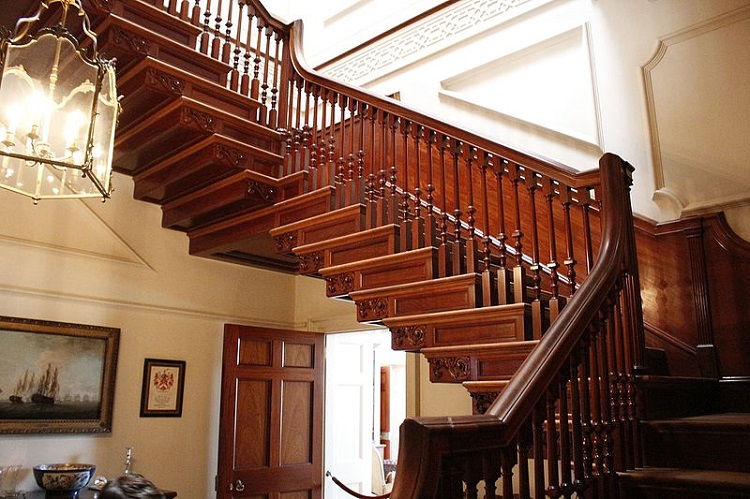 New Bern was founded in 1710 and there are still vibrant remnants from that time that you can explore, experience, and enjoy.
Tryon Palace
Tryon Palace is also known as the Governor's Palace. It is a historic building that once housed the colonial governors' administrative headquarters and official residence in the 1700s. This was a place where the governors ruled and legislators debated.
It is also where George Washington danced. American history comes to life today with period-costumed guides and working craftspeople. Enjoy the gardens and interactive exhibits on 22 acres of manicured gardens that represent three centuries of gardening heritage. Take a step back in time and delight in interacting with history.
North Carolina History Center
The North Carolina History Center is a 60,000 square foot destination that features a variety of exhibits for visitors of all ages. There are interactive displays at the Pepsi Family Center and artifacts at the Regional History Museum. The History Center is located next to the Trent River and is a comprehensive and entertaining introduction to the region – and to history.
Pepsi Museum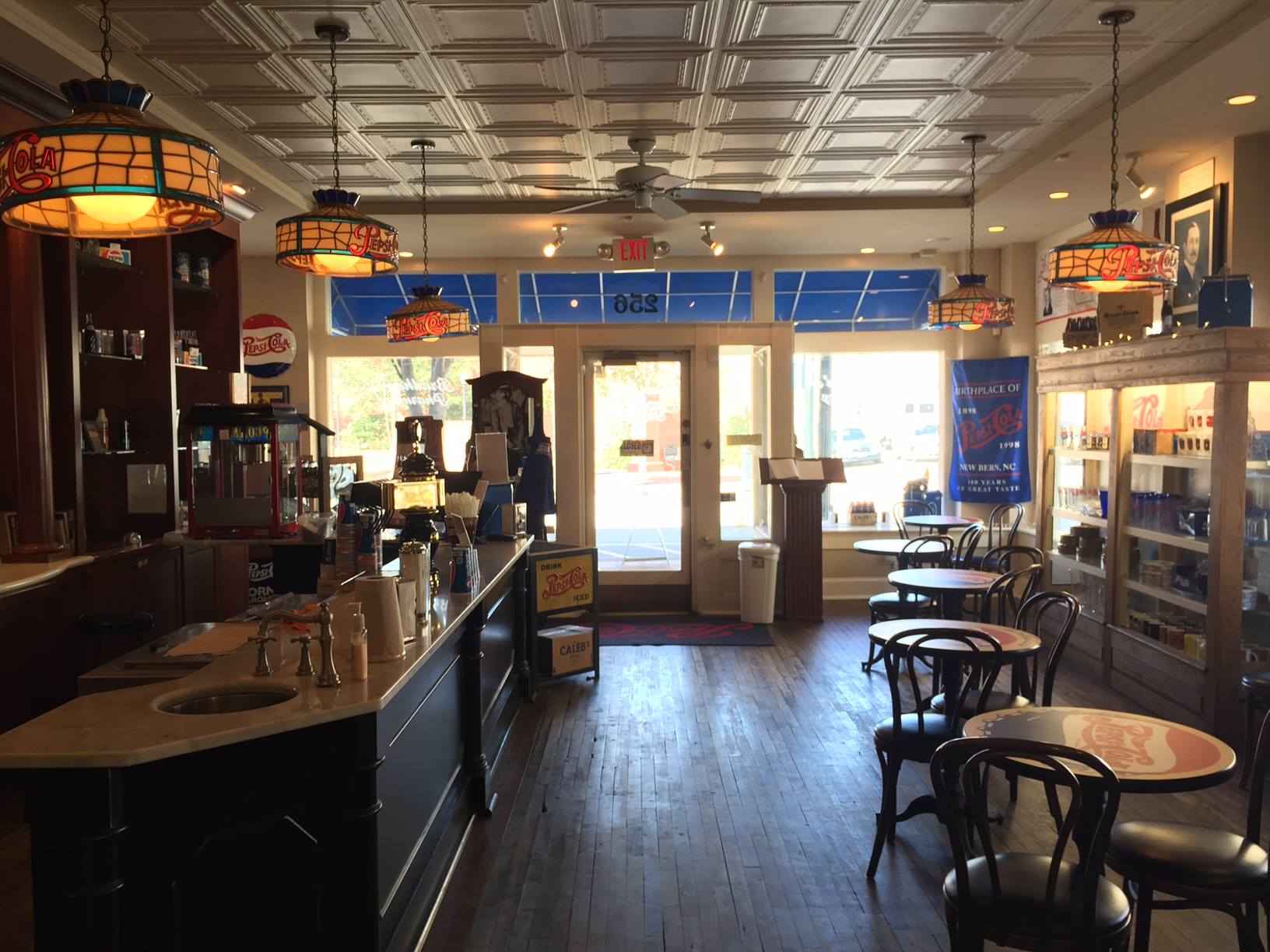 If you are a fan of Pepsi-Cola, you won't want to miss a visit to the exact location where this beloved beverage was created. The original drug store where Caleb Bradham created Pepsi now serves as a museum, gift, shop, and soda fountain. Visitors can browse through photographs and memorabilia or purchase souvenirs of this famous drink. There's even a historic soda fountain with a classic interior that transports you back to the 19th century where you can enjoy an old-fashioned Pepsi-Cola at the drug store counter.
Downtown New Bern
New Bern is the second oldest town in North Carolina and has a huge collection of historic homes. There are more than 160 homes and buildings that are listed on the National Register of Historic Places. Stroll through downtown and admire the Colonial or Victorian structures that are around every corner. You will especially want to see:
1780 John Wright Stanly House – built by an American Revolution patriot
1805 Robert Hay House
1830 George W. Dixon House
1766 (rebuilt in 1809) New Bern Academy School House
You can take a trolley, walking, or riverfront tour for background information and expert commentary.
New Bern Tours
New Bern Tours provides guided tours of historic New Bern. They offer transportation options such as trolleys or motor coaches along with professional guides. Enjoy visits to historical homes, museums, and urban parks and delight at the scenic views of the Trent and Neuse Rivers. Custom-made tours are also available.
Craven Arts Council & Gallery
The Craven Arts Council & Gallery was founded in 1974 as a volunteer organization to promote cultural initiatives. The Craven Arts Council & Gallery is located in an old bank and is often called The Bank of the Arts. It is a cultural resource that offers a variety of artistic expressions to both the community and the school system.
Community Artists Gallery & Studio
The Community Artists Gallery & Studios is a premier venue for local artists in all mediums. They support a gallery, studio space, and educational programs with over 30 award-winning artists.
Carolina Creations Fine Art & Contemporary Gallery
Carolina Creations Fine Art & Contemporary Gallery overlooks the Neuse River and focuses on artworks from more than 300 local and international artists. The art gallery features an array of mediums including paintings, ceramics, jewelry, furniture, and home décor.
New Bern Academy Museum
The New Bern Academy Museum features the history of New Bern with an array of exhibits that tell the story of the city. The building was once a schoolhouse that dated back to 1809 and served as a hospital during the Civil War. There are currently four exhibitions that are managed by Tryon Palace staff:
Face to Face: Civil War Sketches & Stories
Architecture Exhibit
Civil War Military Occupation Exhibit
History of Education Exhibit
New Bern Firemen's Museum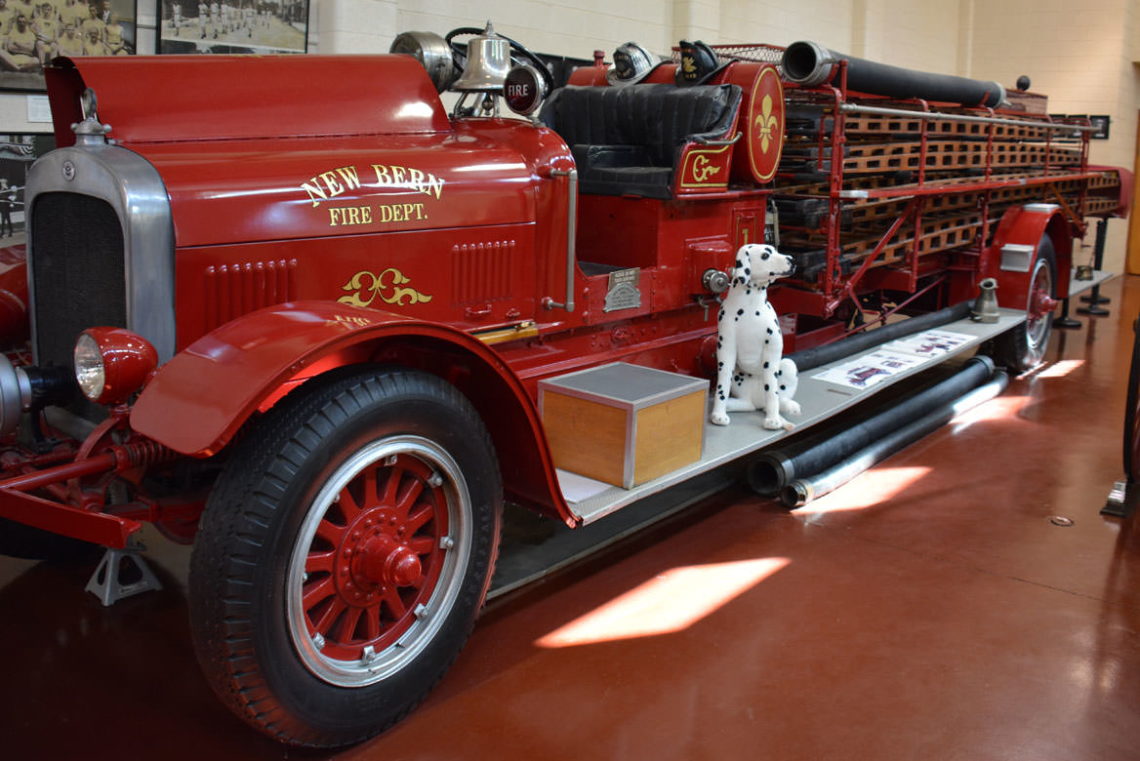 The New Bern Firemen's Museum was established in 1955 preserves the history of firefighting in New Bern. The museum is a tribute to the oldest fire company in the state and has a variety of interactive exhibits along with a collection of memorabilia.
The museum emphasizes the history of the New Bern Steam Fire Engine Company and the Atlantic Hook & Ladder Company and provides an in-depth insight into the Great Fire of 1922 that destroyed more than 1,000 buildings.
Havelock/Cherry Point
Havelock is located a short distance from New Bern in the Croatan National Forest, close to the Atlantic Ocean beaches. It is also home to the Marine Corps Air Station Cherry Point. In addition to Cherry Point, there is an Aviation Museum and a 9/11 Memorial Plaza.
Eastern Carolina Aviation Exhibit
The Eastern Carolina Aviation Exhibit was built to highlight the robust heritage of Marine Corps Aviation in North Carolina. It is an outstanding tribute to the Marines who have made aviation history. There are historic exhibits and artifacts on display and you can see a variety of aircraft up close around the exhibit grounds.
Havelock Harrier Monument
Visit the Havelock Harrier Monument which is dedicated to the military and civilian employees of Cherry Point. The AV-8A Harrier was a single-seat attack aircraft that was adopted by the Marine Corps in 1969. It was the first V/STOL aircraft to enter the service with U.S. armed forces for use in close-air support and air defense. The Harrier was decommissioned in March 1986.
Havelock 9/11 Memorial Plaza
The city of Havelock initially erected an artifact from the World Trade Center site on September 11, 2011. The Memorial now contains artifacts, remnants, and bricks from all of the sites that were affected by 9/11 to honor the lives lost. There are benches for reflection and the memorial is lit at night and it is open 24 hours per day.
Marine Corps Air Station Cherry Point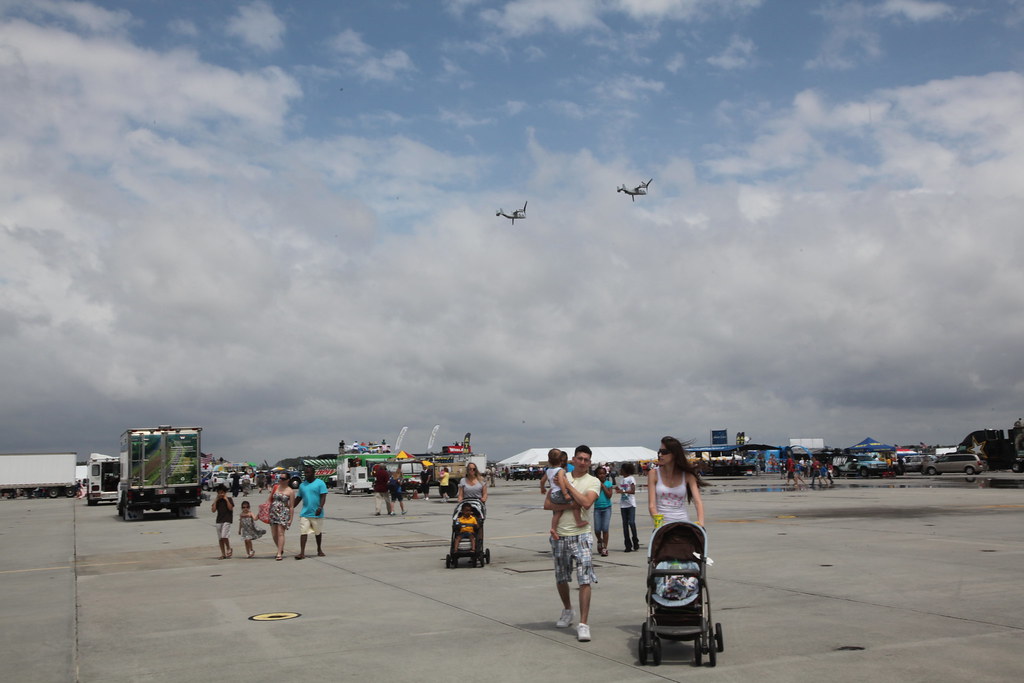 The Marine Corps Air Station Cherry Point was founded in May 1942. It is one of the country's largest Marine Corps air stations and occupies nearly 16,000 acres. The sound of jets and helicopters flying overhead is known locally as "the sound of freedom."
Ghost Tour of New Bern
Enjoy a 90-minute haunted tour of historic New Bern's most actively haunted homes and burial grounds. Listen to eerie tales of ghostly encounters, including those that occurred on recent ghost tours.
Greenwood Cemetery
Greenwood Cemetery is New Bern's second-oldest public cemetery. It is also the first city-owned cemetery that buried African Americans. Five men who served in the United States Colored Troops are interred here as is James Edward O'Hara, an important African American legislator during the postwar period.
Cedar Grove Cemetery
Cedar Grove Cemetery is one of New Bern's most historic cemeteries. After the Civil War, hundreds of Confederate veterans were buried here.
New Bern National Cemetery
New Bern National Cemetery is managed by the National Cemetery Administration and is the final resting place for soldiers and sailors who died in New Bern, Hatteras, and Beaufort during the Civil War. There are more than 300 soldiers of the United States Colored Troops and more than 1,000 unknown soldiers buried here.
Are There Wineries or Breweries In New Bern, North Carolina?
Wineries
Bennett Wineries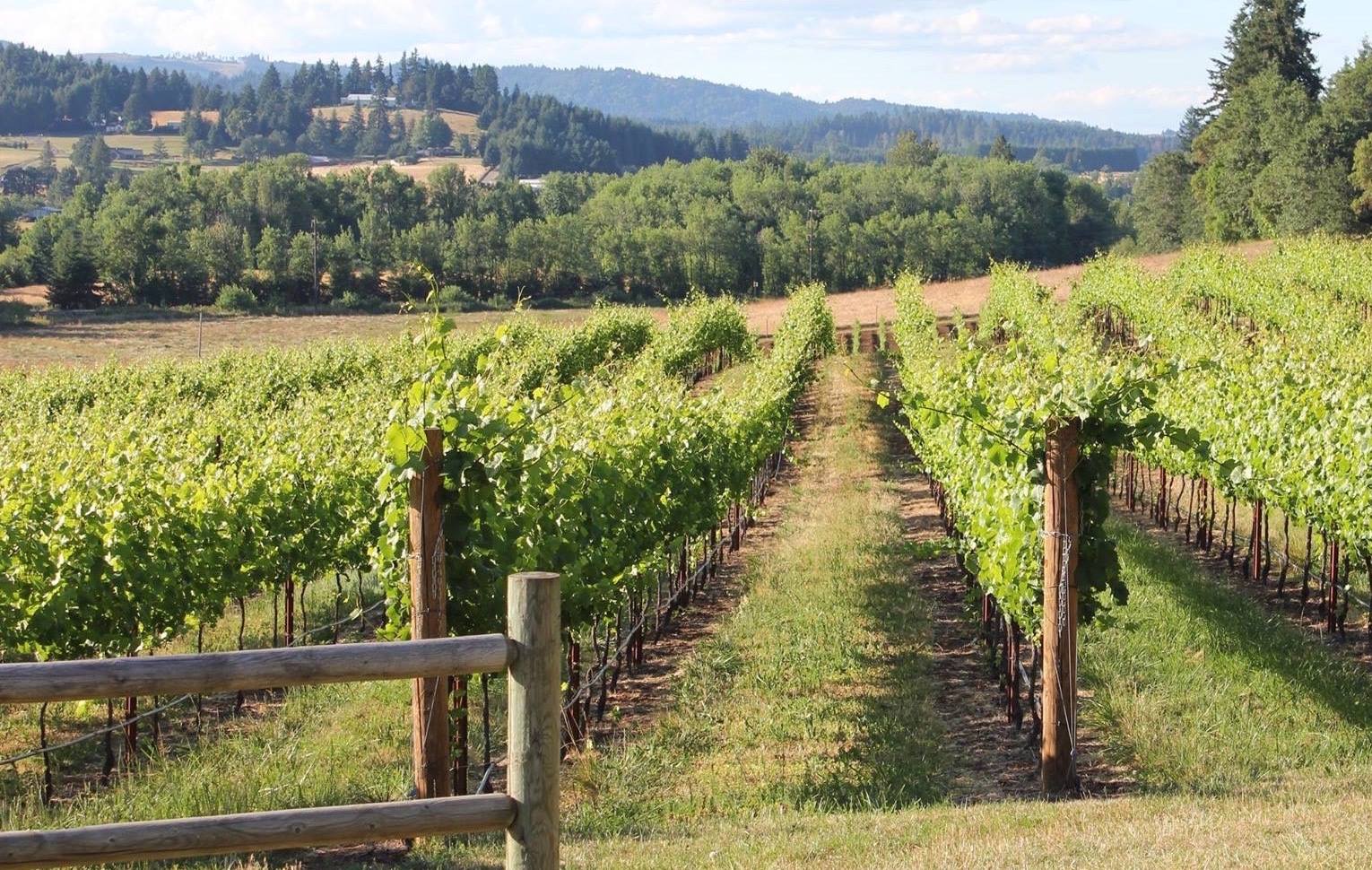 Bennett Wineries harvests 130 tons of grapes. They produce their own wine and sell to many other wineries across the country. Their grapes are in demand for their flavor, fruitiness, richness, and volume of juice produced. Come for a tasting and enjoy some interesting historical snippets with the Vintner, Buddy Harrell.
Lake Road Winery
Visit Lake Road Winery and taste wines that are produced with high-quality, North Carolina fruits and berries. Celebrate your love of wine with the owners and winemakers and learn more about their wine.
Breweries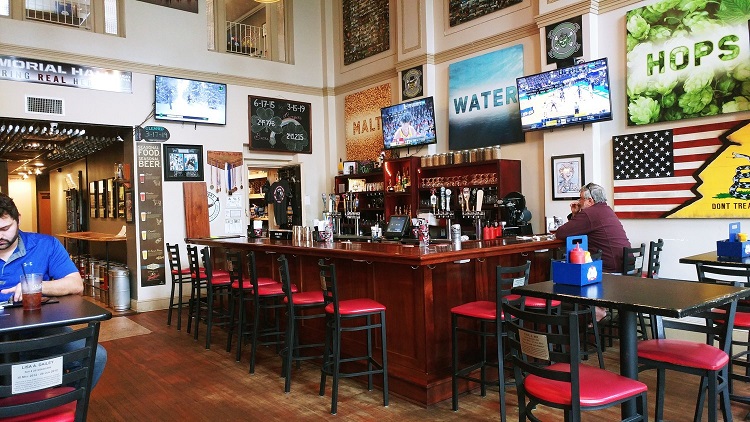 Come, relax, and enjoy some delicious brews on your travels around New Bern.
Beer Army Burger Company (see also Where to Dine in New Bern)
The New Bern Beer Army Burger Company, also known as "Beer Army," locally, was founded by a war veteran. You will find a 25-foot, solid mahogany bar with 16 rotating taps and four house beers. Check the website for the current tap list. It is also a tavern-style restaurant with a small menu of traditional pub fare and plenty of comfortable seating.
Brewery 99
Brewery 99 is a small-scale brewery that produced fermented beverages that are ancient, modern, traditional, and spontaneous. Founded by a boat builder as a hobby, this brewery has become a destination and a shining example of a microbrewery.
Brütopia Brewing Company
Brütopia is a microbrewery, craft beer bar, and bottle shop that brews its own beers for thirsty visitors. They also offer bottled and canned draft beer, including from other small breweries in North Carolina.
What Are the Best Restaurants In New Bern, North Carolina?
Dining is an important part of every vacation or visit to a new town. If you like to eat, then you are in luck. New Bern is chock full of restaurants to please every palate. Enjoy and explore all the delectable delights, including Southern favorites, Seafood, Asian selections, Italian & Greek cuisine, pizzerias, Mexican & Latin options – and a whole lot more. Whatever you're dining pleasure, you'll find it in New Bern.
New Bern's Top Restaurant Picks
Annabelle's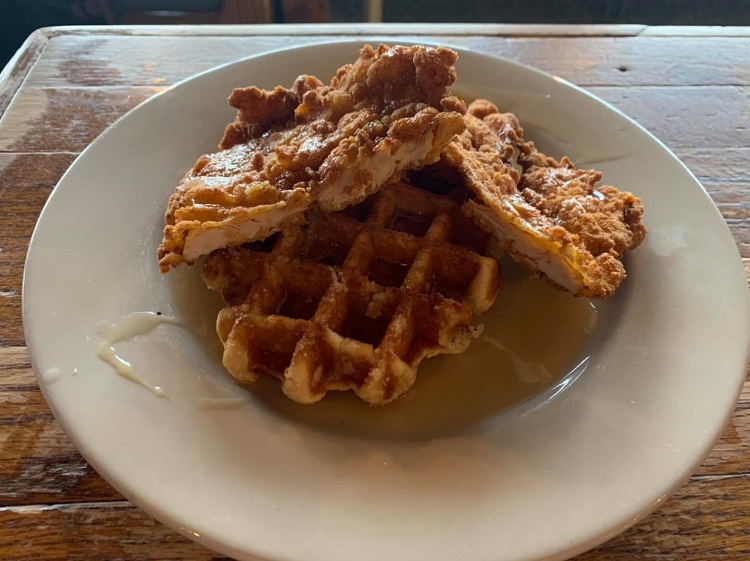 Annabelle's is a popular local eatery with good portions and great fun. Enjoy delicious food, friendly service, and a cozy atmosphere with a touch of history. The menu is extensive with tons of variety and traditional cuisine as well as unique local favorites and pub fare.
Baker's Kitchen Restaurant & Bakery
Baker's Kitchen Restaurant & Bakery has a wide assortment of baked goods and delicious menu items. It is a fresh and inviting destination that offers daily breads, pies, and southern staples.
Bay Leaf Indian Restaurant
Bay Leaf Indian Restaurant offers a new and unique spin on comfort food. Enjoy authentic Indian fare in a classy downtown atmosphere.
Captain Ratty's Seafood
Captain Ratty's Seafood serves seafood and traditional southern favorites. It is a fun and friendly destination that caters to big appetites with multiple indoor and outdoor areas to relax and enjoy the scene.
Cypress Hall
Cypress Hall features fresh, local, and seasonal delights usually only found in larger metropolitan areas. Enjoy a culinary adventure with the freshest ingredients and Southern cuisine from Eastern North Carolina.
El Taco Loco
El Taco Loco offers authentic Latin flavors with traditional favorites and a downhome atmosphere. Satisfy your cravings for quick and delicious Mexican and Latin fares.
La Casetta
La Casetta offers a taste of Sicily on the Inner Banks. Indulge your Italian cravings in an inviting atmosphere with loads of southern hospitality.
MJ's Raw Bar & Grille
MJ's Raw Bar & Grille serves an array of comfort food dishes along with southern hospitality. Enjoy a hearty meal that will satisfy any appetite.
Morgan's Tavern & Grill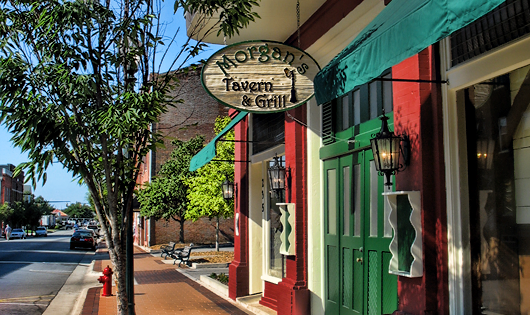 Morgan's Tavern & Grill pays tribute to traditional tavern food and drinks. It is a great destination to satisfy your appetite that offers an extensive menu, a variety of drinks, and a great atmosphere. Located in a historic building that features exposed beams and brick walls, you can choose to dine inside or outside.
Persimmons Waterfront Restaurant
Persimmons Waterfront Restaurant is a chic bistro that offers an amazing view. Persimmons is located on the edge of the Neuse River that features New American fare and a casual atmosphere.
Savage's Wood Burning Pizza
Savage's Wood Burning Pizzeria is a New York-style pizzeria that features a tempting menu and plenty of flavor. They use a genuine wood brick oven to prepare fresh food and acclaimed pizzas that will turn you into a regular.
Spunky McDoogle's
Spunky McDoogles offers a world of flavor that you would normally find in a local Irish pub. This festive tavern features traditional and unusual fare with a long list of beers, wines, cocktails, daily specials, and traditional pub fare.
Stingray Café
Stingray Café is a tempting eatery with a wealth of regional specialties and fresh seafood options. Enjoy southern favorites and fresh seafood which will satisfy every craving.
The Chelsea
The Chelsea is innovative with award-winning "New American Cuisine" that features seafood, center-cut beef, and delicious pastas to satisfy everyone. Dine in the upscale bistro-style area or overlook historic New Bern in the upstairs main room.
FAQs
Where is New Bern located?
New Bern is located where the Neuse and Trent rives converge, close to the North Carolina coast.
How many people live in New Bern?
As of the 2010 census, New Bern had a population of more than 29,500 inhabitants. In 2019, it is estimated to have almost 30,000 inhabitants.
What is the weather like in New Bern?
The summers are muggy and hot and the winters are cold and short. It is partly cloudy all year long. Temperatures vary from 36 degrees Fahrenheit to 89 degrees Fahrenheit and it rarely dips below 23 degrees or rises above 95 degrees.
Destination…New Bern!
New Bern has so many activities, attractions, and cuisines, you may not know where to start. I recommend this delightful, southern town for all of its history, charm, location, and diversity. Make your next destination New Bern, North Carolina to connect with nature, envelop yourself in history, or swing a golf club – you won't regret it!
Other recommended locations: