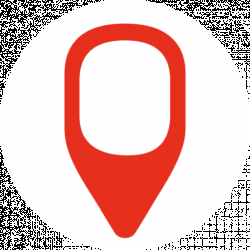 Latest posts by Locally Guided Team
(see all)
When you first think of Kansas there might not be an activity or even city that sticks out in your mind. One of my favorite spots in Kansas is Lawrence. Lawrence is a city with a beautiful history and several sites worth traveling to.
It was founded in the 1850s as a pillar of resistance to the expansion of slavery. Its brave point of view came with a price. With a target on its back and burned to the ground during the Civil War, the city rebuilt with a strength to educate and celebrate its historical stance.
With nearly 100,000 residents, Lawrence is a city rich in contemporary and cultural art, nature preserves, unique shopping, and local eats. Check out my top picks and unique finds below.
Shopping
Massachusetts Street "Mass Street"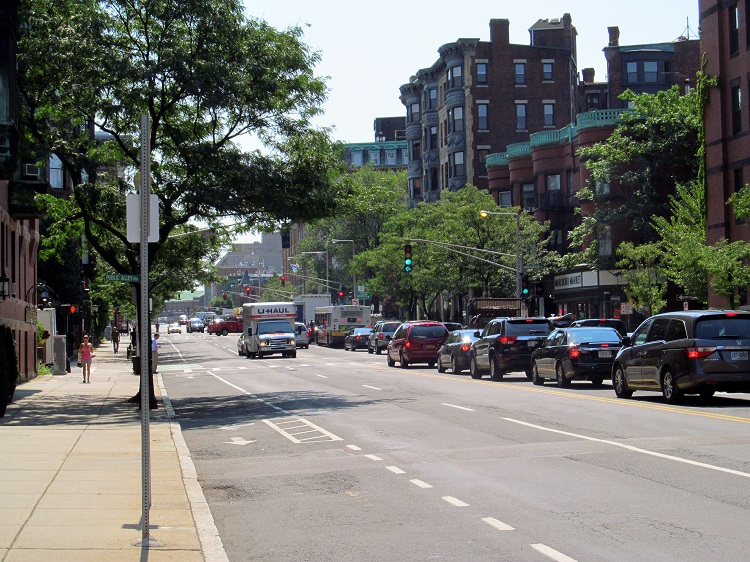 A downtown historic district that runs from Sixth Street to Haskell Indian Nations University. It is named for the Massachusetts Emigrant Aid Company. This company is known for the introduction of anti-slavery settlers.
The 600-1200 blocks of Mass Street are listed under Lawrence's Historic District on the National Register of Historic Places. Since the majority of buildings were erected between 1856-1953, the character of the architecture is worth the walk.
Each block, 600, 700, etc. has its own piece of history. For example, the 600 block housed The Boehner Brothers factory, the largest employer in Lawrence in 1900. The cigar factory was owned by a woman after her husband and company founder passed away. Also on this block is Free State Brewing Company. Locals stop by this hotspot for great food and local beer.
If you are up for a haunted hotspot, the 700 block is home to the Free State Hotel (now called the Eldridge). The hotel was burned down by proslavery activists – twice! The owner, Shalor Eldridge, kept rebuilding the hotel and some have felt his presence even to this day.
On the 1000 block, you will find Grenada, a theater that hosts live music. And in the 1940s the theater hosted John Wayne for the premiere of the movie Dark Command.
When: shopping is open until approx. 6 pm, restaurants are open until approx. 9 pm
Location: 833-1/2 Massachusetts Street, Lawrence, Kansas
Cost: Free to explore
More information: 785-842-3883
Blackbird Trading Post
Across the street from the iconic Weaver's department store, Blackbird Trading Post has an eclectic mix of handmade and vintage objects. People who visit this shop always comment on how many one-of-a-kind objects you can find and the overall kindness of the owner.
Raven Book Store
Crave the scent of a real paper book? Raven Book Store is filled to the brim with books and gifts. Check out their Raven Mystery Fun Boxes to receive a curated stack of books and gifts sent directly to you.
When: Mon-Sat: 9 am – 5 pm
Location: 6 E 7th St, Lawrence, KS 66044
More information: ravenbookstore.com
Au Marché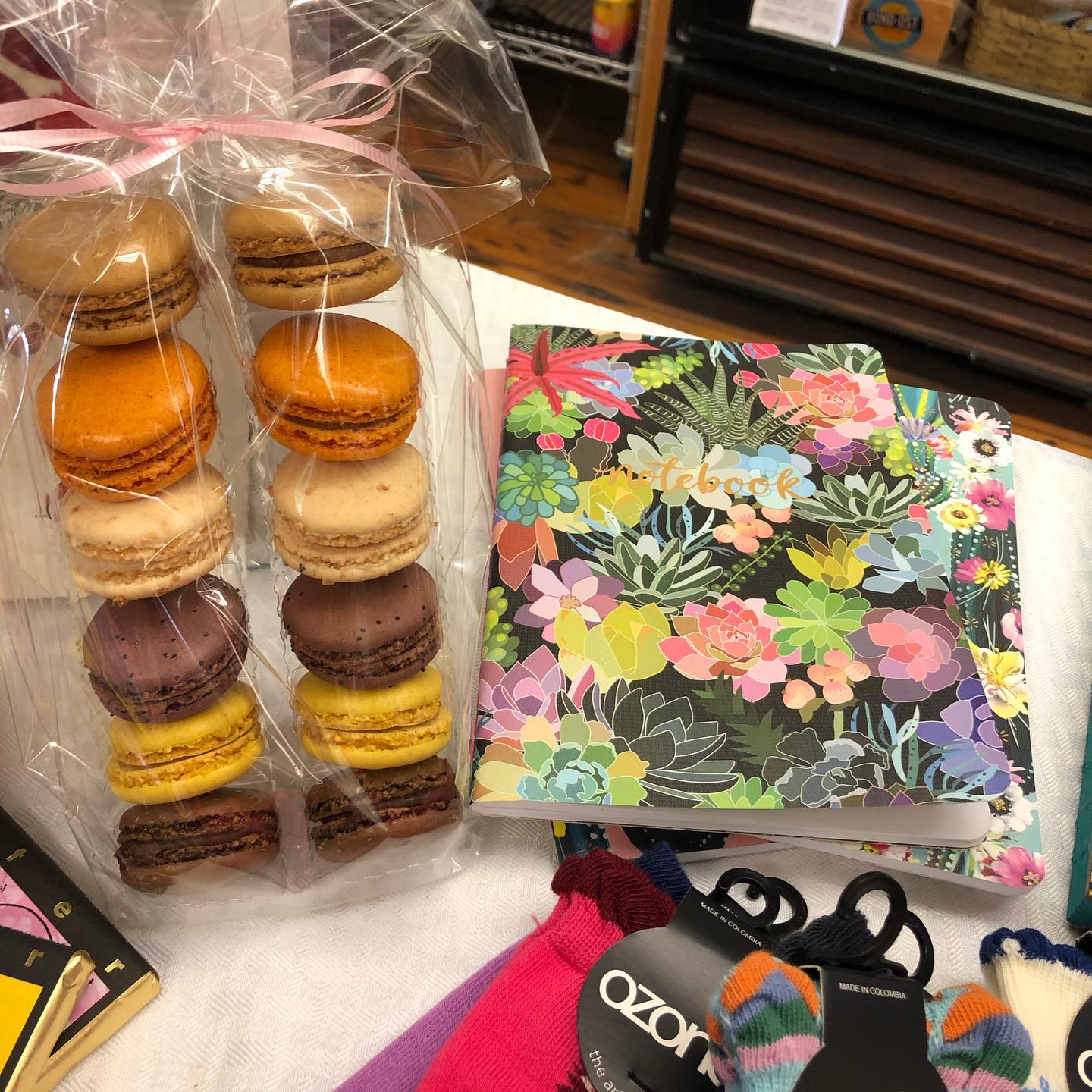 Travel to Europe without leaving Kansas. The European Market offers groceries, bulk coffee & tea, cheese, salami, chocolate, sweets, gifts, all with a European flair.
When: open six days a week from 10 am – 5:30 pm, Sundays 1 pm – 4 pm
Location: 931 Massachusetts St, Lawrence, KS 66044
More information: aumarche.com
Phoenix Gallery
The Phoenix Gallery can be found in the Art Deco Ranjbar Building in downtown Lawrence. The gallery features over 300 local, regional, and national artists.
From jewelry to woodwork to blown glass, the gallery is the perfect place to find that one-of-a-kind gift. Check out their social media for local events including Final Friday Art Walks, charity events, and curated exhibitions.
When: open six days a week 9:30 am – 8 pm, Sunday 11 am – 6 pm
Location: 825 Massachusetts, Lawrence, KS 66044
Cost: inexpensive gifts to one of a kind fine art pieces
More information: phoenixgalleryart.com
Local Eats
When you are traveling to a new location, it's fun to research the local eateries, a.k.a. restaurants you can't get back at home. I have found the best local hot spots so you can experience Lawrence, Kansas to its finest.
Limestone Pizza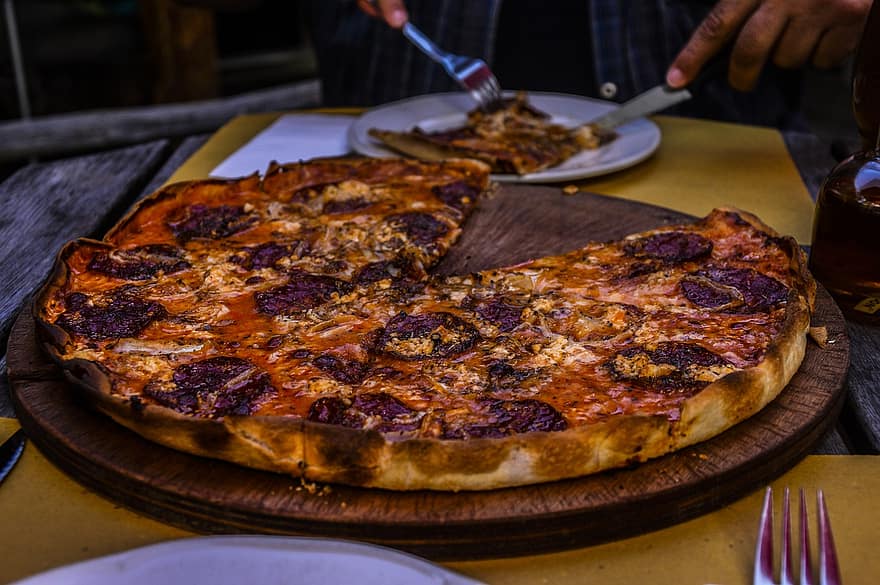 A downtown favorite, watch pizza artists make your selection in the brick oven. The restaurant has a nice selection of beers and drinks to pair with their unique pizza offerings and it's a great location for a date night or a small group of family or friends.
Although wait times are longer than most, the food and drinks are worth the wait. With combinations like Toulouse & Apple (rustic sausage, local apples, cheddar, and fig syrup) and the Spud (thinly sliced potatoes, onions, creme fraiche, bacon, and rosemary), you'll want to visit multiple times just to get through the menu options.
When: Wednesday, Thursday, and Sunday 4 pm – 8 pm, Friday and Saturday 4 pm – 8:30 pm, closed Monday and Tuesday
Location: 814 Massachusetts St, Lawrence, KS 66044
Cost: Starts at $13 for a 12" pizza
More information: limestonepkb.com
Free State Brewing Company
A local favorite, this is a must-stop on your first trip to Lawrence. In 1989, Free State Brewing Company became the first legal brewery in Kansas in over a hundred years. They currently have a 14-barrel brewhouse for small batches and produce bottled beer for residents of Kansas, Nebraska, and Missouri.
Visitors praise the Bourbon Steak Frites made with hand-cut KC strip and bourbon brown butter. Plus, they are dog-friendly if you would like to dine on the patio.
When: 11:30 am – 9 pm seven days a week, happy hour is 4 pm – 6 pm
Location: 636 Massachusetts St, Lawrence, KS 66044
Cost: A steak entree is $20, burgers start at $10
More information: freestatebrewing.com
715 Restaurant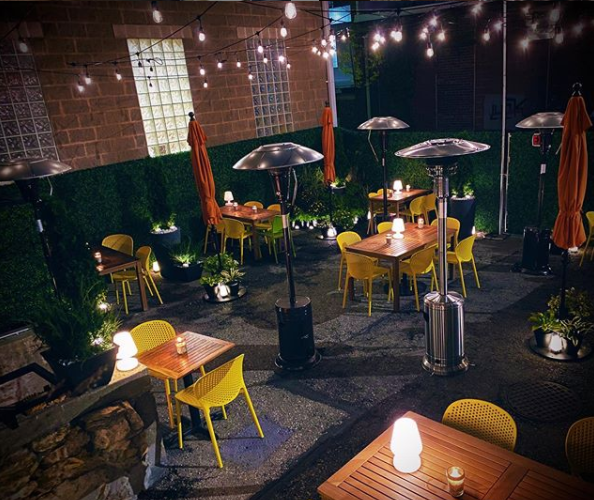 If you are looking for a special dinner spot in Lawrence, 715 Restaurant should be your go-to. It has an excellent selection of gluten-free options and creative dishes you can't get anywhere else. I recommend utilizing the online reservation system to ensure you get a table when visiting.
My mouth was watering as I perused the online takeout menu. Chorizo stuffed dates, savory mushroom donuts, and chocolate caramel pot de creme are all worthy options in my book. While the ribeye is $68, several selections are easier on your wallet.
When: Tuesday, Wednesday, Thursday, Friday, and Saturday 4 pm – 10 pm, closed Sunday and Monday
Location: 715 Massachusetts St, Lawrence, KS 66044
Cost: Ribeye $68, Salmon $33, Margarita for two $20
More information: 715mass.com
The Roost
Traveling isn't complete until you have found the perfect brunch spot. The Roost has a farm feel with an interior design drawn from old grocers and hardware stores.
The menu is filled with breakfast favorites including "The Kansan" (2 eggs, bacon or sausage, toast, and breakfast potatoes), fresh daily biscuits and gravy, build-your-own omelet, and a generous a la carte menu. Added lunch items start at 11 am sammys, salads, and homemade mac & cheese. The Roost also includes a full-service bakery, coffee bar, and brunch cocktails.
When: Open seven days a week 7 am – 2 pm
Location: 920 Massachusetts St, Lawrence, KS 66044
Cost: The Kansan breakfast combo $9, mac & cheese $8, cinnamon roll $3, iced coffee $4.25, cocktails $7+
More information: 920mass.com
Ladybird Diner
A staple for downtown workers, Ladybird Diner serves up comfort food with authentic 50s and 60s decor. Regulars recommend the fried steak and homemade pie slices.
When: Saturday open 24 hours, Wednesday through Friday and Sunday through Tuesday 7:30 am – 12 am
Location: 721 Massachusetts St, Lawrence, KS 66044
Cost: Chicken fried steak, $10.99, Blackberry peach pie slice $5.39
More information: ladybirddiner.com
Wineries
Crescent Moon Winery
Need a girls trip? Crescent Moon Winery not only provides a tasting room for sampling onsite wines but also offers a three-bedroom, two-bathroom Airbnb Guesthaus. Stay at the Guesthaus during harvest, pick grapes, and see how the wine is made.
When: Saturday and Sunday noon – 5 pm (or by appointment)
Location: 15930 246th St, Lawrence, KS 66044
Cost: wine bottles start at $14.99 (they ship), Guesthaus starts at $123 a night
More information: moonandwine.com
Museums
Biodiversity Institute & Natural History Museum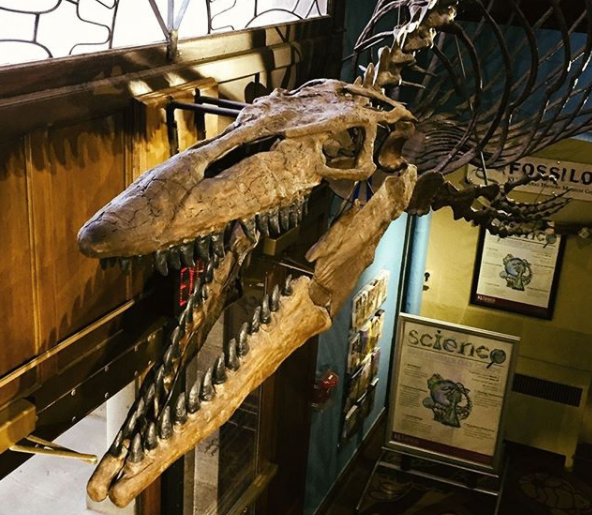 The KU Natural History Museum is packed full of exhibits on four floors. The museum features live animals including snakes, lizards, and insects. Be sure to visit the bee tree, a live look at a working bee colony, housed in the model of a tree.
You can also view an exhibit on the daily migration of ocean animals, learn about dinosaurs and wildlife native to Kansas, a 360-degree panorama representing nature, and an ancient fossil collection. The museum hosts research, programs in conjunction with KU, and summer camps for kids.
The museum is accessible from the 3rd floor north entrance. A short elevator ride will take you to visitor services on the 4th floor. Parking is available in the KU Visitor Parking Garage. A 2-hour visit costs under $4 for parking.
When: Tuesday-Saturday, 9 am to 5 pm, and Sundays 12 to 4 pm.
Location: 1345 Jayhawk Blvd., Lawrence, KS 66045
Cost: The suggested contribution is $7 per adult and $4 per child. (Free for KU students)
More information: 785.864.4450, biodiversity.ku.edu
Watkins Museum of History
Located at the intersection of 11th Street and Mass Street, the Watkins Museum of History is bathed in historical charm. The museum is inside the 1888 Watkins Land Mortgage and National Bank Building.
The mission of the museum is to help locals research their family history and to provide information about Lawrence and Douglas County. The museum provides several free local community events including historic walking tours, haunted tours, and timely talks such as voting rights in November.
When: May–October Tuesday, Wednesday, Friday and Saturday: 10 a.m.–4 p.m., Thursday: 10 a.m.–8 p.m., Sunday: 1 p.m.–4 p.m. November–April Tuesday–Saturday: 10 a.m.–4 p.m. Closed Sunday, Monday and Holidays
Location: 1047 Massachusetts Street, Lawrence, Kansas 66044
Cost: Free
More information: (785) 841-4109, watkinsmuseum.org
Booth Family Hall of Athletics
The nearly 20,000-square-foot museum is next to the Allen Fieldhouse. Established in 2006, you can visit the museum year-round to experience all things Kansas Athletics. The museum has several pieces of memorabilia and interactive exhibits.
For the ultimate KU fan, you can also purchase a personalized video message from a former Kansas Jayhawk's men's basketball player (ranges from $40-$125).
When: Open six days a week 10 am – 5 pm, closed on Sunday
Location: 1651 Naismith Dr, Lawrence, KS 66045
Cost: self-guided tours are free of charge during open hours, 90-minute guided tours available ($100-$180), sporting events vary in price
More information: kuathletics.com
Spencer Museum of Art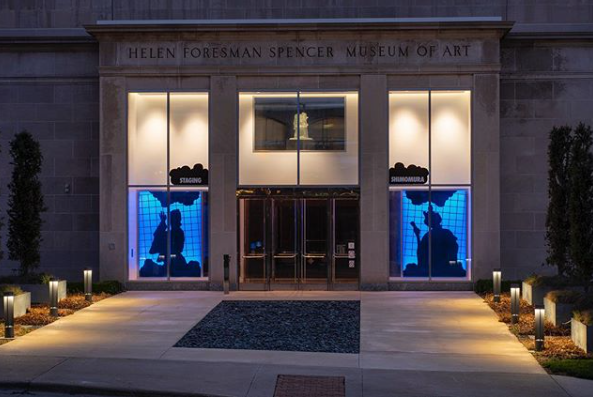 The Spencer Museum of Art is located on the University of Kansas campus. It is free to the public and offers 45,000 works of art.
It is accredited by the American Alliance of Museums and is the only comprehensive art museum in the state of Kansas. The museum provides art research, commissions, film screenings, performance art, lectures, children's activities, and community festivals.
When: Tuesday, Friday and Saturday 10 am – 4 pm, Wednesday and Thursday 10 am – 8 pm, Sunday noon – 4 pm, closed Monday
Location: 1301 Mississippi St, Lawrence, KS 66045
Cost: Free (donations welcome)
More information: spencerart.ku.edu
Robert J. Dole Institute of Politics
The Robert J. Dole Institute of Politics celebrates public service and houses the legacy of Senator Bob Dole's archives including 35 years of congressional papers and memorabilia from the Senator's entire life.
You can also view the world's largest stained-glass American flag, a memory wall for WWII featuring Kansas veterans, pieces from the World Trade Center, and more. You can also attend non-partisan political events like "pizza and politics" and students can join advisory boards and summer learning programs.
Join the mailing list for upcoming events like the popular annual Easter egg hunt.
When: open six days a week 9 am – 5 pm, Sunday 12 pm – 5 pm
Location: 2350 Petefish Dr, Lawrence, KS 66045
Cost: Free
More information: doleinstitute.org
Lawrence Arts Center
The Lawrence Arts Center is housed in the historic Carnegie Library Building. Its mission is to provide a place where the people of Lawrence could experience the best in arts programming. Its 40,000-square-foot contemporary structure is composed of exhibitions, performances, and arts education.
When: Monday-Thursday 9 am-9 pm, Friday-Sunday 9 am-7 pm, Sunday Gallery Hours 1:30-7 pm
Location: 940 New Hampshire St., Lawrence, Kansas 66044
Cost: Free, Tickets available for virtual and in-person events
More information: lawrenceartscenter.org
Farms
Washington Creek Lavender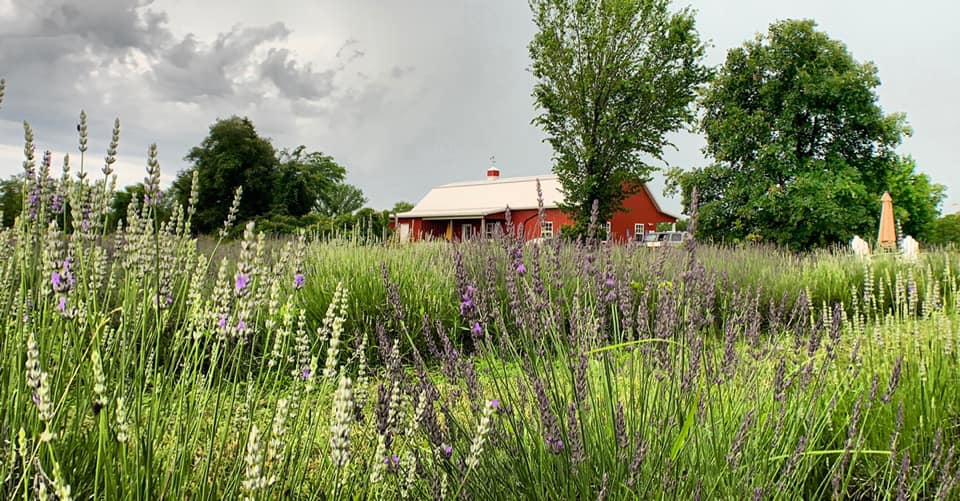 Kathy and Jack Wilson started the Washington Creek Lavender as a passion project. Kathy is a Master Gardener and a former award-winning food photographer. She plants and harvests the seedlings of more than 6,000 lavender plants, plus designs and makes all of the lavender themed products. Her husband Jack helps with marketing, sales, and fieldwork.
Lavender products, which are also available online, consist of lavender-infused soaps, sachets, and eye pillows. All of the products are homemade and created with organic lavender right from the farm. A partnership with Nicholas Mosse pottery from Ireland adds an upscale feel to the product line.
Visitors remark on the owners' care for their work and will often take time to share their stories. A visit to the solar-powered gift shop is a must, especially for those who enjoy the smell of fresh lavender.
When: call for current hours
Location: 858 E 800th Rd, Lawrence, KS 66047
Cost: Free
More information: 785-748-0678, washingtoncreeklavender.com
Grinter Sunflower Farms
If you are visiting Lawrence during late August or early September it's worth taking a drive to Grinter Sunflower Farms. While sunflower farms are prominent in Kansas, they are often not near major towns or cities. Grinter Farms allows people and professional photographers to take Instagram worthy pictures for free (although a donation box is available).
If you want the best pictures, choose a sunny day and golden hours (a couple of hours after sunrise and a couple of hours before sunset). Once your pictures are complete, visit the onsite Sunflower General. The store is open starting the last weekend in August (9 am – 5 pm) and features baked goods, t-shirts, and local honey.
When: late August-early September
Location: 24154 Stillwell Rd, Lawrence, KS 66044
Cost: free (donation box available), goods can be purchased in the store
More information: facebook.com/GrinterFarms
Outdoors
Baker University Wetlands Discovery Center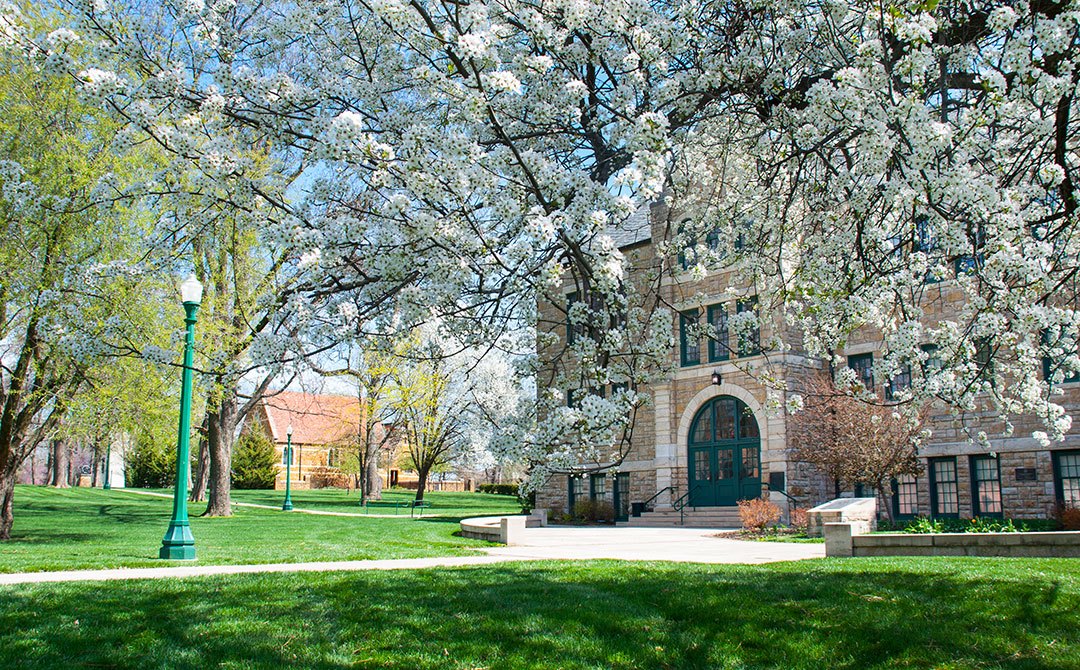 With over 11 miles of hiking trails, the Baker University Wetlands Discovery Center is a nature lovers dream. Students in biology, ecology, biochemistry, and health professionals benefit from the 927-acre natural habitat.
With 278 species of birds, 98 vertebrate species, and nearly 500 plant species, there is always something new to see. The Baker Wetlands was featured in HouseBeautiful magazine as the most beautiful place in Kansas.
When: Summer Hours – May 1 – October 31, Monday – Saturday 9 a.m. – 4 p.m., Sunday 1 – 4 p.m., Winter Hours – November 1 – April 31, Monday – Saturday 9 a.m. – Noon & 1 – 3 p.m., Sunday 1 – 3 p.m.
Location: 1365 N 1250 Rd, Lawrence, KS 66046
Cost: Free
More information: bakeru.edu/history-traditions/the-wetlands/
Lawrence River Trails
A 9-mile loop city park just off downtown that is used by bikers and runners year-round. It is almost exclusively maintained by Lawrence Mountain Bike Club (LMBC) volunteers.
Locals enjoy picnics, wildlife, and all skill level friendly trails. However, be careful if visiting during the rainy season. Trails can be hard to navigate when muddy.
Mary's Lake
You can access Mary's Lake from the Prairie Park Nature Center. The lake is stocked with fish by the Kansas Department of Wildlife, Parks & Tourism, and is open for public fishing.
After obtaining a state fishing license (ages 16-65), you can fish throughout the spring and summer months. Fishing limits are posted at the lake.
Burcham Park
The entrance to Burcham Park can be accessed from 2nd and Indiana Streets. It provides preservation of one of the finest cottonwood forests in Kansas and an excellent view of the Kansas River. You will also find playground equipment for the kids and convenient restroom facilities while you are out and about.
Bloomington Beach
Need a beach vacation without the travel? Bloomington Beach offers a clean beach area with public swimming. You can also enjoy jet skis, paddle boarding, and boating. The waterline is shallow with a smooth drop off so it's great for young kids as well.
Location: 700 N 1190 Rd, Lawrence, KS 66047
Cost: Free
More information: (785) 843-7665
Universities
University of Kansas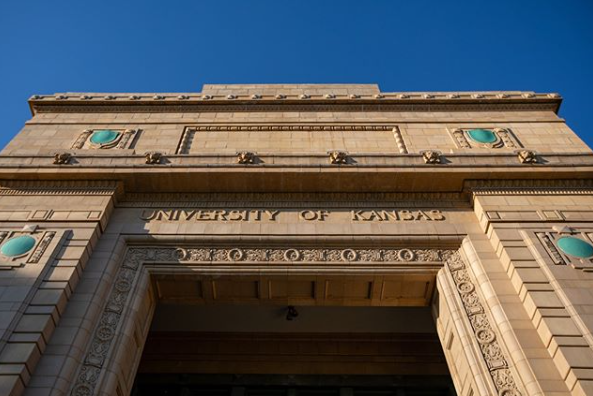 The University of Kansas was founded in 1866 with only 55 students. Today, the university's enrollment has grown to 28,500 and five campuses.
The main campus is located in Lawrence and houses a large number of the city's museums including The Dole Institute of Politics, Biodiversity Institute & Natural History Museum, Booth Family Hall of Athletics, and the Spencer Museum of Art.
Location: 1450 Jayhawk Blvd, Lawrence, KS 66045
More information: ku.edu
Haskell Indian Nations University
Once a residential boarding school for American Indian children (1884), it is now an accredited university. Haskell serves federally recognized tribes from across the US and currently has an enrollment of over 1,000 students each semester.
Programs include elementary teacher education, American Indian studies, business administration, and environmental science. The studies prepare the students to enter baccalaureate programs or direct employment.
Location: 155 E Indian Ave, Lawrence, KS 66046
More information: haskell.edu
Entertainment
Allen Fieldhouse
Allen Fieldhouse is located on the Kansas University campus and is named for the Jayhawks' head coach of 39 years, the late Dr. F.C. "Phog" Allen.
It is a state of the art venue for college basketball and an important institution for the state of Kansas. The Jayhawks have won 14 Big 12 Regular Season Championships over the last 16 seasons.
It currently seats over 16,000 fans and is home to both Kansas University's men and women's basketball.
When: event times vary
Location: 1651 Naismith Dr, Lawrence, KS 66044
Cost: event tickets vary
More information: kuathletics.com
Theatre Lawrence
Theatre Lawrence showcases local theater in an intimate setting. With a semi-circle set up, there are three sections and 7 full rows with a seating capacity of over 300. You can view plays, musicals, and even participate in classes.
When: event hours vary
Location: 4660 Bauer Farm Dr, Lawrence, KS 66049
Cost: Flex Season ticket (5 passes) $125, single tickets are $16-$30
More information: wp.theatrelawrence.com
FAQs
What is Lawrence Kansas famous for?
From its founding in 1854, through the "Bleeding Kansas" period and the Civil War, Lawrence was known for prominent antislavery activists.
Is Lawrence Kansas a good place to live?
Lawrence is one of the hot spots of Kansas living. It offers a suburban feel with lots of things to do including museums, parks, and unique restaurants. The public schools in Lawrence have also received high marks.
What is the hottest month of the year in Kansas?
With warm summers, mild winters, and moderate humidity, Kansas is a great place to live and visit year-round. The hottest month is July (81 degrees), while the coldest is January (31 degrees). However, hotter summers and colder winters are not uncommon for the state.
Why is Kansas the best state?
Kansas is known for its rolling hills and spectacular sunsets. With fields of sunflowers, clean rivers, and public parks, Kansas is also competitive in economy, sports, and education.
Conclusion
We hope our in-depth guide to Lawrence, Kansas, has inspired you to travel there or given insight into new experiences if you have already visited. From state of the art museums, unique downtown shops, and expansive wildlife areas to explore, you are sure to find a few gems here.
Further read: