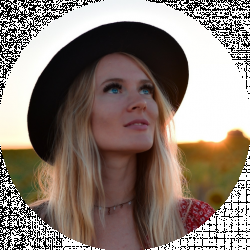 Latest posts by Haley Parker
(see all)
If you're looking for the best glamping in the Bay Area, you may have some idea of what glamping is, but let's look a little deeper.
At its core, glamping is the space where nature meets luxury. The word's origin comes from "glamorous camping" and often involves a deeper kind of cultural immersion. The entire experience is about stepping off the beaten path and pushing your comfort zone into something new.
It's not quite a "rough" camping experience, but it's also not quite a luxury hotel. It's a fun combination of both that gets you closer to nature while still allowing you to relax and not worry about basic amenities.
If you're looking for a quirky weekend with the family or even a romantic weekend with your significant other, glamping is an interesting way to change things up.
The fun part about glamping is that it's often characterized by its strange housing situations. Since it can't quite be considered glamping if it's fully indoors, most rentals involve some type of tent, treehouse, camper van, or tiny house.
Types of Glamping
Tents, Teepees, and Yurts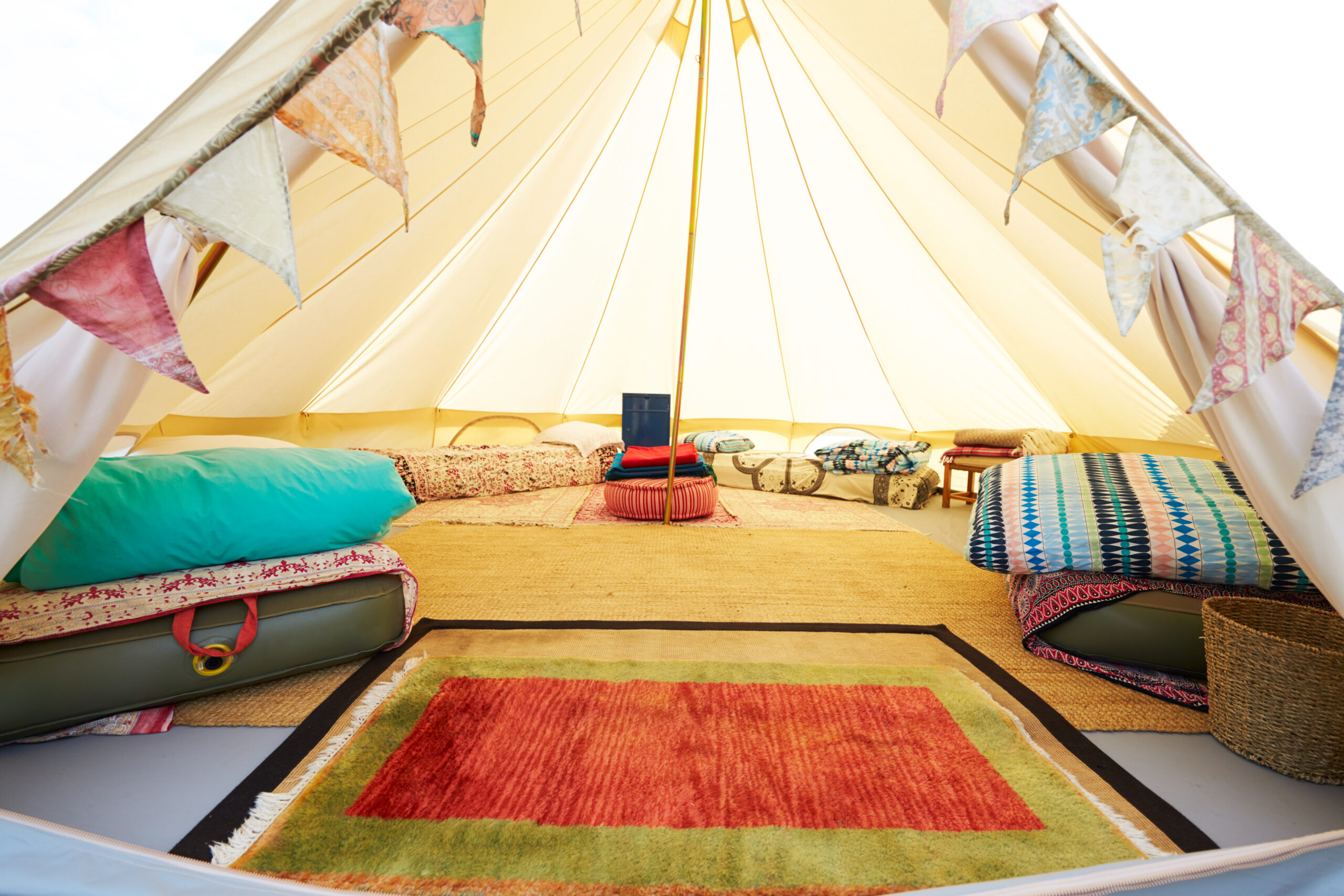 The most common type of glamping usually involves tents, teepees, and yurts. You might even find a dome set up here and there. These structures are usually built with some type of canvas and wooden structure and often have sealable holes in the top that can be opened for star-viewing or campfires.
These types of setups are perfect for those who want to hear the sounds of the outdoors at night but still have the reliability of a rain-sealed cover. Lots of these setups feature luxury beds and electric blankets to help keep you warm because the temperature can often be hard to control in these types of setups.
One disadvantage to these types of setups is that they usually don't have private bathrooms and often use public restrooms in the resort.
Tree Houses
One of the more exotic types of glamping is inside tree houses. Since these structures are heavily dependent on their environment, they can range in terms of setups.
Some treehouses are like hotels and contain full amenities, while some simply contain exposed beds that bring you even closer to nature. It's entirely up to you.
The best part about tree housing glamping is that they're usually the best for photos. To access them, you'll often have to walk through beautiful nature paths and up wooden, spiraling staircases. Whether you're trying to spice up your Instagram or just do something different you'll remember forever, tree houses could be the perfect glamping situation for you.
Camper Vans
Although it can seem like the perfect life, traveling in a camper van comes with its hardships. So why not just do it for the weekend, with all the luxury you could ever want? 
Camper van glamping takes the headache of #VanLife away. You'll have a safe place to sleep, comfortable bedding, and electricity right at your campsite! Not to mention the beautiful destination you'll be sleeping in!
Who knows, maybe you'll even like it so much that you'll go on a bigger road trip!
Cabin/Tiny Houses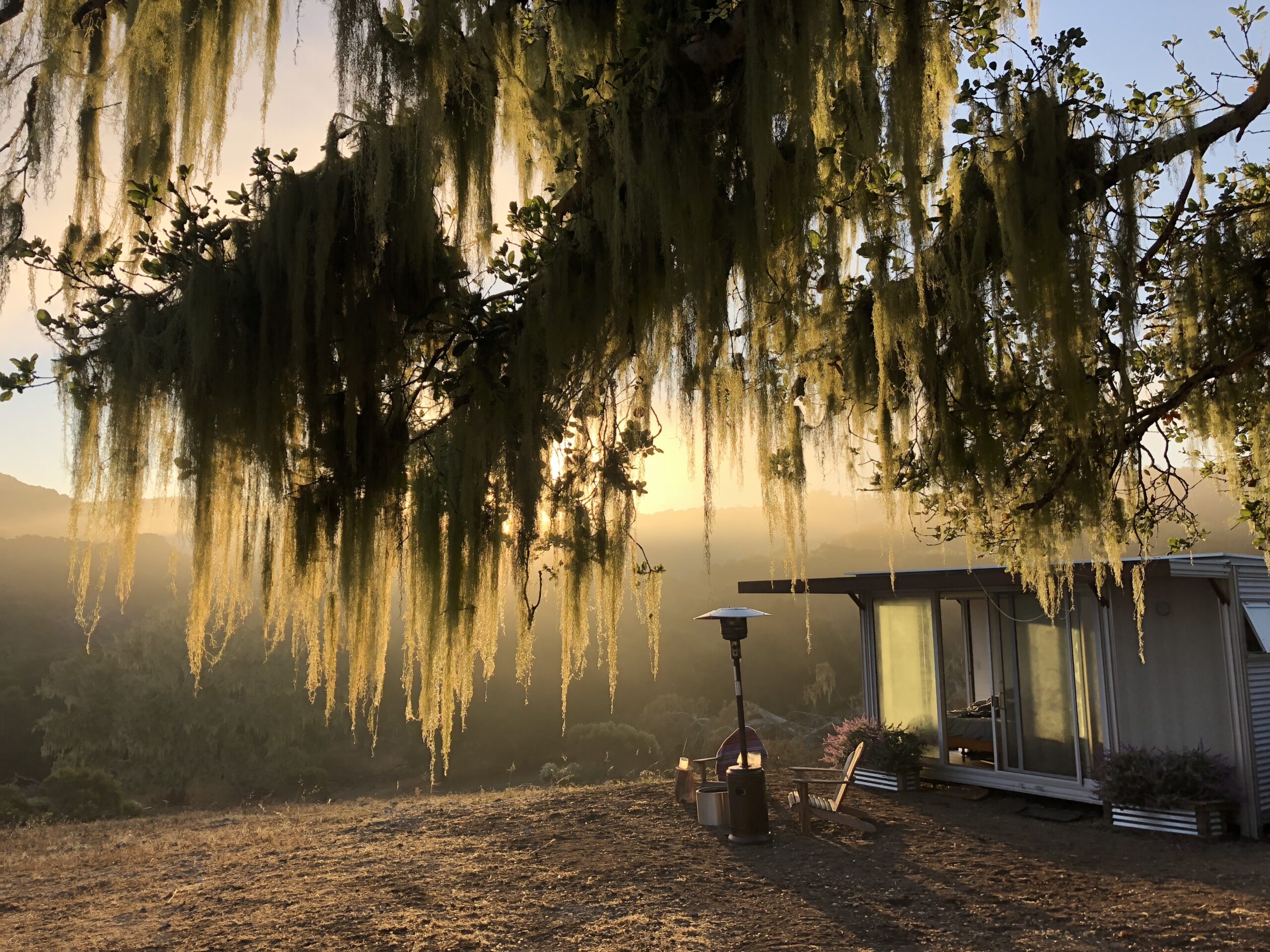 Often debated if they truly "fit" into the glamping community, we believe tiny houses and cabins are quirky enough to fit the bill. They usually involve all the luxuries of a normal hotel, but in small setups that force the guest to spend time outside.
The best part about cabins and tiny houses are usually located in some of the craziest locations because they can handle the elements the best. You'll find them in the middle of the woods, on the edges of cliffs, and out in the sandy deserts!
If you're looking for a glamping situation where you know you'll be fully enclosed at night, this could be the option for you!
Eco House
If you're looking for a sustainable glamping experience, eco houses are the way to go. The idea behind eco houses is that they push the limits of conservation, while some are even self-sustaining!
These glamping setups are usually made out of natural and/or recycled materials, are full of vibrant gardens, and blend into the land. If you're wondering how you can travel sustainably, this is the perfect option for your weekend getaway.
Factors to Consider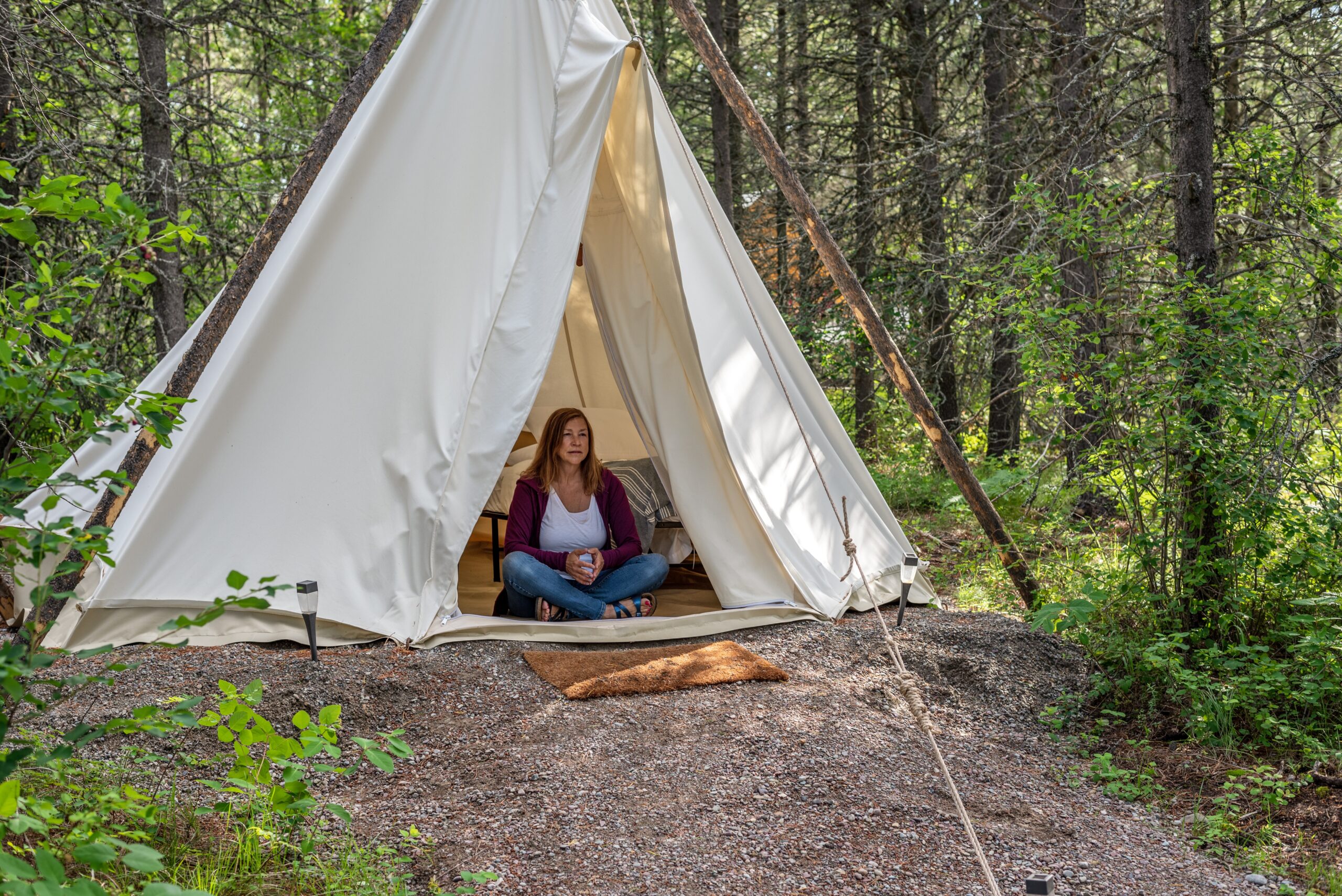 The Experience
Are you looking for a relaxing getaway where you can lay on the beach all weekend and catch up on some good novels? Perhaps a treehouse by the ocean would be perfect, or are you looking for an adventurous weekend hiking with some nice luxury to top off the day? Maybe a fully-built camper van would fit your needs.
Before you decide to go glamping, figure out what activities you want to do. Some places are more focused on the glamping experience itself, while some are simply the perfect place to spend the evening after a long day.
Location
Since glamping is often out in nature, make sure you observe the location before heading out. Some places are only good at certain times of the year, so if the price seems too good to be true, realize you may be booking in non-ideal conditions.
Another thing to keep in mind is what activities are in the area. Do you want o to have local hiking trails? Or a cute downtown area from the local town? It helps to look at a map and plan your trip out before booking the spot.
Sleeping, Plumbing, and Climate Control
One of the most important parts of glamping is the amenities, which can vary for every person. Before you start looking, take note of what you're looking for, or you could end up over-compensating or disappointed. 
Some of the most fascinating locations only involve a few amenities, while some of the more low-key locations contain more resources than you could ever imagine.
Budget
The good thing about glamping is that it can fit any budget. Whether you're looking to stay in a vintage glassblowing studio from the 70s or looking to rent out a budget treehouse, there's something for anyone. 
Best Glamping Option in the Bay Area
Westy the 1979 VW Westfalia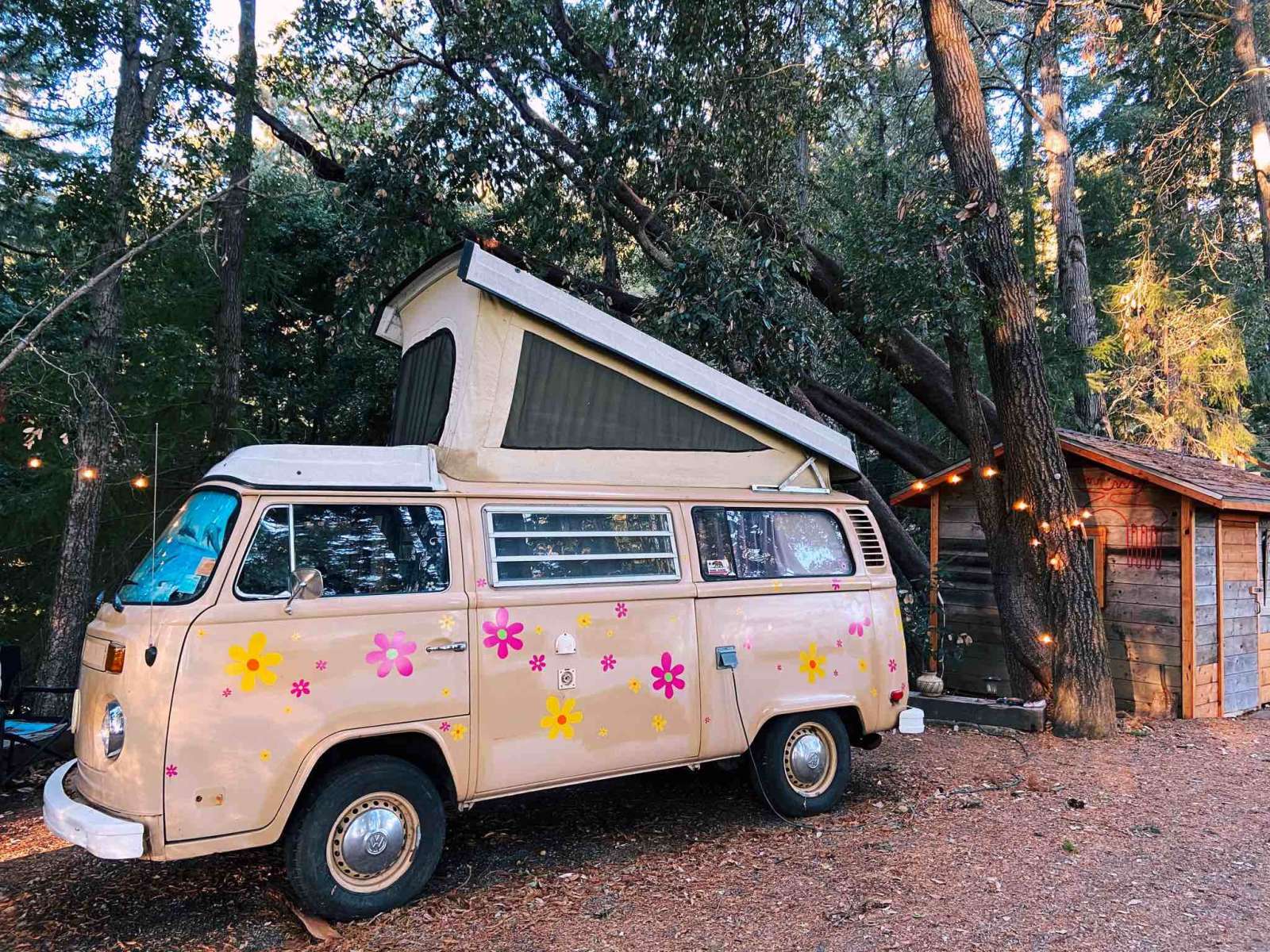 Are you ready for the ultimate #VanLife experience? Staying in an old-fashioned camper van, you'll pick up some vintage vibes in the middle of the fairy-lit woodlands. Don't forget to get a cute picture!
You also won't have to worry about being too far off the grid- you'll still get all the creature comforts of a standard hotel. The van is hooked up to electricity, supports wifi, and even has outlets to charge phones and laptops. In the nearby cabin, you'll have access to a cooking area and showers. 
Type: Camper Van

Sleeping: Bunk Bed (Double Bed on Bottom, Single on Top)

Plumbing: Potable Water, Kitchen, Showers

Climate Control: Space Heater

Location: Near Santa Cruz

Cost: $175 per night
Link to Reservations: https://www.hipcamp.com/en-US/california/redwoods-mountain-getaway/enjoy-a-hip-79-vw-westy-campmobile
Tiny House – Enchanted Forest Retreat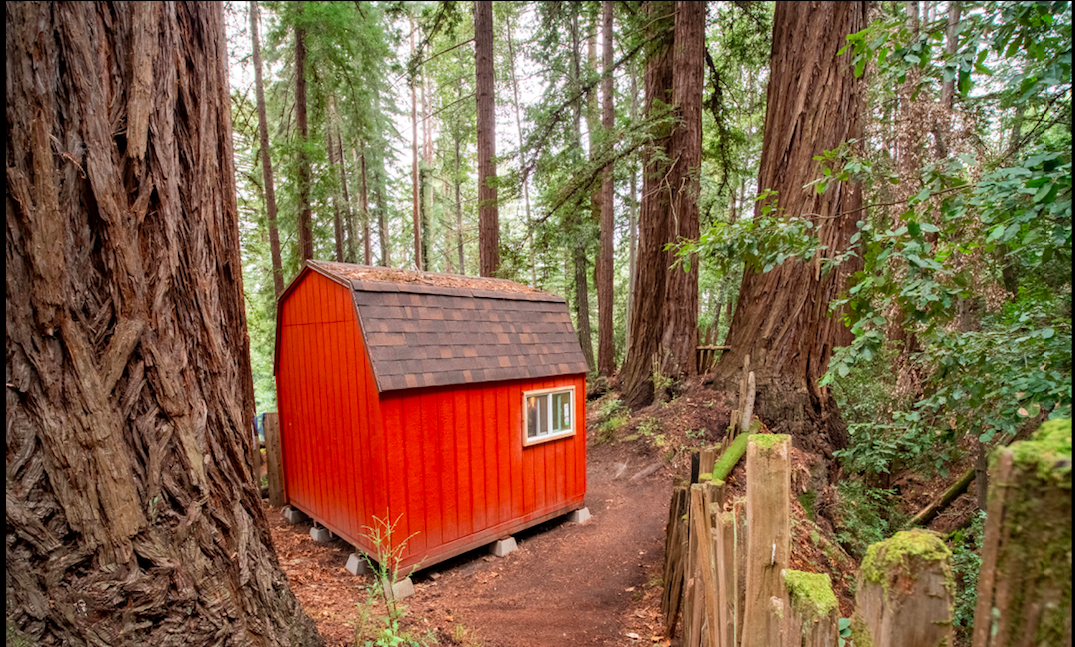 The Enchanted Forest is a meditation retreat center featuring 45 acres of hiking, waterfalls, star gazing, and relaxation. In addition to outdoor activities, the location features free meditation teaching in an outdoor arena for guests.
The Tiny House is located about 20 minutes from shopping centers, just close enough to pick up some food for the outdoor BBQ and picnic area and just far enough to feel secluded.
Type: Tiny House

Sleeping: 1 Queen Size Bed, 1 Loft Bed

Plumbing: Potable Water, Kitchen, Showers

Climate Control: Indoor Propane Heater 

Location: Near Santa Cruz

Cost: $120 per night
Link to Reservations: https://www.hipcamp.com/en-US/california/the-enchanted-forest-retreat/enchanted-forest-retreat-tiny-house 
Airstream – Autocamp Russian River
Ever wanted to have the Airstream experience without having to commit to buying one? Autocamp is the perfect option for you and your family. These custom-built camper vans are top of the line and don't get much better than this.
The Airstreams are secluded in a forest of redwoods, with access to dozens of trails, swimming spots, and Guerneville's downtown main street. Located in Sonoma County, you'll get a little of everything- including a world-class wine destination.
Type: Camper Van

Sleeping: Queen Size Bed + Double Pull Out Bed

Plumbing: Potable Water, Kitchen, Showers

Climate Control: AC + Heater

Location: Near Sonoma

Cost: $300
Link to Reservations: https://autocamp.com/russian-river/ 
Cypress Village Bungalows – Costanoa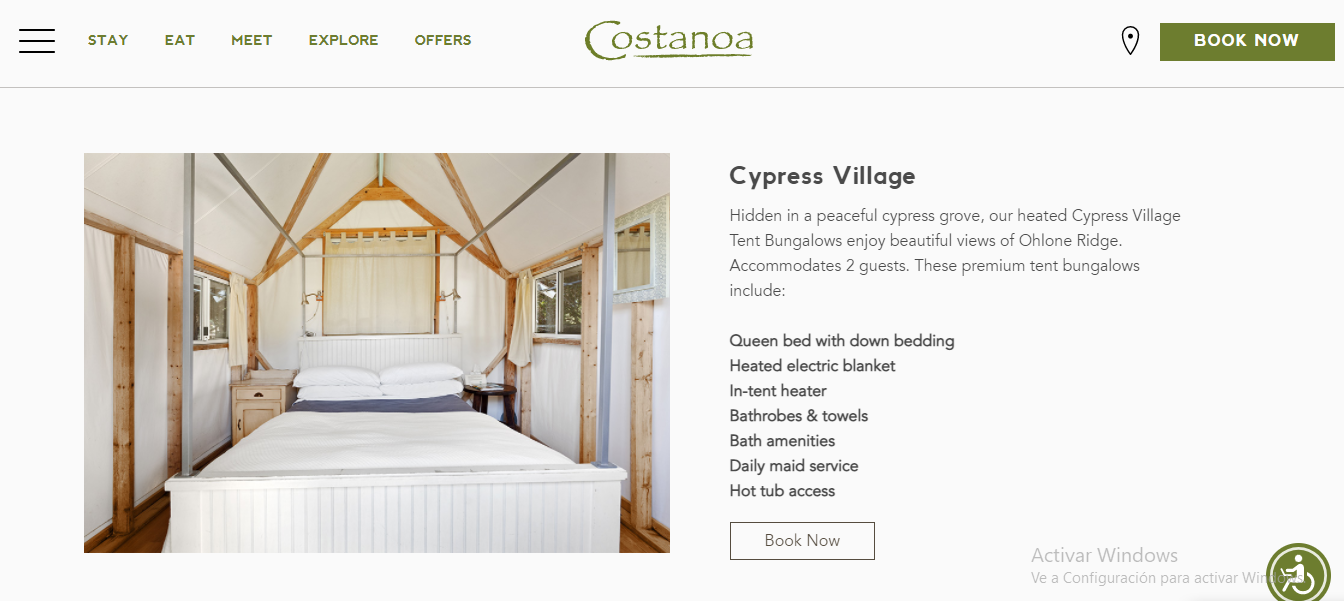 Hidden amongst the cypress groves, these tent bungalows are the perfect luxury escape. In addition to standard amenities, you'll have access to maid service, heated blankets, down bedding, and dry saunas.
The Costanoa Resort makes sure you feel looked after while providing beautiful views of Ohlone Ridge. Not only that, but the bungalows are an Instagram photographer's dream. Made of wood, white decor, and perfect bedding, the tents maintain perfect symmetry.
Type: Tent

Sleeping: 1 Queen Bed

Plumbing: Potable Water, Showers, Sauna

Climate Control: In-Tent Heater

Location: Near San Jose

Cost: $127 per night
Link to Reservations: https://costanoa.com/stay/tent-bungalows/ 
The Twig Hut – Treebones Resort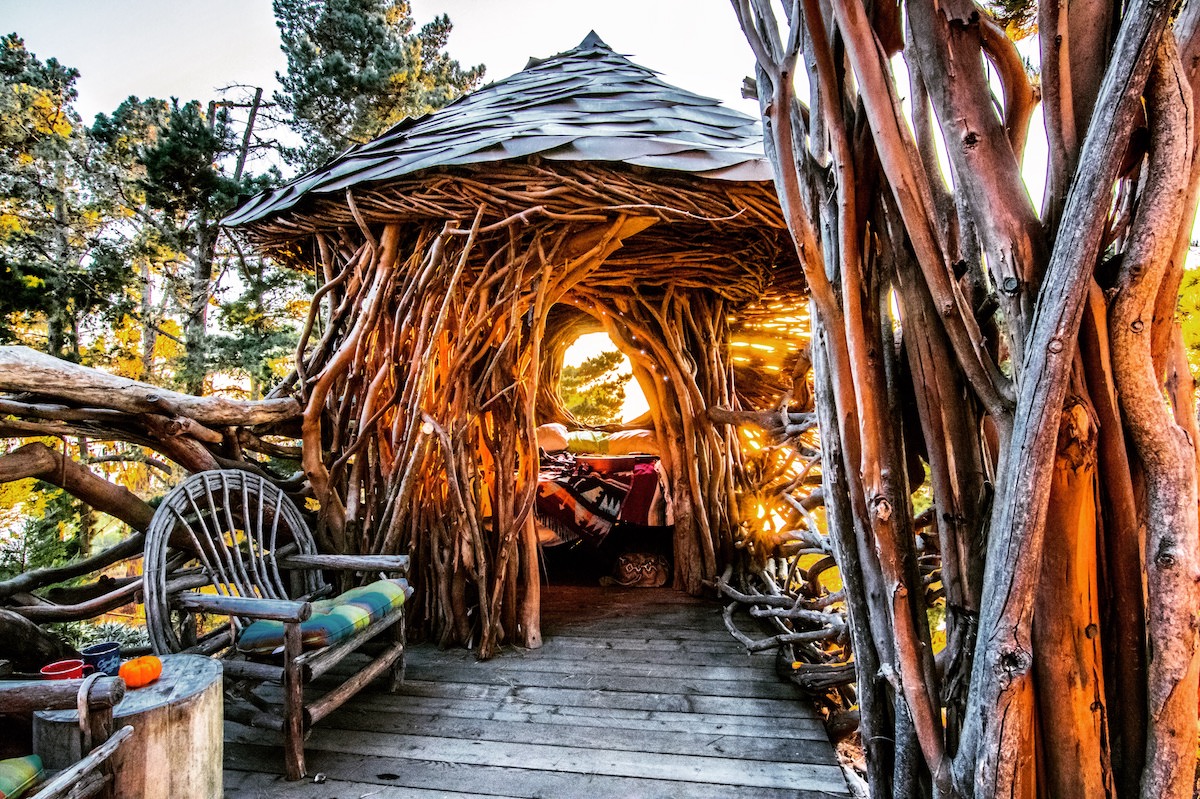 Looking for the perfect fairy-tale escape for two? The Twig Hut at Treebones Resort is just that. Guests have the option to sleep in a hand-crafted twig hut, right under the stars. It's a true outdoor experience- the hut isn't rainproofed or windproof! Therefore, guests are encouraged to bring their sleeping bags and backup tent in the event of rain.
The twig hut also features a massive ocean view, complete with a "writing nook," love seats, and an outdoor cooking station. Get ready for an inspiring vacation!
Type: Treehouse 

Sleeping: 1 Full-Size Futon (Outdoors) + Tent Area (In Case of Rain)

Plumbing: Potable Water, Camp Restrooms 

Climate Control: None

Location: Near Big Sur

Cost: $235 per night
Link to Reservations: https://www.treebonesresort.com/campsite-with-human-nest-the-twig-hut/ 
Steep Ravine Environmental Campground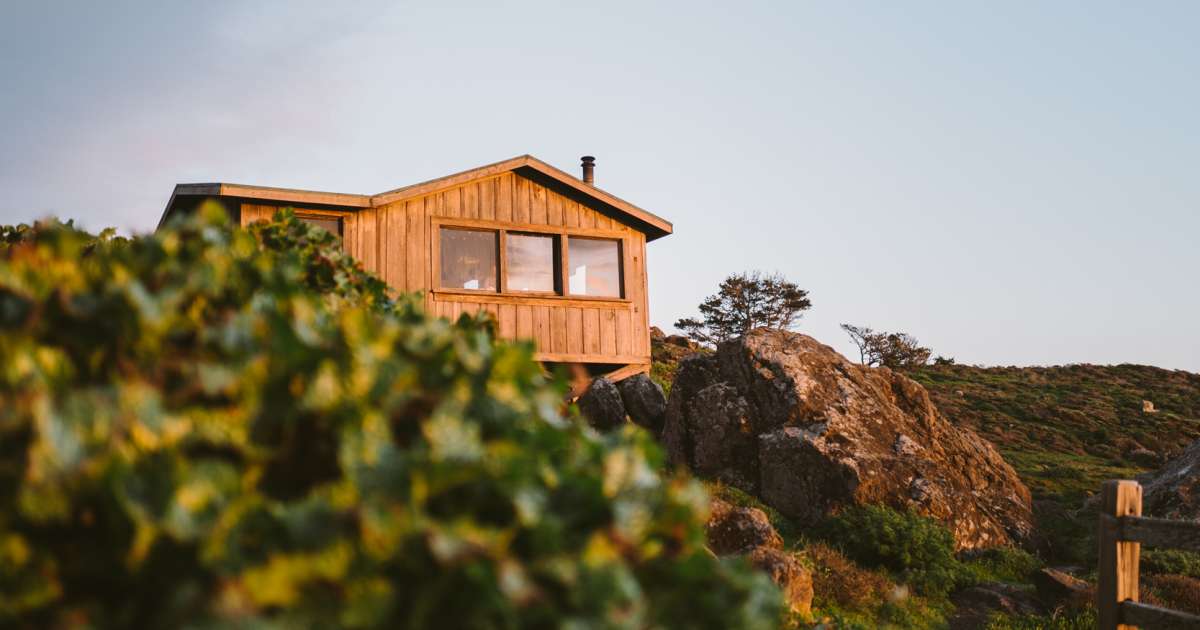 Perched on the awe-inspiring Mt. Tamalpais of the Bay Area, these cabins are for the rugged at heart. Each cabin features a rustic wooden stove, picnic table, and outdoor BBQ. You'll get world-class views with the very basics of survival. 
With endless hiking trails and beaches nearby, you'll get a real outdoors experience. Make sure to book these cabins as soon as possible because they fill up fast. Did we mention each cabin as an expansive ocean view? 
Type: Cabin

Sleeping: Platform Included – Bring Sleeping Pad + Materials

Plumbing: Potable Water and Toilets in Campground 

Climate Control: Campfire / Stove

Location: Near Mt. Tamalpais

Cost: Depends on the Campsite
Link to Reservations: https://www.hipcamp.com/en-US/california/mount-tamalpais/steep-ravine-cabins-and-campground  
Swallowtail Historic Art Studios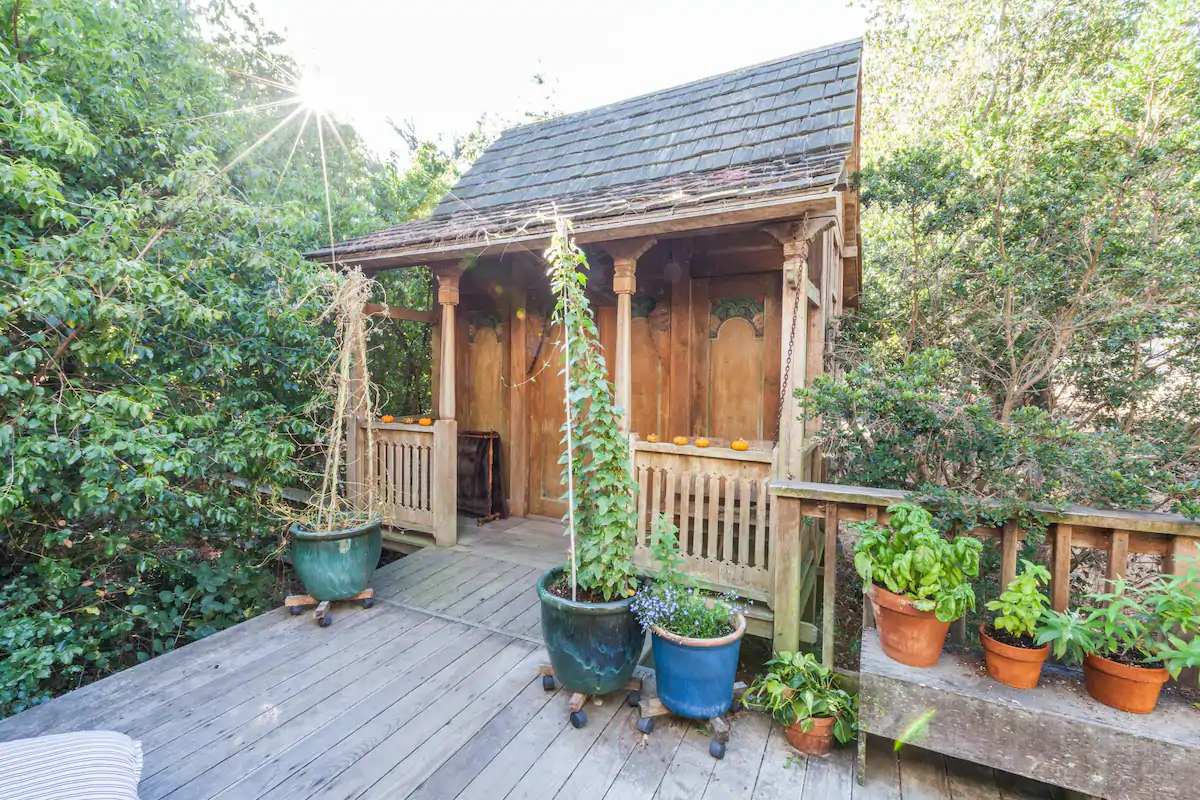 Looking for the ultimate historical experience? This antique Indonesian cottage is hand-carved and was home to Swallowtail Studios in the 1970s. It existed as a famous glassblower's cooperative, and the Grateful Dead frequently played in the barn and stayed here. 
In addition to its historical value, the location has lovely views of the surrounding area and a private deck and hot tub to enjoy the sunset in. Guests can also access the beautiful woods and fields of Helen Putnam Regional Park to enjoy some hiking in the morning.
Type: Cabin

Sleeping: 1 California King Size Bed

Plumbing: Potable Water, Bathroom, Hot Tub

Climate Control: None (However, there is an electric mattress pad)

Location: Near Petaluma

Cost: $3,237 per night 
Link to Reservations: https://www.airbnb.com/rooms/1279338?s=67&c=.pi115.pk0_9&a4ptk=2622_0_9_386750&af=115&source_impression_id=p3_1636056149_4R15m%2BEtHKWBj3Rx&guests=1&adults=1 
Safari West (Sonoma)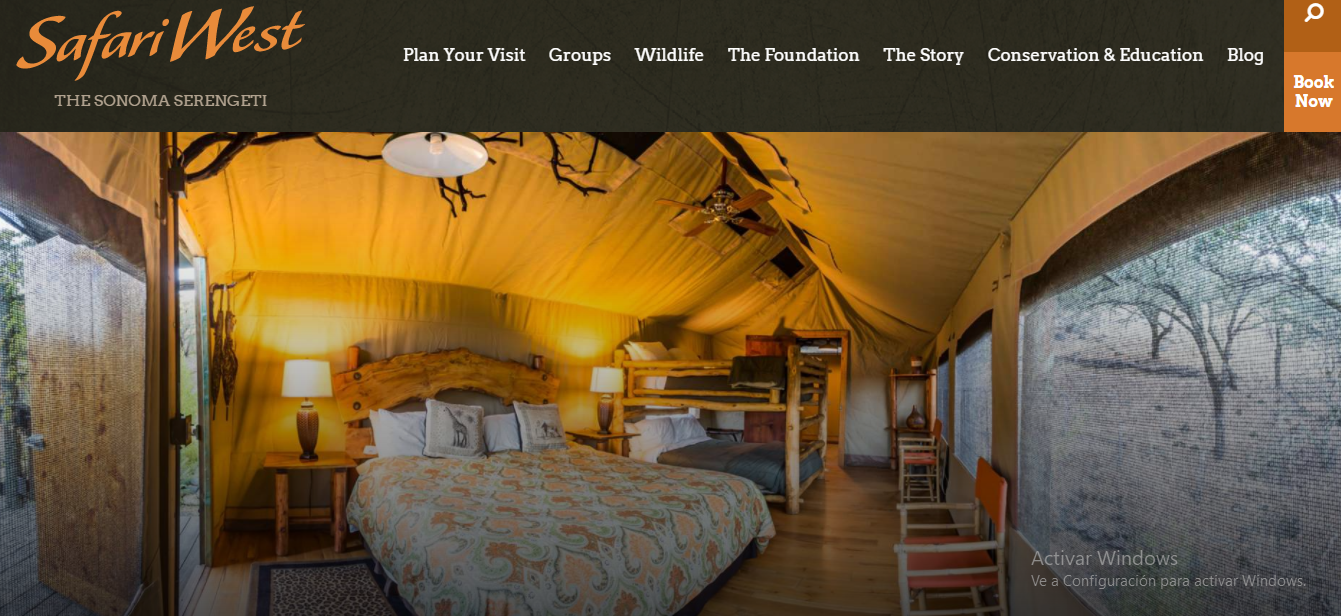 Looking for the ultimate adventure? Safari West provides the perfect daytime experience AND a glamping experience to top it off. Featuring over 900 animals from Africa, you'll get a full-immersion safari right in the heart of wine county. 
On over 400 acres of land, guests have the option to stay the night on the grounds. Each tent is imported directly from Botswana and is custom-built on-site to include bathrooms, hardwood floors, and an open-air experience. You'll hear all the wildlife sounds of the outdoors!
Type: Tent

Sleeping: 1 King Size or 2 Double Beds

Plumbing: Potable Water, In-Suite Bathroom

Climate Control: None

Location: Near Sonoma

Cost: $310 per night
Link to Reservations: https://www.safariwest.com/plan-your-visit/spend-the-night/ 
The Treehouse Hotel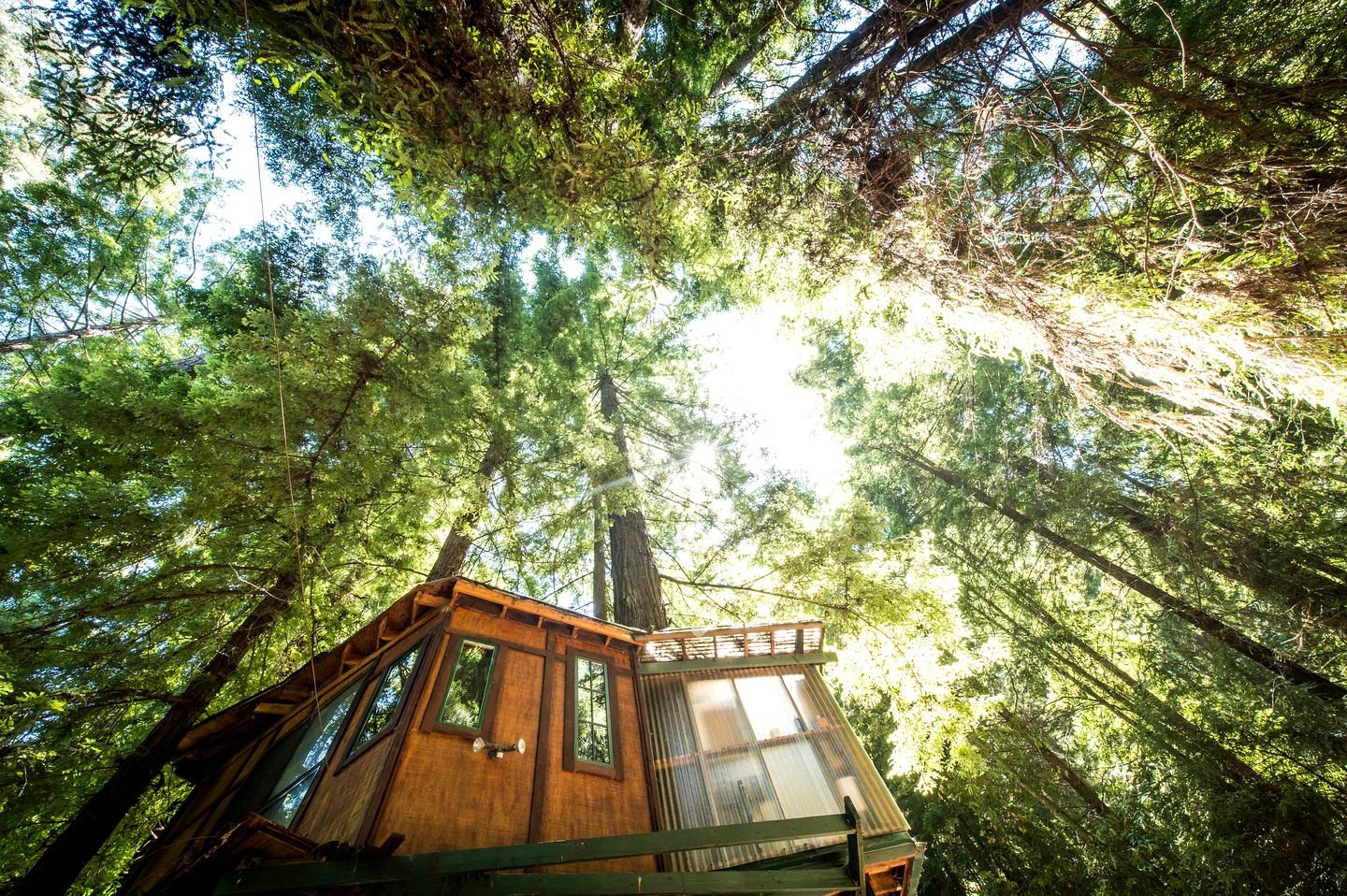 Treehouse camping doesn't get much better than this. This glass-pane treehouse contains a full kitchen, private bathroom, shower, and queen-size bed. It even features a 4-minute walk through beautiful woods to get to it, making the experience feel even more remote. 
After a day of exploring the woods nearby, guests can also kick back in a hot tub under the trees. The Treehouse Hotel also has a lengthy DVD collection for those interested in getting cozy high in the trees.
Type: Treehouse

Sleeping: 1 Queen Size Bed + 2 Tri-fold Shikibuton sets

Plumbing: Potable Water, Kitchen, Shower, Bathroom

Climate Control: Gas Stove

Location: Near Monterey Bay

Cost: $206 per night
Link to Reservations: https://glampinghub.com/unitedstatesofamerica/pacificwest/california/watsonville/glamping-santacruz-monterey/?dates=%20-%20&adults=2&children=0&infants=0 
The Hobbit Cobin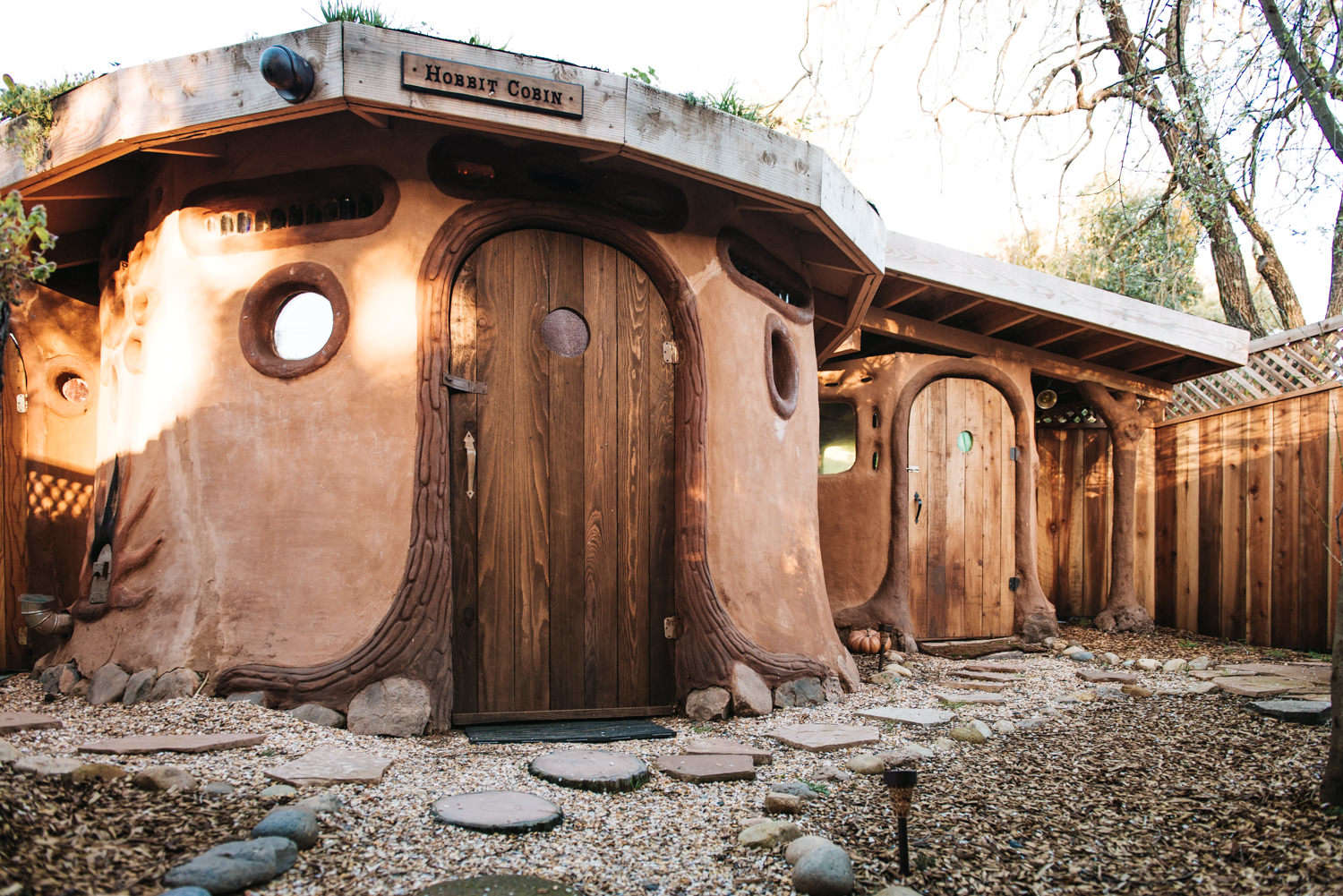 This hand-sculpted hut is made entirely out of natural resources. It's made entirely of mud and even has a living room full of plants! This one-of-a-kind experience is perfect for those who want to feel like they're straight out of a fantasy story.
The glamping setup also features an adobe sauna and cob wood-fired pizza oven on a beautiful living farm. With so much to experience, this place is sure to create memories that will last for the rest of your life.
Type: Tiny House

Sleeping: 1 Bed

Plumbing: Potable Water, Shower, Bathroom, Kitchenette

Climate Control: Portable Heater

Location: Near Point Reyes

Cost: $140 per night, 2 nights minimum
Link to Reservations: https://www.hipcamp.com/en-US/california/hobbit-cobin/hobbit-c
Wildhaven Sonoma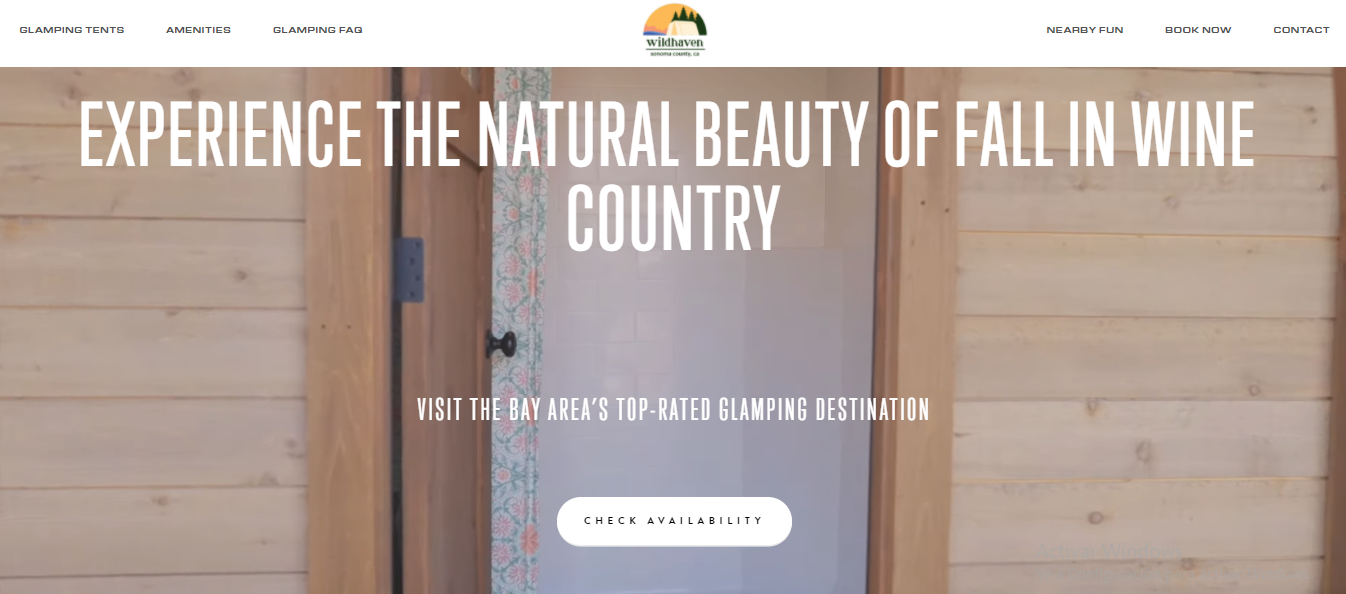 Complete with yoga classes, wine tasting, private river/beach access, live music, and views, this might be the most complete glamping experience we've ever seen. It even borders on the term "glamping resort" because you could spend your whole weekend here. 
Along with the endless activities, you'll also get top-of-the-line comfort. Safari-style tents, heated mattress pads, and full furnishings make this a tempting escape. 
Oh, and if you do decide to leave the resort, you're in the middle of wine country. 200+ wineries are less than 20 minutes away.
Type: Tent

Sleeping: 1 or 2 Queen Beds

Plumbing: Potable Water + Public Restrooms

Climate Control: Heating and Fans

Location: Near Sonoma

Cost: $110 – $240 per night
Link to Reservations: https://www.wildhavensonoma.com
Windsong Cottage

You didn't think we were gonna end this list without including a yurt, did you? Our favorite yurt destination is built by master yurt builder David Raitt and is far down a country road north of San Francisco. 
The lovely yurt includes a wood-burning stove with endless firewood, a welcome basket full of fruits, muffins, and jellies, and a private hot tub in the garden for stargazing. This yurt is a great choice for a romantic weekend getaway with your significant other.
Type: Yurt

Sleeping: 

Plumbing: 

Climate Control: 

Location: Marin County

Cost: $265 per night
Link to Reservations: https://www.windsongcottage.com
Frequently Asked Questions
Question: Will animals or bugs affect my glamping experience?
Answer: For the most part, no. Most glamping experiences aren't in places where animals and bugs are an issue. However, some of the open-air setups may involve a few minor bugs. If it's an issue of note, there's usually a warning on the website.
Question: How is glamping different than camping?
Answer: Camping usually involves little to no amenities and usually means bringing your supplies. Glamping takes all the headaches out of camping and makes it natural accessible to even the most sensitive of people. Tents, sleeping arrangements, bathrooms, kitchens, and water are usually taken care of.
Question: Can I take photographs of the glamping for social media?
Answer: Yes! It is often encouraged by the host to take photos and share a review of your experience. Most glamping situations are locally owned, and reviews can help these small businesses grow!
Question: Does glamping include food?
Answer: Most glamping setups include the basics if there's a kitchen, like seasonings, oils, and utensils. But unless specifically noted, most don't include full meals. However, you may find an odd one that includes breakfast, coffee, or even fresh-pressed juice.
Top Choices for Glamping in the Bay Area
If you're looking for a weekend to celebrate your love for your partner, we couldn't recommend the Wind Song Cottage enough. Ideally located in one of the most scenic regions in all of California, you can spend your days exploring the rugged coastline and spend your nights in a unique setting.
On the other hand, if you're looking for a fun weekend to surprise your family with, our top choice would be the Treehouse Hotel. There's nothing more exhilarating than sleeping high in the trees while knowing you have all the comforts of a luxury hotel right at your fingertips.
Whatever you decide to choose, glamping in the Bay Area is an experience you'll remember for the rest of your life.
Recommended reads: