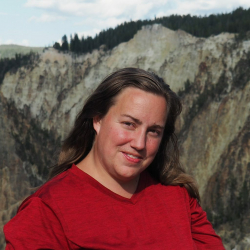 Latest posts by Christine Lindstrom
(see all)
Ashland, Oregon is a hidden gem of a city in southern Oregon. Located about halfway between Portland, Oregon and Sacramento, California, Ashland is easily accessed from Interstate 5. Home of Southern Oregon University, this college town is a haven of culture and the arts, surrounded by incredible natural beauty.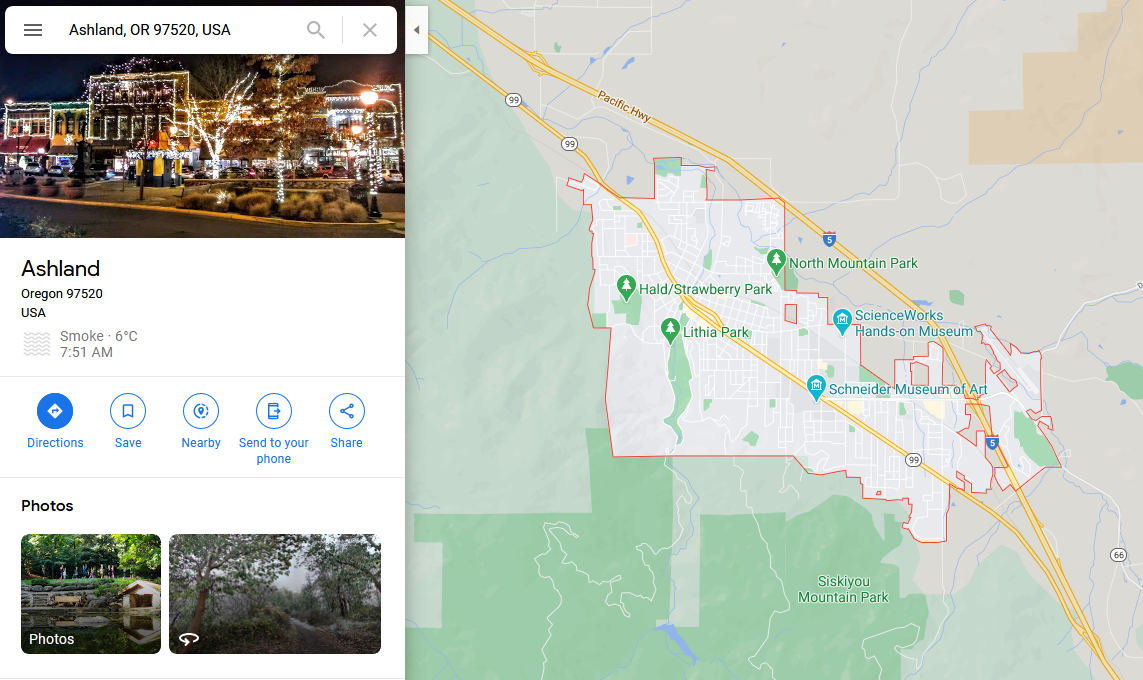 Nature lovers will quickly notice that Ashland is surrounded by protected lands in the form of national parks, national monuments, and national forests. While visiting Ashland, you are never far from pristine wilderness and outdoor recreational opportunities. Enjoy a day trip to Crater Lake National Park, which is just 75 miles away from downtown Ashland. The Siskiyou Mountains and the Rogue River also provide scenic beauty and opportunities for adventure.
What truly put Ashland on the map in its early days was the renowned Oregon Shakespeare Festival. It is no surprise, then, that the arts and culture scene is alive and thriving in the city of Ashland. From museums and galleries to theatre and music, there is never a shortage of cultural events to choose from. Lovers of the arts may find their biggest challenge is finding enough time to experience it all.
Though it is a university city, there are plenty of activities available for the whole family in Ashland. The whole family can enjoy nature and the arts together, but there are additional attractions that appeal directly to the younger crowd, including parks and a hands-on museum. No need to leave the kids at home when you visit Ashland.
While you're in Ashland, you'll need to eat, and Ashland delivers plenty of luxurious, mouth-watering options in this department as well. Sample locally-made wines and craft beers, and choose from the many fine restaurants. If you time your visit well, the Culinary Arts Festival will help you experience the best of Ashland's foodie scene all in one place. From the students' favorite pizza place to five-star cuisine, there is something for everyone in Ashland.
So pack your bag and start planning your trip to Ashland, Oregon! Read on for the best things to do while you're there, categorized by type of activity. You'll find the best in the arts, nature and outdoors, family-friendly activities, and the food and beverage scene to make sure you have an amazing trip.
Experience the Arts in Ashland
1. Oregon Shakespeare Festival
When to go: March through October, see website for schedule of shows
Where: 15 S. Pioneer Street, Ashland (map)
Cost: $40+ per ticket, though there are discounts available
Website: https://www.osfashland.org/ 
Without a doubt, the Oregon Shakespeare Festival is the best-known and best-loved thing to do in Ashland. The city's focus on Shakespeare has influenced everything from the names of local restaurants to the ski trails at nearby Mt. Ashland. What began as a three-day festival featuring two of Shakespeare's famous plays has grown into an eight-month schedule of performances. OSF has two indoor theatres and an outdoor Elizabethan theatre that is one of the oldest of its kind in America. Enjoy world-class live theatre, whether you choose a classic Shakespearean drama or a more modern production, in an authentic atmosphere. 
2. Schneider Museum of Art
When to go: Tuesday-Wednesday 10AM-4PM, Thursdays 10AM-7PM; Free tours available on Tuesdays at 12:30 (advance registration required)
Where: 555 Indiana Street, Ashland – on the campus of Southern Oregon University (map)
Cost: Free
Website: https://sma.sou.edu/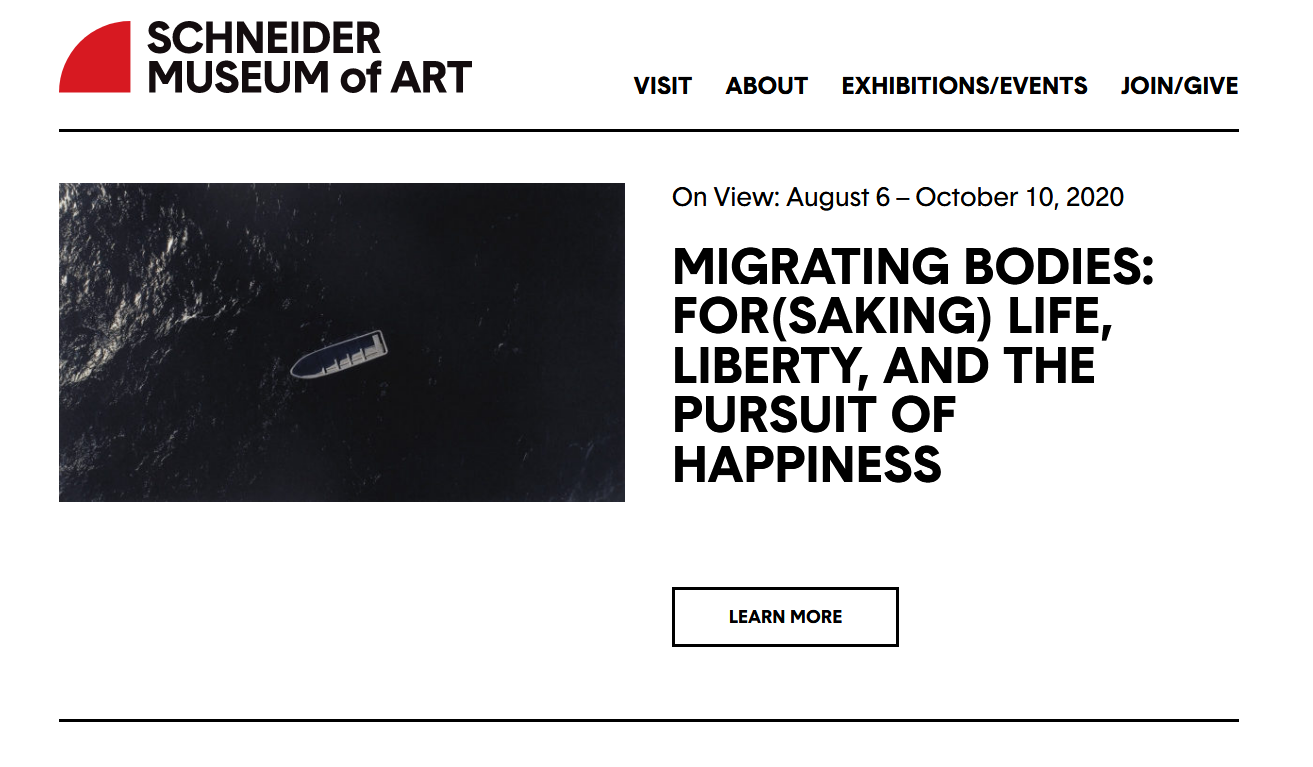 Enjoy a variety of works of art from both American and international artists in this education-focused museum on the campus of Southern Oregon University. There is a permanent collection that is primarily focused on 20th Century works. Additional temporary exhibits rotate through quarterly. The building itself was beautifully designed to reflect the surrounding landscape. Admission to the Schneider Museum of Art is always free, so even if you only have a short time available, it's worth a visit.
3. Oregon Cabaret Theatre
When to go: Check website for performance schedule.
Where: 241 Hargadine Street, Ashland (map)
Cost: Varies by show. For more information check the website or call the box office at 541-488-2902.
Website: https://oregoncabaret.com/ 
Dinner theatre at its finest! The Oregon Cabaret Theatre offers a feast for your senses, with a mouth-watering menu and stunning theatrical displays. Check the website for a schedule of performances featuring well-known musicals, concerts, and unique original productions. If you prefer, brunch options are also available. The fascinating theatre building is a renovated and restored Baptist church that is over 100 years old. Enjoy the sights, sounds, and flavors of the Oregon Cabaret Theatre in an authentic 1920s atmosphere.
4. First Friday Art Walk
When to go: 5PM-8PM on the first Friday of each month (year-round)
Where: Varies. Check the website for a map of the route for each month.
Cost: Free
Website: http://www.ashlandgalleries.com/events/first-friday-artwalk/ 
Discover Ashland's art scene with a lively walk among 35 different locations in Ashland's Historical, Downtown, and Railroad districts. You'll enjoy conversation with other like-minded walkers as you explore a variety of galleries and studios. Many locations will feature live music, refreshments, or opportunities to meet the artist in person. The walk is different every month, so check the website for details and a map of the route.
5. Ashland Artisan Emporium
When to go: Open daily: Monday-Friday 10AM-6PM, Saturday 10AM-5PM, Sunday 12PM-5PM
Where: 1670 Ashland Street, Ashland (map)
Cost: Free to browse. Items for sale.
Website: http://www.ashlandartisanemporium.com/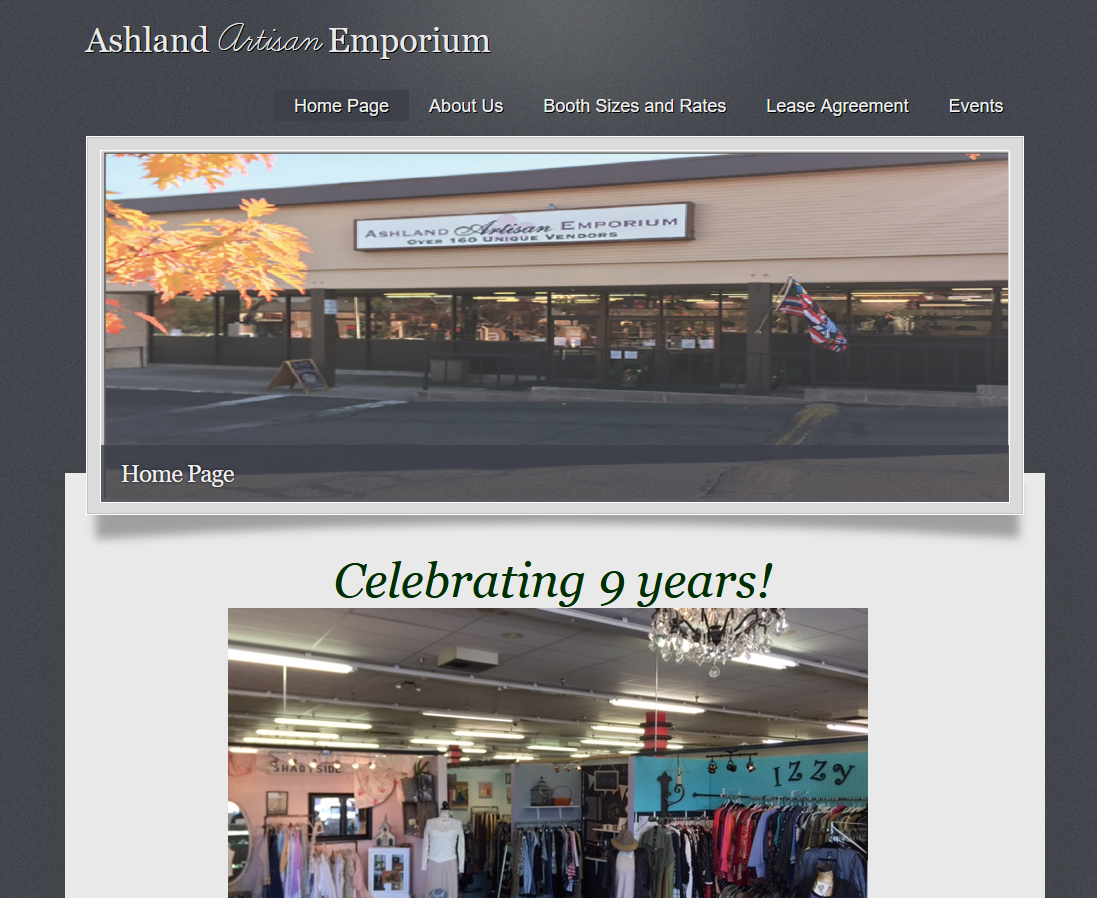 Ashland Artisan Emporium is your one-stop place to shop for unique, handcrafted items made by local Rogue Valley artisans. About 200 vendors have a display area for their work. Browse at your own risk — you are likely to find the perfect souvenir to remember your time in artsy Ashland. From candles and decorative items to clothes and jewelry to antiques of all varieties, the Ashland Artisan Emporium has it all. Support local artists and take home a truly unique treasure at the same time!
Surround Yourself with Natural Beauty
6. Lithia Park
When to go: Open daily from dawn until 11:30PM
Where: Off of Winburn Way in southwest Ashland (map)
Cost: Free
Website: http://www.ashland.or.us/Page.asp?NavID=14083 
New York has Central Park, London has Hyde Park, and Ashland has Lithia Park. Lithia Park is the heart of Ashland, with 100 acres of natural beauty. Explore the Ashland Creek in undeveloped woods, or choose a more formal Japanese garden or rose garden, following the various trails through the park. In the summer months, free guided nature walks are available several times each week. The park also hosts concerts, movies, and other events, so check the website for a full schedule. There are duck ponds, playgrounds, tennis courts and more. No trip to Ashland is complete without visiting Lithia Park.
7. Mt. Ashland Ski Area
When to go: The ski season typically lasts from December through mid-March. Mt. Ashland is open Thursdays through Mondays plus holidays.
Where: 11 Mt. Ashland Ski Road, Ashland (map)
Cost: Lift ticket prices vary based on many factors. Free lift tickets available for ages 0-6 and 70+. Rentals available for an additional charge.
Website: https://www.mtashland.com/ 
Mt. Ashland Ski Area offers skiing and snowboarding fun for all ages and ability levels. There are beginner slopes and a variety of lesson options for the newbies, several double-black diamond options and terrain parks for expert skiers, and plenty of other trails for those who are somewhere in between. On a clear day, you'll find spectacular views of Mt. Shasta (14,180 ft). Mt. Ashland is a short drive from downtown Ashland, but the road is steep and you should be sure to have tire chains with you in case weather conditions change. The best option is to ride the free shuttle from downtown Ashland up to the ski resort.
8. Emigrant Lake
When to go: The park is open year-round; Water slide is open between Memorial Day and Labor Day
Where: Emigrant Lake Road, off of Green Springs Hwy 66 in Ashland (map)
Cost: $4 day use fee per vehicle (or $40 season pass); Water slide passes $10+
Website: https://jacksoncountyor.org/parks/Day-Use/Emigrant-Lake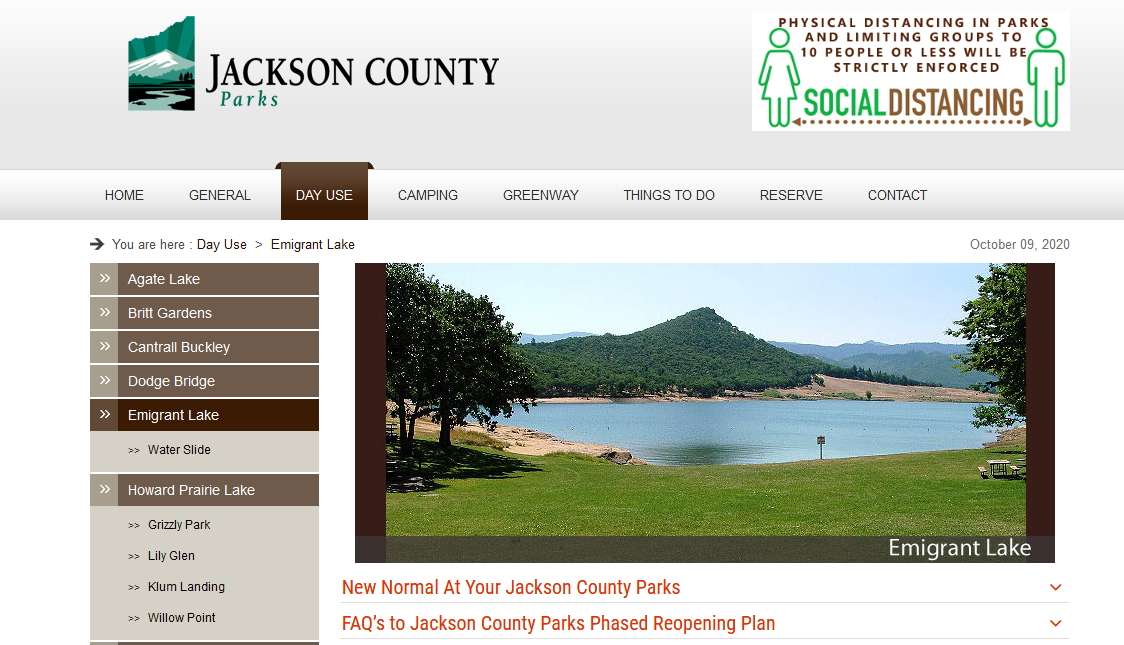 The county park at Emigrant Lake is a beautiful natural haven just outside of the city. Visitors can enjoy swimming, hiking, fishing, boating, camping, and more. Most of the park is open daily year-round. During the summer season, the 280-foot twin-flume water slide is a popular local favorite. Near the water slide you'll find changing rooms, restrooms, showers, picnic tables, and a concession stand. Whether you are heading outdoors for some peace and quiet or for some fun and adventure, you'll find it at Emigrant Lake.
9. Acid Castle Boulders
When to go: Do not attempt this trail after dark or in inclement weather.
Where: Hitt Road, Ashland (map)
Cost: Free
Website: http://ashlandtrails.com/activities/acid-castles/ 
Grab your hiking boots for an exciting rock scramble up the enormous Acid Castle rocks. The one-mile trail rewards your efforts with challenging terrain and incredible views. Be sure to pack plenty of water, dress for the weather, and protect yourself from the elements. Follow rules for hiking safety, and avoid hiking this trail in the dark or in wet conditions when the rock can be very slippery.  
10. North Mountain Park
When to go: Park is open from sunrise to sunset. Nature Center is open Monday-Friday from 8:30AM to 4:30PM; Tours of the Demonstration Gardens are available at 9:30AM on the second Wednesday of each month (May-September).
Where: 620 N. Mountain Ave, Ashland (map)
Cost: Free
Website: https://www.ashland.or.us/Page.asp?NavID=14110 
Pack a picnic lunch, enjoy the sports fields, tour the Demonstration Gardens, take a hike, or explore the Nature Center at North Mountain Park. Six Demonstration Gardens, designed around different themes, can be discovered on your own or by arranging a guided tour. The themes of the gardens are: Butterfly Garden, Reptile and Amphibian Garden, Herb Garden, Heirloom Garden, Native Plant Garden, and the Bird Buffet Garden. North Mountain Park is a wildlife-friendly park, so you're likely to spot some interesting wildlife. This also means that dogs are not permitted in the park. 
11. Rogue River Boating and Rafting
When to go: May through October. Water levels are higher in the spring and fall seasons.
Where: Launch points vary. Consult local guides for safe sections of river for different levels of difficulty.
Cost: Prices for boat rentals and rafting trips vary
Website: https://www.southernoregon.org/places-to-go/rogue-valley/rogue-river/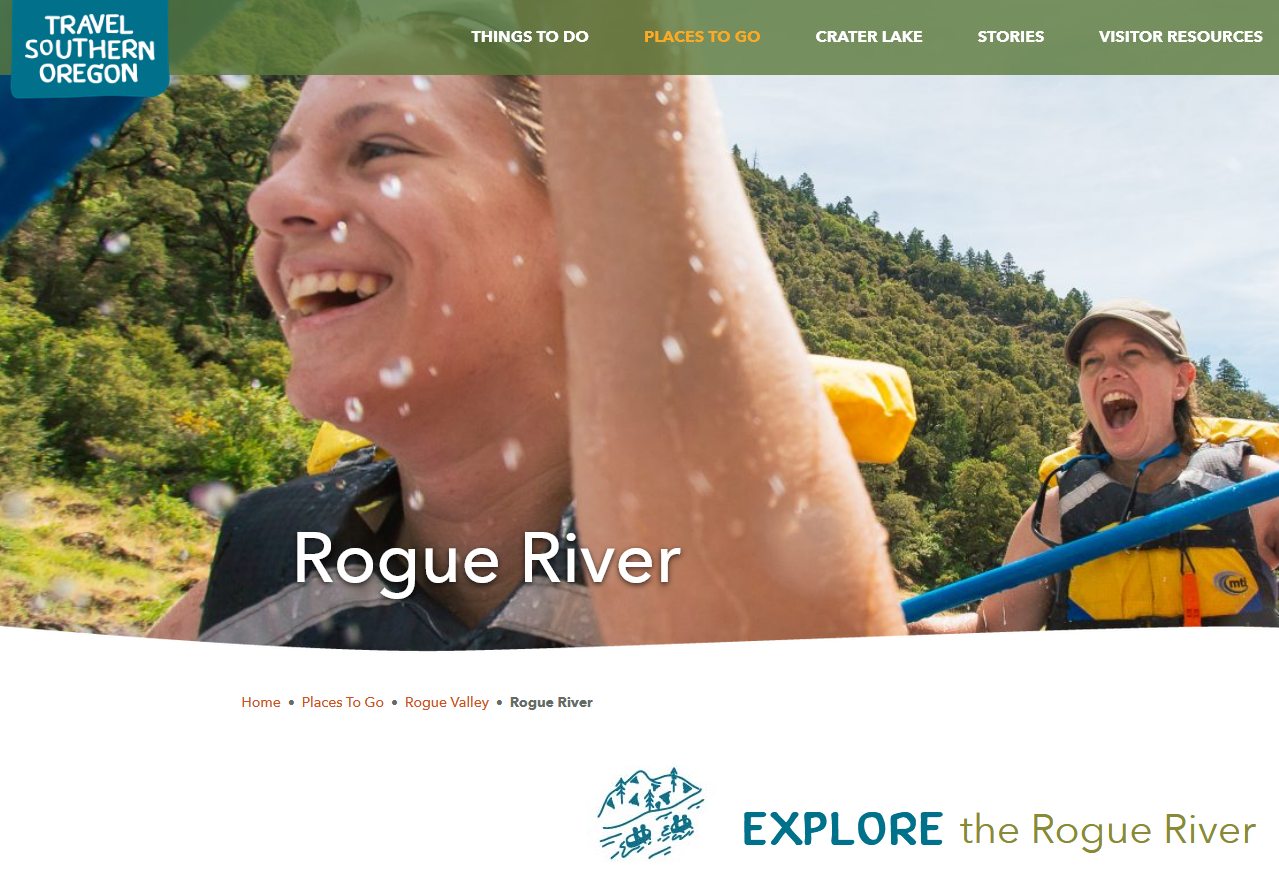 The scenic Rogue River is the pride of southern Oregon, and it is known by whitewater enthusiasts far and wide. Rent a canoe or kayak for a peaceful paddle on a calm stretch of river, or find a local rafting company for a more adventurous whitewater rafting experience. Local outfitters can help you with transportation and equipment, and they can also recommend starting and ending points that are a good fit for your level of skill and experience. The river provides a unique perspective of the natural beauty of the area. Take the opportunity to ride the Rogue!
Family-Friendly Ashland
12. Science Works Hands-On Museum
When to go: Saturdays and Sundays, 10AM-4PM
Where:1500 E. Main Street, Ashland (map)
Cost: $10.50 for children ages 2-12; $12.50 for ages 13+. Discounts available for groups and military personnel. Member of the ASTC Passport program.
Website: https://scienceworksmuseum.org/ 
The kids won't even realize how much they're learning because they'll be having so much fun at the Science Works. Parents might learn a thing or two as well! With rotating temporary exhibits and a wide variety of permanent exhibits, there is always something new to discover at this hands-on science museum. Explore the DaVinci's Garage lab and workshop, or watch a live demonstration. The youngest visitors will love Discovery Island, which is designed especially for the under 5 crowd. There are even a few outdoor exhibits that are free!
13. Ashland Library
When to go: Saturday-Thursday, 12PM-4PM
Where: 410 Siskiyou Blvd, Ashland (map)
Cost: Free
Website: https://jcls.org/home 
You can't miss the impressive library building on Siskiyou Boulevard near East Main Street. Browse, read, and find more information about the Ashland area. Little ones will enjoy story times, while older kids and teens can join other events such as scavenger hunts and craft projects. Check the website for a full of all events for everyone in the family. You need to live in Jackson County in order to get a library card and check out the materials, but anyone can make use of the on-site resources.
14. Ashland Downtown Plaza
When to go: Daytime. Many of the shops close in the late afternoon or early evening.
Where: N. Main Street, Ashland (map)
Cost: Free to walk around. Take spending money for shops and restaurants.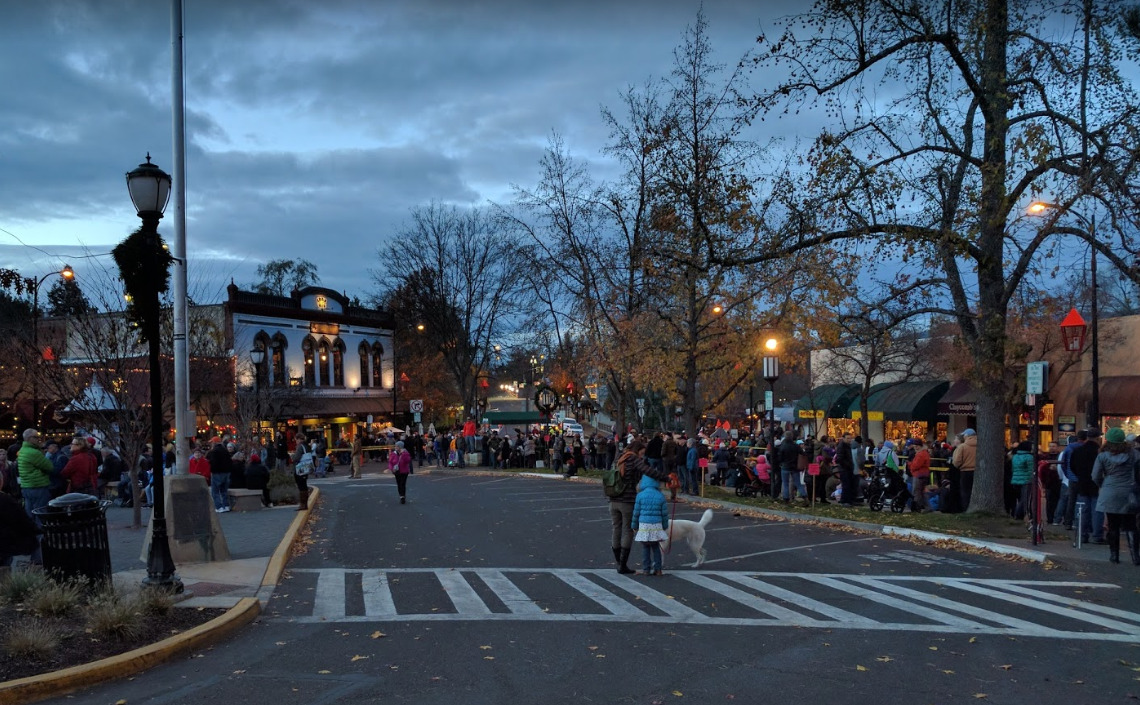 Take a relaxing stroll through Ashland's picturesque Plaza and downtown areas. Grab a bite, window-shop, people-watch, and sightsee. There are a wide variety of eateries and unique shops within a small area, so you're sure to find something to interest everyone. Combine your downtown walk with a visit to the Lower Duck Pond in the north end of Lithia Park, just a short walk from the Downtown Plaza. Browse the stores in the afternoon before they close, then end the day with dinner or a sweet treat in the evening. 
15. Garfield Park
When to go: The park is open daily from dawn until dusk. The Splash Pad is open from 10AM-8PM when weather permits. The season is generally from Memorial Day through Labor Day, but the city often extends this if the weather is warm.
Where: E. Main Street and Garfield Street, Ashland (map)
Cost: Free
Website: http://www.ashland.or.us/Page.asp?NavID=14105 
Sometimes, simple things are best — especially when it comes to family travel. Let the kids play to their hearts' content at Garfield Park's playground and splash pad. Spend some quality time together playing a little basketball or sand volleyball. For your comfort and convenience, the park has shade shelters and restrooms. And since this is a dog-friendly park, you can enjoy this day in the park with the whole family, including your four-legged family members.
16. Willow-Witt Ranch
When to go: Guided tours available daily at 9AM (advance reservation required); Grounds are open for self-guided tours from 11AM-5PM.
Where: 658 Shale City Road, Ashland (map)
Cost: Guided tours $25 per adult. Children 12 and under are free.
Website: https://www.willowwittranch.com/ 
Tour the farm, forests, and wetlands that together comprise the beautiful Willow-Witt Ranch. The whole family will enjoy learning about the history of the land as well as its promised future thanks to sustainable farming practices. Visit the animals, take a goat hike, purchase organic farm products, and more. You can even spend the night at the farm for a more immersive experience. The Willow-Witt Ranch focuses on conservation, restoration, and education in a lovely location that visitors of all ages are sure to love.
Tickle Your Taste Buds in Ashland
17. Belle Fiore Estate and Winery
When to go: Chateau tour and tasting, Saturdays at 12PM or 3PM, by appointment only; Wine Pavilion tasting room is open from 12PM-8PM Wednesday through Sunday. Plan to go between 5:30PM and 7:30PM to enjoy live music.
Where: 100 Belle Fiore Lane, Ashland (map)
Cost: Private chateau tour and tasting, $55 per person; Pavilion Tasting Room, $19 per person
Website: https://bellefiorewine.com/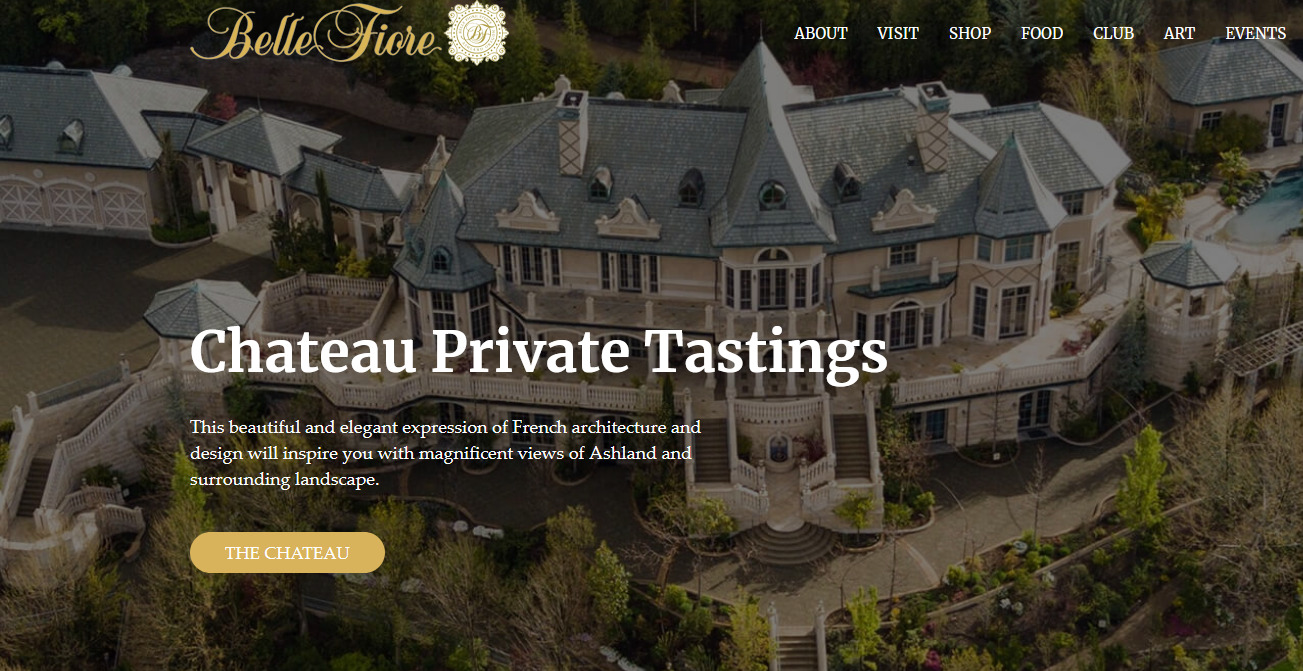 You might forget you're in Oregon as you enter the grounds of the Belle Fiore Estate and Winery. The stunning and sprawling chateau is built in an exquisite French style and surrounded by immaculately landscaped gardens. Whether you tour the chateau, enjoy a meal, or sample their fine wines, you are sure to have an unforgettable experience at Belle Fiore. The beautiful location, breathtaking views of Ashland and the surrounding areas, live music, and culinary delights are a feast for all of your senses.
18. Wine Tasting Tours in the "Next Napa"
When to go: Tours are available year-round, but there's something special about visiting vineyards during harvest season. Harvest timing varies with the weather, but aim for September or October.
Where: Many locations available. See website for more information.
Cost: Prices vary, but estimate between $50-100 per person.
Website: https://travelashland.com/wine-tours/ 
Vogue magazine called Ashland the "Next Napa" in reference to Oregon's wine country. There are so many exceptional wineries and vineyards that it can be overwhelming to choose between them. The best option for those looking for a great wine tasting experience is to take a tour. There are many tour companies available, offering a wide range of services (and an equally wide range of prices). The Travel Ashland website has compiled a list of trusted tour providers to help you narrow down the many options and choose the tour that suits you best.
19. Magic Brew Craft Beer Bus Tour
When to go: Pre-scheduled tours leave at 3PM on weekends (call or email for a schedule and reservations); Private tours can be scheduled nearly any time for groups of 6-18
Where: You'll receive location information after making a reservation.
Cost: $79+ per person for a 4-hour guided tour
Website: https://ashland-tours.com/magic-brew-bus-tour/ 
Take a tour of the best brew houses in Ashland and nearby Medford on a 4-hour guided bus tour. Tours include at least 3 breweries or pubs and a behind-the-scenes tour of the micro-brewing process. Some of the craft beers will also be paired with appetizers to enhance the overall experience. Beer aficionados won't want to miss this fun, educational, and tasty way to discover southern Oregon's microbreweries. 
20. Lithia Mineral Springs
When to go: Any time Lithia Park is open
Where: Public fountains are located in the Downtown Plaza and Enders Shelter in Lithia Park
Cost: Free
Website: https://mailtribune.com/news/since-you-asked/ashland-s-lithia-water-makes-no-boasts-about-healthfulness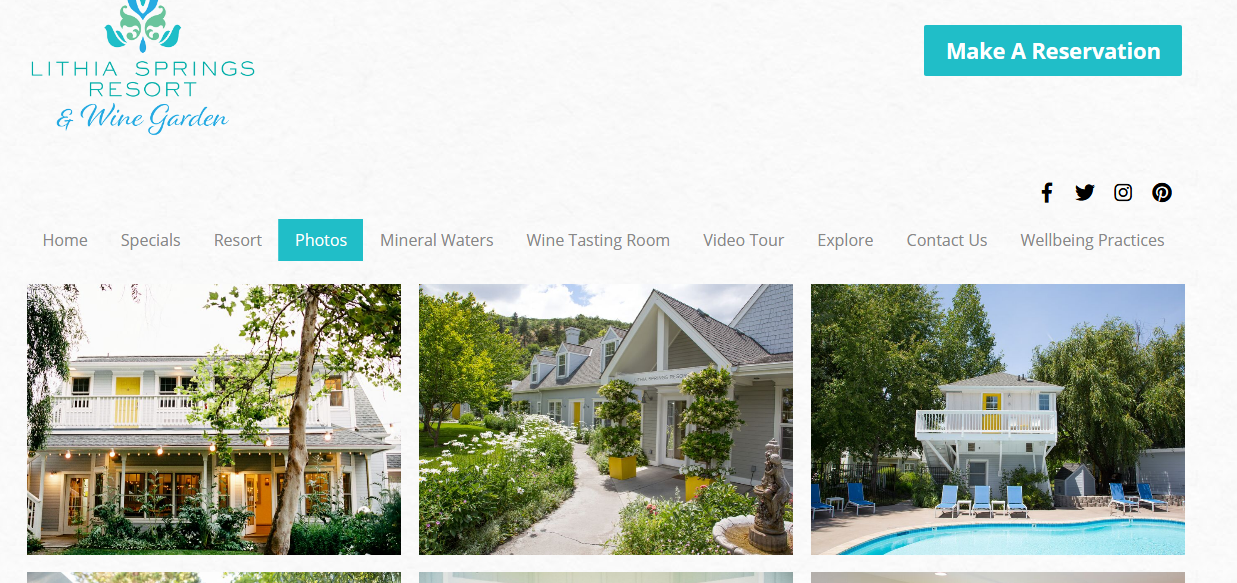 It might not be the tastiest culinary experience in Ashland, but visitors to Ashland shouldn't miss the chance to sample the Lithia mineral spring water that flows out of the area's natural hot springs. Whether or not there are health benefits to drinking this water depends on who you ask, and some doctors advise against daily consumption. Sample some of the mineral-rich water for free from two different locations. For a more immersive experience of the mineral hot springs, check out the Lithia Springs Resort. 
21. Ashland's Culinary Arts Festival
When to go: The festival is held annually in November. Check the website for specific dates.
Where: Festival Headquarters are at the Ashland Hills Hotel and Suites: 2525 Ashland St, Ashland (map). Workshops may be held in other locations.
Cost: Tickets for the Top Chef Dinner are $90 per person. Save $5 by purchasing tickets online in advance or by bringing non-perishable food items to be donated to a food bank.
Website: http://www.ashlandchamber.com/page.asp?navid=782 
Enjoy a multi-day extravaganza celebrating all things culinary. Highlights of the festival include a Top Chef competition and a Junior Chef competition, as well as many workshops and vendors. Local bartenders also compete for the title of Top Mixologist. Buy a ticket for the big event — the Top Chef Dinner — or a 4-day pass so you won't miss a moment. Experience all the best of southern Oregon's foodie scene in one place. 
A Perfect Day in Ashland
If I could spend just one day exploring Ashland, I would visit the Schneider Art Museum in the morning, explore Lithia Park in the afternoon (complete with sampling the Lithia mineral water), and attend a cultural event in the evening. Depending on the what's available I'd either grab dinner and a show at the Oregon Cabaret Theatre or experience the outdoor magic of the Oregon Shakespeare Festival. How will you spend your day in Ashland?
Frequently Asked Questions
What is Ashland, Oregon known for?
Ashland is perhaps best known for the Oregon Shakespeare Festival and the vibrant cultural scene that has grown up around it. It is also the home of Southern Oregon University. Ashland has a reputation for its variety of community activities, from the Culinary Arts Festival to once-a-month Art Walks among local galleries, it seems there's always an opportunity for a fun community event in Ashland.
Is Ashland, Oregon a safe place to visit or live?
Yes! The rate of violent crime in Ashland is much lower than the Oregon state averages, and the rates continue to drop year after year. There is a sense of community in Ashland where neighbors watch out for each other. The area is very affluent, which has led to an increase in property-related crimes, but this is rarely even noticed by visitors. Most people feel perfectly safe and comfortable walking the streets of Ashland.
What is the weather like in Ashland, Oregon?
Ashland has a relatively moderate climate. The coldest months of the year are December and January, with average high temperatures of 46-47°F and average lows around 29-30°F. The warmest months of the year are July and August, with average highs in the upper 80s. Ashland is rainy in the winter, but often dry in the summer. Ashland doesn't usually get much snow. Visitors are reminded that southern Oregon is at risk of wildfires each year during the late summer and early fall, and this often causes poor air quality in the region due to smoke.
How do you get to Ashland, Oregon?
By car, Ashland can be easily reached from many major cities on the West Coast by taking Interstate 5. From Bend, OR take US-97 south to Klamath Falls, then head west on 66. If you're arriving by air, the closest airport is Rogue Valley International in Medford (airport code MFR) which is only about 15 miles away from Ashland. 
Other places to consider: